How to Meet Girls in Las Vegas
Meeting girls in Las Vegas is easy if you have a plan. We're going  to help you by showing you:
Where to Meet Girls in Las Vegas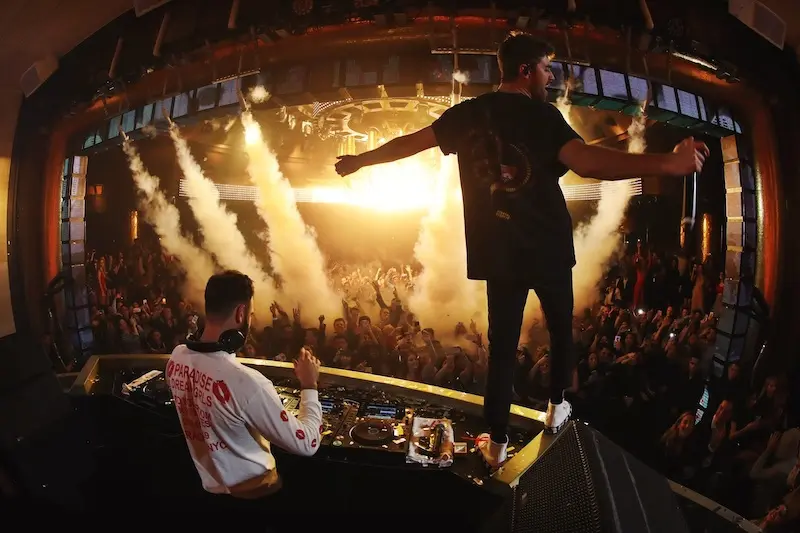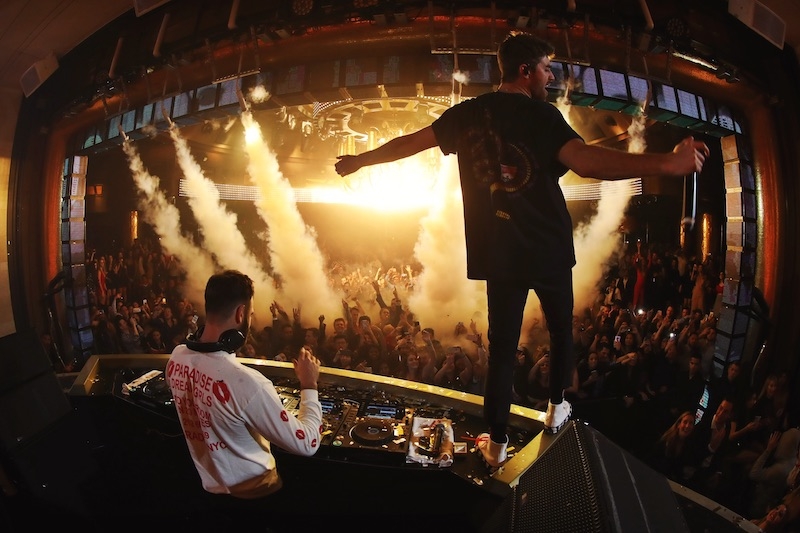 If there's one place that comes to mind for meeting girls, Nightclubs top the list. If you buy into the image these clubs sell, all you have to do is put on your best outfit, pay several thousand dollars for a VIP table, buy some bottles, and attractive women will do anything to hang out with you.
Imagine you're a club owner. You know the majority of the big VIP table customers are men trying to impress women. If you could charge $10,000 for a table, what would you do to ensure these VIPs have a good time?
That's right, you'd stack your club full of smoking hot party girls who are willing to get very friendly with the VIPs. There are a few ways to do that. You could hire atmosphere models and stack your club of gorgeous women. You could offer free tables and booze to groups of attractive females who show up, and whisk them to the front of the line.
Here's a secret: many girls at the nightclub are actually working. They might be there to help sell drinks or even working girls looking to find rich clients. So don't go to a nightclub expecting more than fun and entertainment.
Getting "Ratioed" at a Nightclub
Each group that approaches the front of the line will be assessed. The number of guys to girls determines your "ratio." The clubs want lots of females in their club, right? So if you have an equal number of girls to guys, you have an equal ratio. If you have more girls than guys you have a positive ratio and will be given preferential treatment.
Guys in the guestlist line who don't have any girls with them will have to buy a table or bottle service to get upgraded to the front of the line. If you wait your turn in line and have a bad ratio, you have to pay a full cover charge or buy a table.
Groups of hot girls get special treatment. These groups move to the front of the line and oftentimes get a free table and bottle service. Again, having unattached attractive females is the key to a successful nightclub.
VIP Guestlist
Don't like waiting in lines? Some places offer a "Free VIP Guestlist." But it's not as great as it sounds. You have to arrive early, like two hours before prime time. The clubs use this guest list to make it look busy. And even though you're a VIP, you still get to stand in line. Shocking right?
The "Free VIP Guestlist" can be cheap but time-consuming. A better option is to check out other groups in the line. If you spot a group you like, go over and ask if they want to hang out. This way, you can skip the wait and still have a great time.
If you decide nightclubs are your thing, we'd recommend a nightclub crawl. You'll meet lots of cool people on the party bus, and you get to see multiple clubs for a fraction of what it costs to get into most nightclubs in Las Vegas.
9 Reasons Club Crawls are the Best Nightclub Option in Las Vegas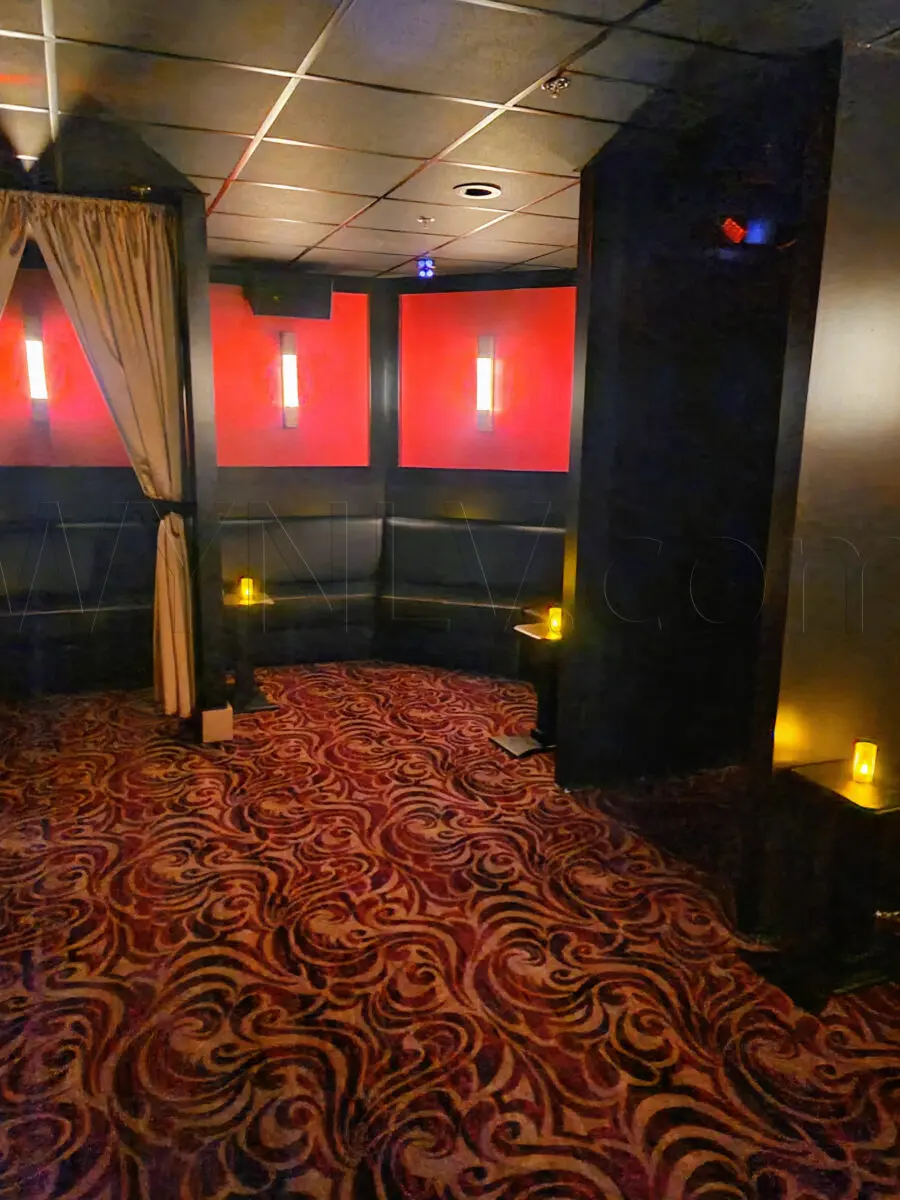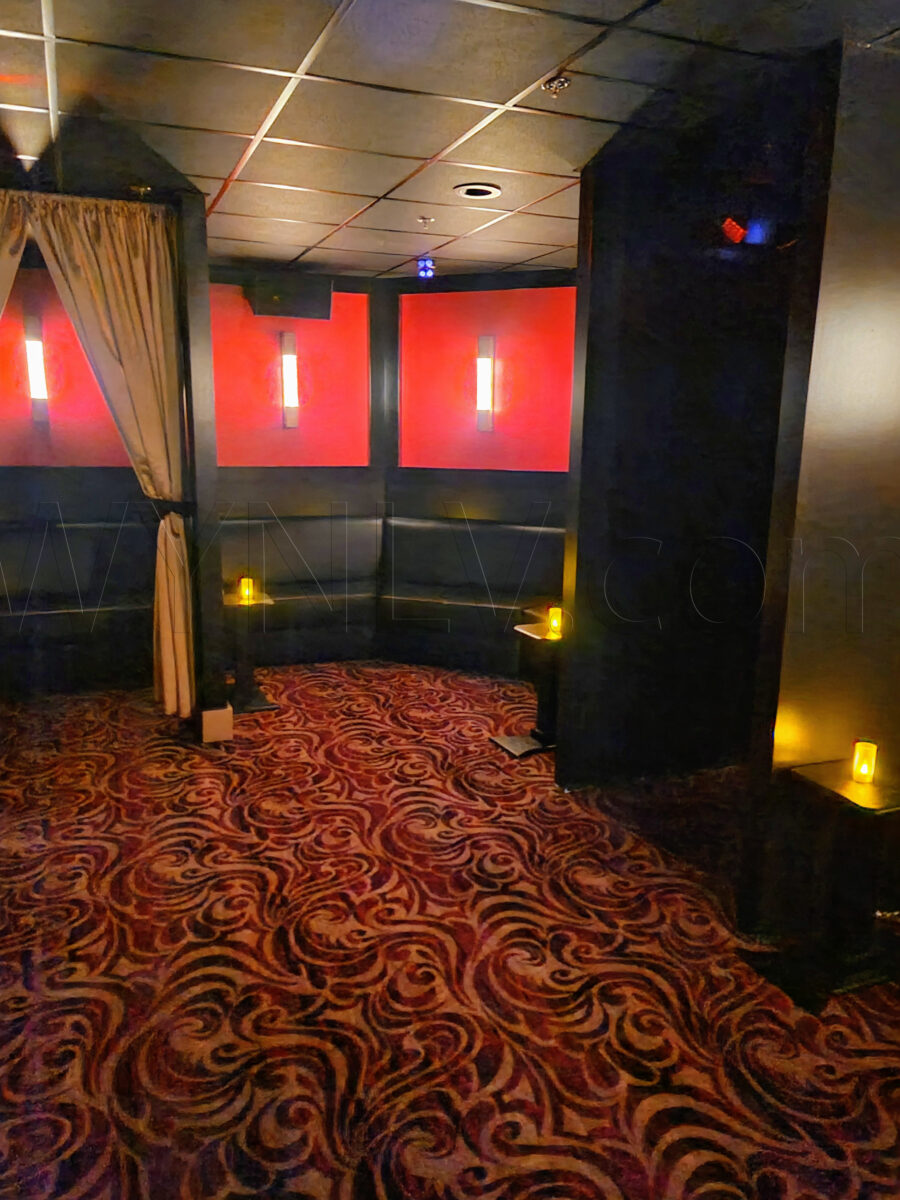 There's two ways to meet girls at strip clubs in Las Vegas. The most common way, trying to pick up strippers, will cost you a lot of money and end in heartbreak. Keep in mind, the dancers at the top nightclubs can make $10,000 a night just for doing private dances for rich clients.
So if you think you're going to save some girl and "take her away from all of this," you need to figure out how to come up with $50-100K a month of disposable income for your new girlfriend.
Also keep in mind, the top strippers get hit on by extremely rich clients all the time. They give lap dances to popular celebrities regularly. Attractive men from all over the world come to these clubs trying to get their number. And yet these girls are still dancing.
Best Way to Meet Girls at Strip Clubs in Las Vegas
Ok so trying to pick up a stripper is next to impossible, is there a better way? Actually meeting women at a strip club is probably one of the best bets in town.
The surefire way to approach a woman or group of women in Vegas is to hit a coed strip club. How does that work? Well, most nights they put on a male revue for the ladies. Before you head for the door, these shows are in a separate area, oftentimes on a different floor, so you won't have to watch Jammin Jim Hammer work the girls for singles.
Imagine a Broadway musical with dudes in thongs. Here's the deal: buzzed ladies flock to these shows to ogle and stuff cash into the strippers' banana hammocks. Just like men don't really have a chance with the lady dancers, the male strippers are even less interested in the female guests as well.
This is your moment to shine. These ladies are sliding off their bar stools watching "Jackhammer Jimmy" flexing his muscles and showing off his dance moves, only to get turned down when they invited him back to their after-party.
That's when you swoop in with your friends, chat them up, and woo them with your charm. Before you know it, you're headed back to the hotel! This strategy works best when you're in a group, and you find a similar-sized group of women.
You have a high chance of success because:
You know these women party.
They're clearly into men.
They've already caught a buzz.
They're already aroused.
Your job is to help them enact their wild sex penthouse party fantasy.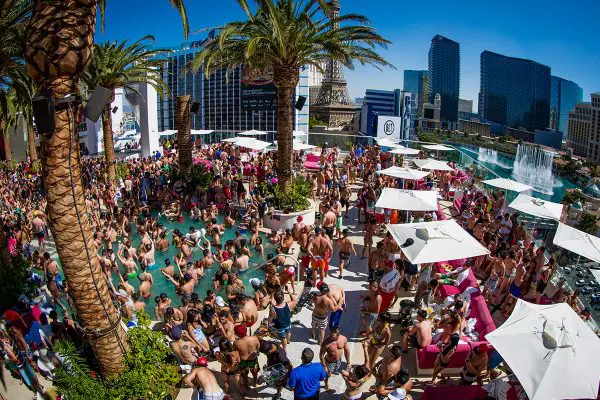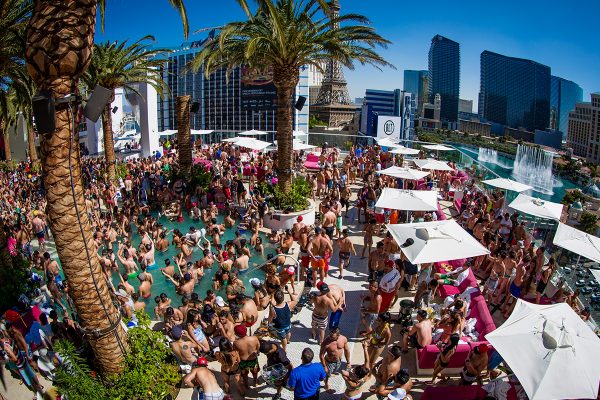 Pool parties, (also known as Beach clubs and Day clubs in Las Vegas), are another great way to meet girls on vacation in Las Vegas. You've got sunshine, good music, fruity drinks, and women in revealing swimsuits. It's like a day a the beach.
You'll find that starting a conversation at a pool party is much easier than at nightclubs. First of all, you're outdoors, so the music isn't as loud. You're also not being lambasted with disorienting strobes and laser lighting effects.
Just keep in mind, much like the nightclubs, the pool parties rely on enticing hot women to hang out at their pool so the men will show up and buy overpriced alcohol and cabanas. The bigger the name DJ or club, the more likely that hottie in a string bikini is on the promoter's payroll.
Advanced Pool Party Strategy
This works super well if you're kind of shy and have trouble approaching women. You swim up to a girl you're interested in and start a brief conversation and close by inviting her and her friends to whatever plans you have for the evening.
You can throw out the invite to multiple girls ( just make sure different guys in your group are approaching different women.) You don't want two girls in the same friend group to get invited by the same person.
At least one of the girls in the group should find at least one of the guys in your group interesting. That's all it takes. The rest of her friends will tag along so they make bitchy comments about how he's not good enough for their friend.
Girls also often get jealous when a guy is interested in another girl in her peer group. Then the competition starts between the two girls and you've just paved your way to pound town. Sometimes you'll even get a chain reaction where all of the girls are vying for attention and everyone has a good time.
Don't Be a Rookie
Don't forget to slather on that sunscreen. Even if it's cloudy outside you'll still get sunburned. A severe sunburn will ruin your entire trip. By the time you feel you have a sunburn, it's too late, you're already cooked.
And don't wait until you get to the hotel to realize you don't have any sunscreen. Everything costs more in the hotel, just like at movie theaters and airports. Captive audiences get fleeced. Grab some at Walmart and bring it with you.
Final Thoughts on Pool Parties
Just remember, pool parties are like nightclubs in that they can be extremely expensive and you can spend hours waiting in line. If you want to skip all that and get a smoking deal head over here:
Unlock 3 Epic Venues & the Top Pool Parties | Las Vegas Dayclub Crawl
There are a number of apps and websites that can help you meet girls in Las Vegas. If you have luck with traditional apps like Hinge and Bumble, you can try to arrange a meetup in Las Vegas. Just know that if you're looking at girls already in Las Vegas, you may be dealing with an escort, as some girls will use the app to hustle guys into town with the promise of sex, then demand payment to spend time with them once they arrive.
If you really want to meet a girl for a rendezvous in Las Vegas, your best bet is Adult Friend Finder. You'll have to pay a little money to unlock a gold membership ($39.95 per month with discounts for longer terms).
We figure if you're actively looking for willing girls, it's a great deal:
Good value. A full month of gold access for less money than buying drinks for a girl at the bar
You can use the site to find girls in most big cities
More effective than hitting bars and clubs
Easy-to-use search and filters to find exactly what you're looking for
Overall saves time and money
Another site in the same network that's more focused on discreet hookups is No Strings Attached. You can make an anonymous profile and communicate privately until you make the decision to meet up. Perfect for secret missions. They have a free membership right now to get you started.
The best part about these apps is that you can peruse them while you're waiting in line, hanging out poolside, waiting for food, etc. That way you're always putting yourself out there and not wasting any time.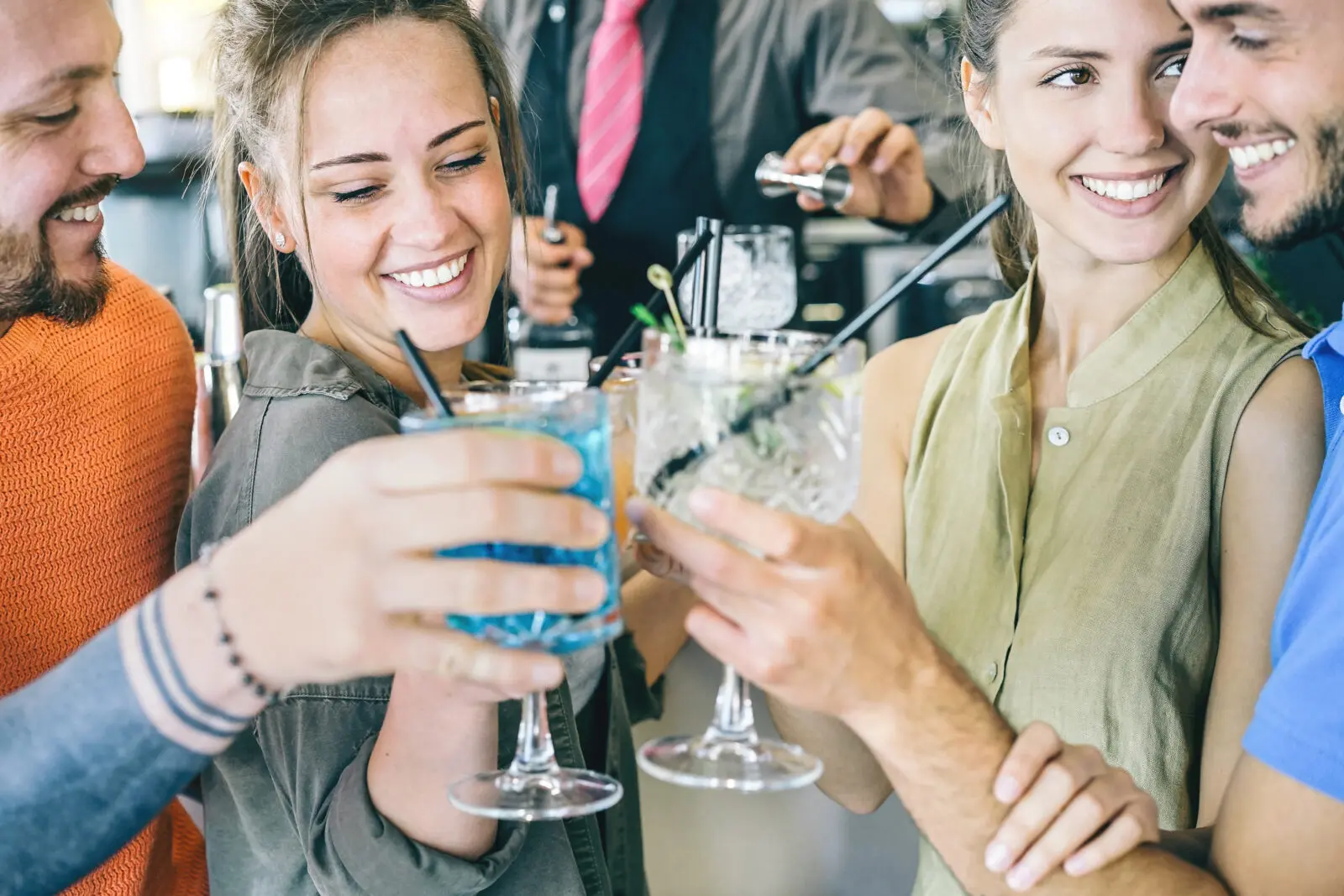 Group tours are a great way to meet girls and have fun at the same time. You'll get to meet them in a casual environment where you're not competing with every guy in a bar. Establish a connection, get their number, and meet up later. Easy right?
Best Group Activities to Meet Girls in Las Vegas
You'll see ads for all kinds of group activities in town. If something looks cool, go for it! They are generally quite affordable in the $100-$200 range.
The great thing about joining a group activity is that you'll enjoy the tour with lots of people and have plenty of time to interact. If you're shy, and have a hard time approaching people at say a nightclub, you'll be able to showcase your attractive traits in a less stressful environment. If you're not particularly attractive, you'll have a chance to show off your better qualities.
Try focusing on meeting people in your age group that you could hang out with during the rest of your trip. You want to be able to link up with them later. You never know who has a cute friend or co-worker! The idea here is to have a group of people that you can hang out with and then let the network effects do the heavy lifting.
When you're in a large group, you're socially accepted by proxy. As a result, meeting girls is easier because they can see your social status immediately without you having to explain to them how awesome you are. Girls are innately more comfortable meeting a guy in a large group than a lone wolf on the prowl.
MEETING GIRLS IN LOCAL BARS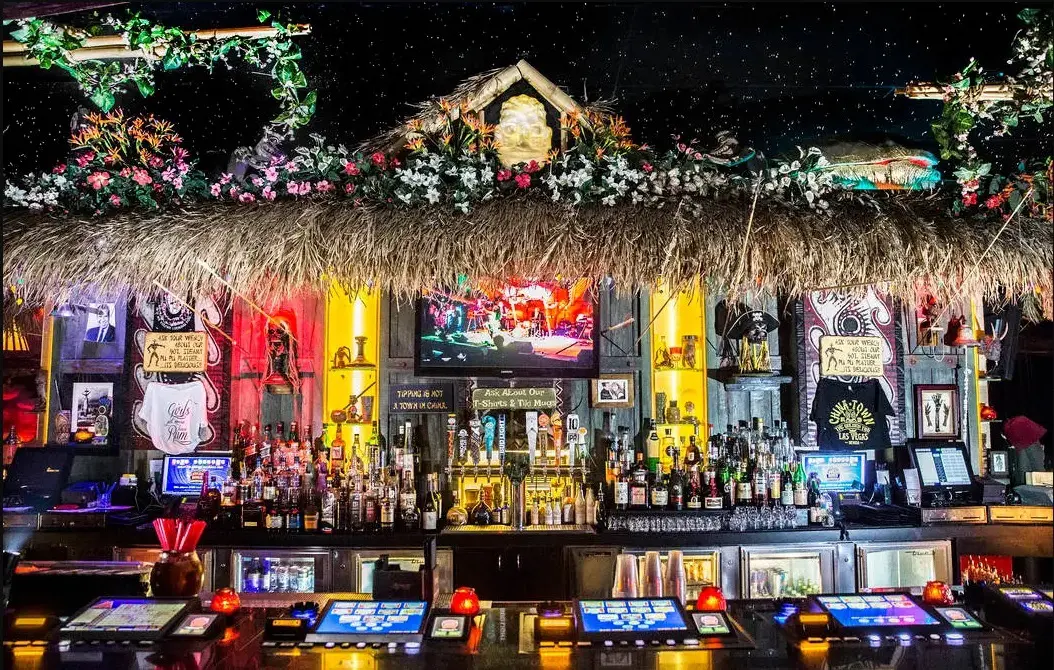 There are a number of local bars off the main strip and outside of downtown where you can grab a drink and a bite to eat. These establishments are often more reasonably priced and less hectic than the tourist traps you'll find in the major resorts.
You can saddle up to the bar and wet your whistle while you scan the crowd looking for fun people to meet. Who knows you might just hookup with a local. Locals love to mingle with tourists for a fling as they can have fun with no strings attached if they so choose!
Definitely check out Golden Tiki if you're in town and don't mind a short cab ride to a fun bar.
Just keep in mind, if you don't fare well at the bars in general, you're probably not going to have better luck just because you're in Las Vegas.
HOW TO TALK TO GIRLS IN LAS VEGAS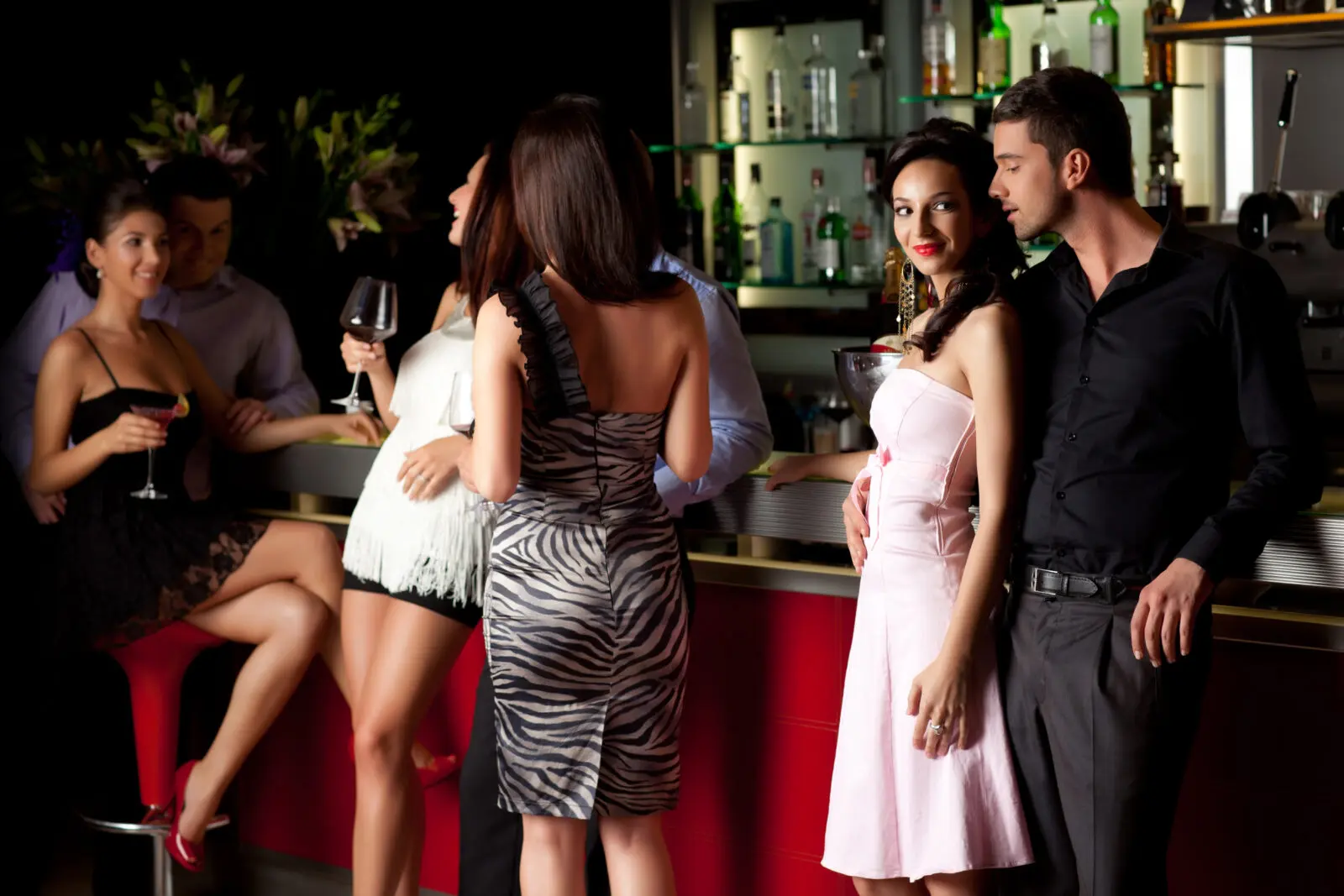 We understand that there are a lot of guides out there on the art of picking up women. The main strategy revolves around "negging" and getting the girl on the defensive, who then subconsciously wants to show you she's "good enough."
This isn't about that. We'd guess that most girls are savvy enough to know this strategy and are immediately turned off.
Be Yourself
If you want to meet girls in Las Vegas, simply be yourself. If you're an adventurous outdoorsy type, do that. If you're artistic, visit the art displays, go to art festivals. Are you a gamer? There are many attractions for gamers and esports enthusiasts.
How about motorsports? There are NASCAR. NHRA, Formula 1, and off road races in Las Vegas every year, you can plan a trip around those events. Or go drive a supercar on a closed racetrack. How about cruising around town in a Lamborghini or Ferrari? You're bound to find girls who are into exotic cars.
Football fan? Check if your team has a game vs the Raiders in Las Vegas every year.
This works so well because when spot someone that catches your eye, you immediately have something in common to talk about. Explore their passion and share your knowledge. You'd be surprised how easy it is to get an attractive girl's number if you have a shared activity.
That's the problem with nightclubs and bars. One, the girls are already on high alert. They know they are being checked out by every guy in the place. They've heard every cheesy intro and pickup line. And the worst, a lot of these girls, if you ask them what they like to do for fun, the top answers are likely: I like to travel. I like shopping. I like working out. I like to party. I like money. Lots of money. Boring.
Great, so we've established they're about as interesting as a bag of cornflakes, now how do you carry that conversation? Especially over loud music and flashing lights, it's hard to make a connection.
So how do you talk to a random girl in Las Vegas. Well, all you have to do is…
Show Confidence when Meeting Girls
In Las Vegas, the city of spectacle and celebration, it's important to show confidence when talking to girls. Confidence isn't about being brash or loud; it's about showing that you're comfortable in your own skin. Project confidence through your body language: keep your posture open and relaxed, maintain steady eye contact, and use a firm but friendly tone of voice.
A shortcut to confidence starts with your appearance. Make sure you have a fresh haircut and shave. Girls aren't generally attracted to guys with patchy beards and a DIY haircut.
Likewise, make sure you're in clean and appropriate attire for the occasion. You're always better off being slightly overdressed than underdressed, so err on the formal side.
Physical activity prior to going out can help you feel more relaxed and confident, and girls will pick up on your calm demeanor and attribute it to being a fit, confident male.
Learn to Read Obvious Clues of Interest or Disinterest
Reading body language and understanding verbal clues are key aspects of determining a girl's interest or disinterest. Pay close attention to her responses. If she is making eye contact, engaging in the conversation, and laughing at your jokes, these are good signs of interest.
Conversely, if she appears distracted, avoids eye contact, or provides brief responses, she might not be interested.
Other cues of interest are preening, fixing their hair, applying lipstick or lipgloss, and other attempts to appear more attractive. If a girl looks at you and then dismisses you to walk away or look at her phone, that's a clue she's not interested.
Girls that are interested may also lick their lips or bite their lips to show interest. This is a green light to engage further and pursue the conversation.
Conversely, if they look away, cover their chest, or stand in a closed posture, this is a signal they are not interested, and possibly feel threatened, and you should politely disengage and walk away.
Master Non-Threatening Eye Contact
Maintaining non-threatening eye contact is crucial when engaging in a conversation. Eye contact conveys respect and attention. However, avoid constant, unwavering stares as they can feel intimidating. Instead, use a soft and relaxed gaze that communicates interest without making her feel uncomfortable.
Look into her eyes for up to 5 seconds, smile, and look away. Do not look her up and down, checking out her body, that will make her feel uncomfortable.
Notice her reaction. Does she appear threatened? That's a no-go. If she smiles, then go introduce yourself.
Complimenting Correctly
When complimenting a girl, it's important to focus on her personality or achievements rather than her physical appearance. Compliments about her taste in music, sense of humor, or intellect not only respect her as an individual but also spark interesting conversations.
If you do make appearance-based compliments, focus on her style, outfit, shoes, or things under her control like her hairstyle. Don't compliment them on their "great ass," or "nice rack." These types of objectifying compliments are crude and show you're not a man of culture.
Act like a Gentleman
In the lively atmosphere of Las Vegas, it's easy to lose sight of basic etiquette. Regardless of the setting, remember to act like a gentleman. This means listening attentively, treating her with respect, and showing consideration for her feelings. Open doors when possible, and help her with her coat or chair. Girls like men who treat them with respect.
Use Humor to Set a Casual Tone
Humor can be a great ice-breaker and sets a casual tone to the conversation. A light-hearted joke or funny anecdote can help put both of you at ease. Be mindful of her reactions to your humor, and adjust your style accordingly.
The Best Pickup Line is: "Hi my name is ______, what's yours?"
In Las Vegas, being straightforward can be refreshing. Rather than resorting to rehearsed pickup lines, a simple introduction can be more effective. This approach shows genuine interest and invites her to share about herself.
Steer the Conversation to be about Her
Showing interest in her experiences and ideas can enhance the conversation. Avoid talking too much about yourself, and encourage her to share her thoughts. This doesn't mean prying into her personal life, but rather discussing her hobbies, favorite music, or recent movies she enjoyed.
Inquire about Her Passions and Interests
Digging into her passions and interests allows for a deeper, more meaningful conversation. You could ask about her favorite books, travel destinations, or hobbies. However, respecting her boundaries is essential, and avoid delving into sensitive topics like family situations, sexual preferences, or past trauma.
Encourage Her to Share Her Opinions
Encouraging her to share her opinions on light-hearted topics shows that you value her perspective. This could be about current trends, movies, or a shared experience. Remember, the goal is to create an engaging and enjoyable dialogue.
Avoid touchy subjects such as politics and religion. These are topics for a later date once you've developed a rapport and are working towards a closer relationship.
Close by Saying You Have to Go, But You'd Love to Talk to Her More Later
Ending the conversation with a proposal to meet again signals your interest without being overbearing. Let her know you enjoyed the conversation. This will leave her wanting more and prevents you from pushing too hard or saying something stupid.
If she's interested, she'll be thinking about you.
Establish a Thread
Mention you'd love to learn more about a topic or interest she brought up earlier. You can give her your number as the most non-threatening way of establishing communication. If she's interested she'll call or text.
If you can invite her to a future activity on your trip, even better. "I'd love to talk more about your artwork, I'm going to Encore Beach Club tomorrow, and I'd love it if you'd join me. Feel free to bring your friends, we have a cabana and can put you on the list so you won't have to pay or wait in line."
Then bail. You've done the best you can, walk away confidently with a smile. Odds are, you'll get a text later after she's had time to gush over you to her girlfriends and convinced them to go to the pool party. I mean who doesn't want to meet the charming mysterious guy she just met? And free VIP and booze? Tough to say no.
COMMON MISTAKES MEETING GIRLS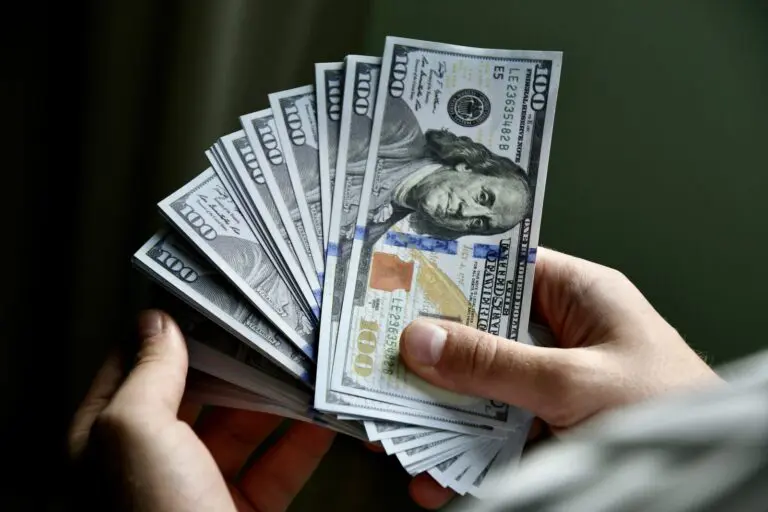 Fake Wealth
A big mistake a lot of guys make trying to attract women in Las Vegas is displaying wealth outside their means. An example would be a group of guys saving up for months to pool their money together to buy a $10,000 table at a big nightclub.
If you can't easily afford $10,000 bottle service, girls will know. Subtle cues from your shoes to your watch, to your haircut will clue them into the fact that dropping $10K on a VIP table is outside your comfort zone. They will ask you seemingly innocent questions about you that will set off alarm bells letting them know you are faking it. So your plan to show off will probably backfire, Just so you know in advance, it's a waste of money.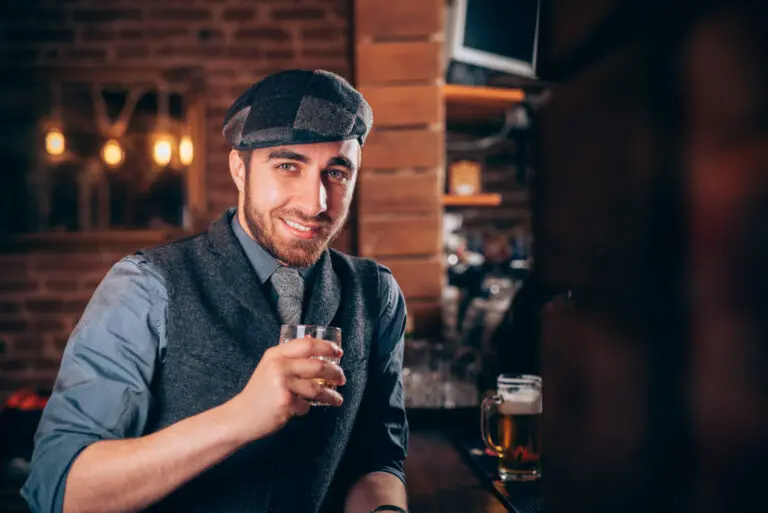 Flying Solo
Approaching women solo in Las Vegas ensures you're going to have a difficult time. Most girls roam in groups. A guy hanging out in a club or bar by himself raises a lot of red flags:
Do you live here?
Where are your friends?
Are you trying to get me along for ill intentions?
When you're with a wingman, or better yet, a small group, their fears will be at ease. Women want men who are socially accepted, and being part of a group, you're demonstrating social proof that you're not a weirdo.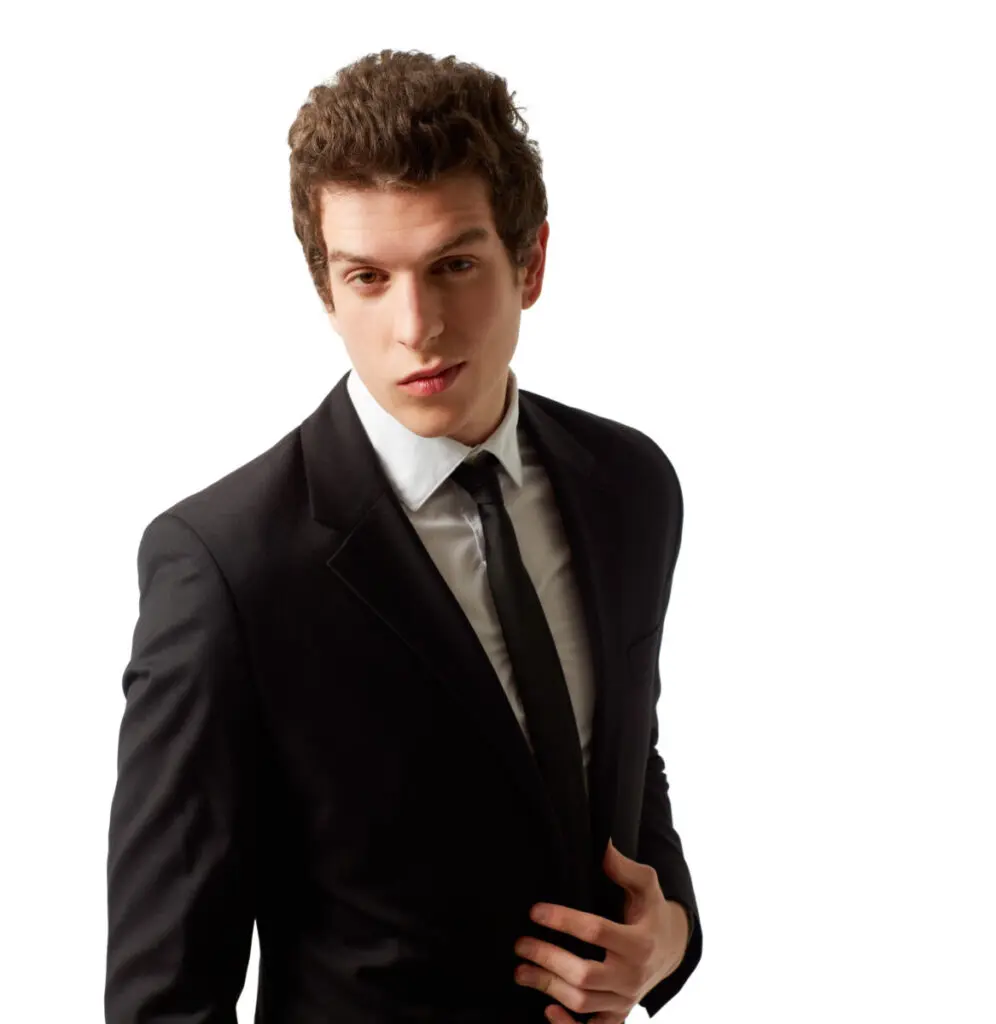 Cheesy Pick Up Lines
Attractive women have heard every pickup line in the book. They don't work. If the girl wants to talk to you, all you have to do is introduce yourself and say hi. Ask them a question about their trip. Are they having fun? Do they have any fun activities they're looking forward to later in their trip.
Opening with a pickup line immediately puts most women on the defensive. It demonstrates you have a "plan" that ends up with them having sex with you. Girls don't like being manipulated and don't want to have to deal with someone who's throwing out pick-up lines at every pretty girl in town.
Plus if you do get shot down, you're going to feel extra stupid for choosing whatever crappy one-liner you thought was going to work.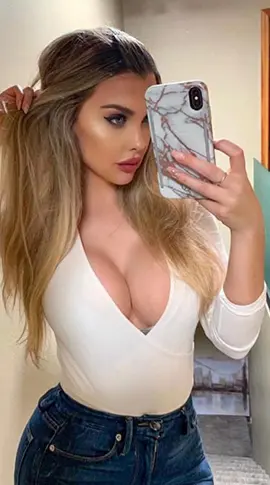 Ulterior Motives
Second biggest mistake a lot of guys make is not knowing when they are being hustled. There are attractive girls everywhere in Las Vegas. Everywhere. If a girl that is totally drop-dead gorgeous starts chatting you up out of the blue, you should stop and think.
Why is this happening?
Do gorgeous women typically approach you out of the blue to compliment you on your outfit?
No? You are likely being hustled.
The nightclubs are filled with all kinds of girls trying to make a buck. Some are bottle hostesses. Some are gold diggers. Some are high-end escorts. Many are all three depending on the night and their financial situation that month.
How can you tell which is which? Is she really into you, or just does she just want your high-end liquor and good seats? Is she flirting with you and pressing her breasts up against you because she wants a big tip on your large liquor tab?
The problem is that if they are pros, you can't tell the difference.
The hustles can run from as innocent as getting you to buy them a drink, to try to get you to take them back to your place where they'll then inform you that "they're totally into you, but they have some unforeseen problem in their life, and if you'd just give them a couple grand they'll be able to relax and you guys can have some fun." Basically giving you the easy way into paying for a hooker.
Sounds crazy right? We've been in Las Vegas for over a decade and we've seen it all. If we told you all the crazy stuff that happens in this town, you wouldn't believe half of it.
But trust us, you want to meet girls who are most likely tourists in unthreatening environments like group tours or local attractions. The clubs are minefields and we don't want you to waste your money or get burned.
Meeting girls in Las Vegas doesn't have to be hard. If you put yourself in situations where your odds of success are good, you'll have a much easier time than just playing a numbers game at every club and bar in town.
Just remember to look your best, act confident, and learn to spot the cues that a girl may be interested in meeting you. Then simply walk up and introduce yourself with a smile.
Focus the conversation on her interests and remember to compliment non-physical attributes like her outfit, accessories, intellect, humor, or style.
Don't overstay your welcome. Give her your number and invite her to an activity you or your group have planned for later in the trip.
If she doesn't make contact, no problem, at least you met a new person, put yourself out there, and gave it your best effort. The next time you approach a girl it will be easier, so you won't make the same mistakes.
In no time, meeting girls will be no more stressful than chatting up a stranger watching the game at a bar. Girls are people after all. You just have to stack the deck in your favor.