A big misconception about Las Vegas is that many vacationers believe prostitution and brothels are legal. They are not.
The way it works in Nevada is that they're only allowed in counties with less than 700,000 people. Las Vegas is in Clark County which exceeds the limit.
So what happens is that the brothel operators are limited to rural areas of the state. If you're used to the glitz and glamor of the Las Vegas strip, rolling up on a legal brothel in Nevada will be a bit of a culture shock.
These guys operate on dusty roads, out of the way, in the middle of nowhere. So they have to be frugal with their expenditures. There are no huge water features with tons of fountains, no volcano erupting every 30 minutes, and no pirate ship to lure you in.
Just a small building with a western facade and maybe a little neon and a hand-painted sign to mark their spot. For the most part, they all started small and added on as their clientele grew. So you'll see amorphous buildings with no overarching themes lumped together around an unimpressive pool in the middle of the desert.
But surprisingly they don't totally suck if you don't mind the drive. They have decent girls, decent drinks, and a place to stay for the night if you have the coin.
If driving far out into the desert for over 90 minutes isn't your thing, you can stay in your hotel room and hire an escort.
There are only 3 legal brothels within 90 minutes drive from Las Vegas:
Alien Cathouse
Sheri's Ranch is the largest of the three and is around an hour from Las Vegas. It's like a mini resort in the middle of the desert with a pool, spa, hot tubs, and multiple suites. There is a hotel and restaurant on-site for road-weary travelers. They have a good lineup of 10-12 girls on rotation.
Chicken Ranch is smaller, but offers similar amenities. Surprisingly their lineup is on-par with Sheri's even though the buildings and property aren't as upscale as Sheri's.
Alien Cathouse is about 90 minutes from Las Vegas, near area 51. This is a much smaller brothel with a very modest offering of girls. The only recommendation for Alien Cathouse would be if you're going to Area 51 anyway, and wanted hit a brothel in the same trip. Otherwise, stick with Sheri's or Chicken Ranch.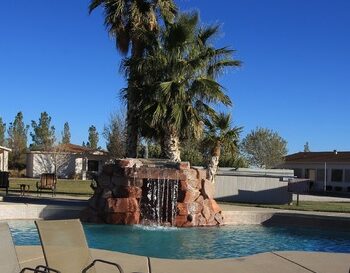 Each brothel offers a unique list of amenities, as you can see from the table below. Clearly, Sheri's Ranch has the most options, and they are the most upscale.
But the girls are really the main attraction, and Chicken Ranch definitely holds its own in that regard.
Just be realistic about what facilities are important to you. Which ones will you actually want to use? Which ones can you afford? You may find that the amenities aren't really that important.
For example, we've never seen a single girl or customer in ANY pool during our visits. Sure they have nice photos of sexy courtesans splashing in the pool on their website, but do they REALLY go in the pool with customers? We bet it is very rare.
Sheri's Ranch
Bar
Restaurant
Hotel
Pool
Multiple themed sex rooms
Hot tub
VIP Suites
Chicken Ranch
Bar
Pool
Multiple themed sex rooms
Hot tub
VIP Suites
Alien Cathouse
Bar
Multiple themed sex rooms
VIP Suites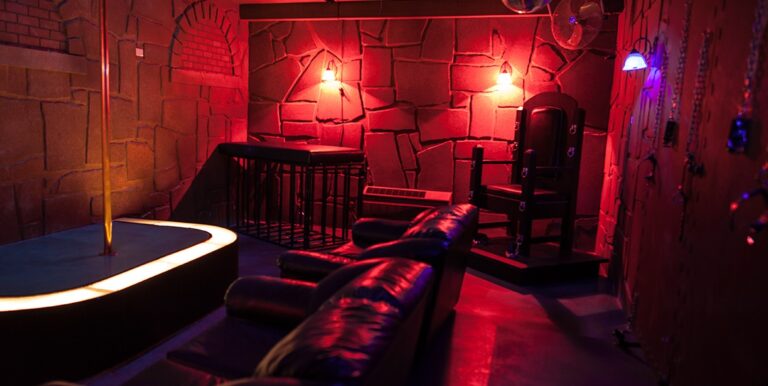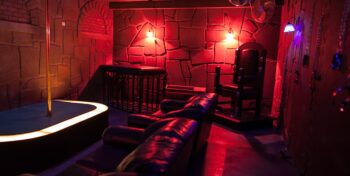 All three brothels offer themed sex rooms. Sheri's Ranch has the most variety and the nicest rooms, with Chicken Ranch coming in a close second. Alien Cathouse has an alien abduction/probing suite if you're into that. We pass no judgement here. Just keep in mind the rooms go from Sheri's, Chicken Ranch, to Alien Cathouse in terms of quality and depth. So if you really want the room to be integral to your fantasy, we'd recommend Sheri's or Chicken Ranch.
BDSM
Shower Party
Hot Tub Party
Erotic Massage Suite
Naughty Teacher
VIP Bungalows
Arabian Nights
Roman Emperor
60s Psychedelic Room
King Arthur
Safari Suite
Hot Tub Room
Shower Party
Erotic Massage
VIP Rooms
BDSM Dungeon
Victorian Suite
Safari Suite
Alien Cathouse
Alien Abduction & Probing Suite
Atlantis
Bath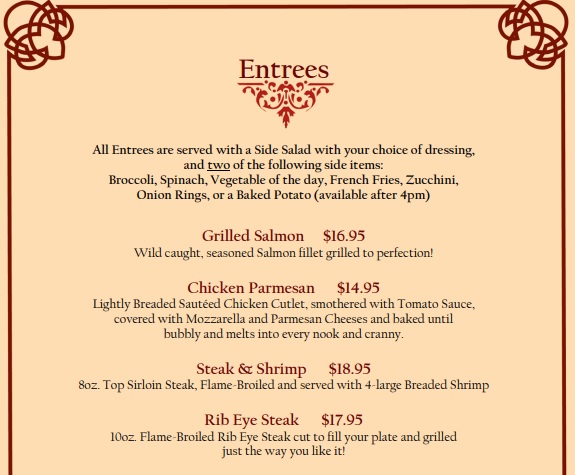 Sheri's Ranch is the only legal brothel near Las Vegas that served a full menu from what we can find. They have menu that would be at home in any diner in America, including steaks, burgers, appetizers and more.
During our visit to Chicken Ranch, we did not see any evidence of a food menu, although there was a BBQ fired up on the deck outside the sun room, so who knows.
Alien Cathouse is bar only.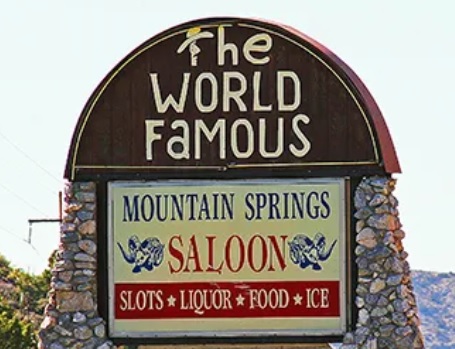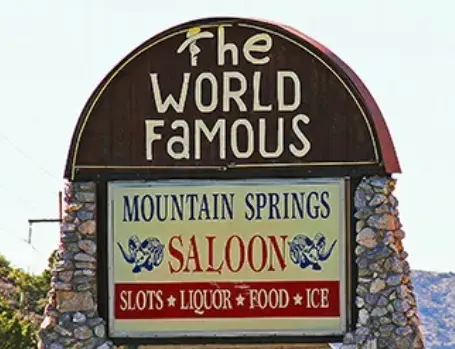 While you can get "Free transportation" to and from all three brothels in this article, we recommend driving yourself and making the trip during the afternoon, if possible. The highway to Parhump goes up and over the mountains near Las Vegas, past Mountain Spring which has excellent views and wildlife.
You can stop for lunch or a beer at Moutain Springs Saloon, a cross between an old western saloon, a biker bar, and old-school diner. Definitely worth the stop.
If you take the complimentary ride, you're going to be stuffed into an off-duty Uber or Lyft, and they will be hauling ass both ways trying to maximize their time, not your enjoyment.
If you decide you want to hang out longer, the driver is going to be sitting there waiting for you to go back to Las Vegas, and he only gets paid when you book a party. So if you're just visiting, or want to hang out for the night, the driver won't be super stoked about your itinerary.
Per Nevada state law, all sex workers undergo weekly testing for STIs.
Information about Nevada Sex Worker testing & Safety
In addition, condoms are required at all times, with no exceptions. Expect to undergo a rudimentary inspection by your chosen girl before any sexual activity takes place. This is to ensure everyone remains STD-free. If you have any doubt, visit your local healthcare provider before making the trip to get a full checkup so you don't waste your time driving out there.s
The first thing you need to know is the girls are all independent contractors. The girls set the rates, not the house.
Second, you can only legally negotiate services on-premise in the brothel. You can't call and ask how much for this girl to do a specific act.
With that being said, here's our take on approximate pricing and costs:
The top girls get $3500 plus per hour on a regular basis
We'd recommend a budget of at least $1500 per guy, per girl, per hour for best results
If you visit with only $500 to spend, you're going to leave with a bad taste in your mouth
For best results, arrive well groomed and well dressed.
If you book a high dollar party (over 2 grand), you may be able to upgrade to one of the sex rooms for around $500 more, based on availability
Be a gentleman. If the girls think you're a valuable repeat customer with manners, you'll likely get a better rate.
Other tips:
Don't call and ask how much for anything. The staff can't quote you a rate. And you can't talk to the girls on the phone. The only time you can legally negotiate is once you are in the girl's room.
If you stick to the guidelines we outlined, you'll have a good time.
But just know, the best girls cost a lot.
If it's busy, everyone costs a lot. So keep that in mind when planning your trip.
Nevada is the only state in the United States where you can legally compensate for sexual acts. While not available in the tourist mecca of Las Vegas, legal brothels can be found in the smaller counties.
You won't be overwhelmed with the glitz and glamor of the brothels, but the girls are friendly, the staff is nice, and the rooms are clean.
So enjoy a lazy drive through the badlands of the southwest and visit one of the fine establishments still offering the world's oldest profession.