Chicken Ranch Brothel Near Las Vegas
The Chicken Ranch Brothel is one of 3 legal and licensed brothels near Las Vegas.  Just a short hour's drive from the main strip, guests can enjoy the company of a sex worker safely and legally just outside the limits of Parhump, NV.
Founded in 1976, the brothel takes its name from the famous Chicken Ranch establishment in the 1982 film "The Best Little Whorehouse in Texas," starring Dolly Parton.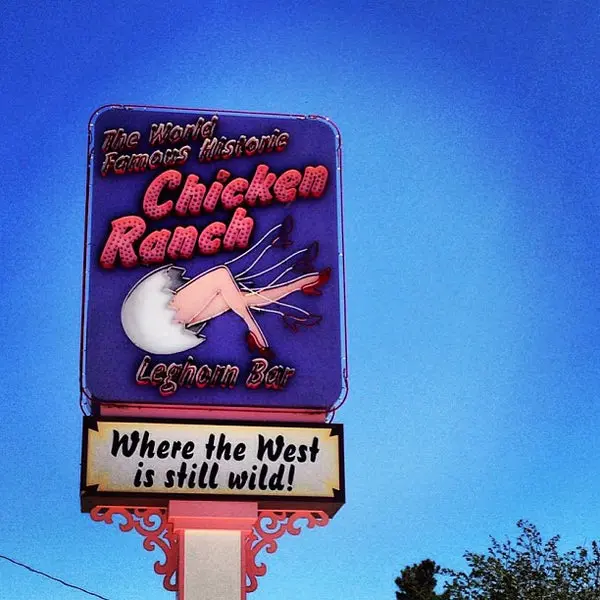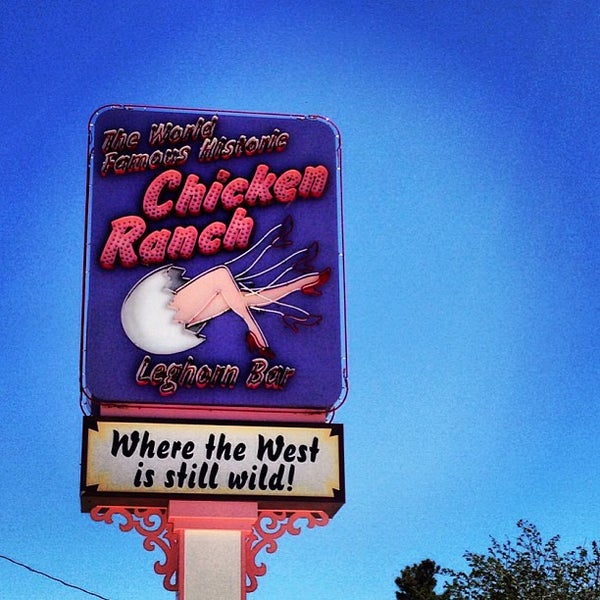 Upon arrival, you'll see a sign for the Chicken Ranch with a large blinking arrow letting you know you need to turn.
As you pull up to the front of the building, on your right you'll see the Leghorn Bar, which looks like a roadhouse you'd expect in a dusty western town.
To the left is the main brothel building which employs Alps-inspired architecture adorned in a pastel color scheme.
A small gate blocks your passage as you approach the building. A small buzzer next to the gate post lets the hostess know a new customer has arrived. Once you've been buzzed in there are steps leading to the main brothel entrance.
At this point, the hostess opens the front door and asks if you have an appointment. You are also offered the option of hitting the Leghorn Bar through a separate door on your right if you want to grab a few drinks before meeting the ladies.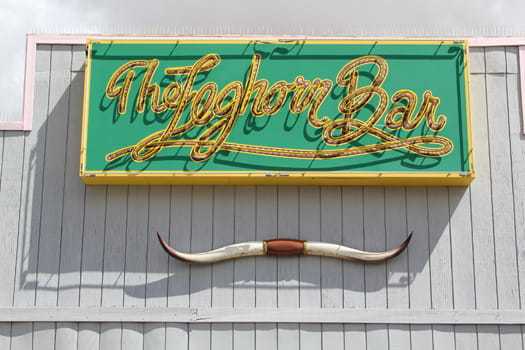 If you take the tour, you'll soon find out that there are quarters for over 20 girls. The building is much deeper than it is wide, so you'll notice there are also specialty rooms, like a hot tub room, perfect for soaking away stress with a beauty of your choosing.  There's also a shower show room, if you're into that. Did we mention there is also a special suite dedicated to erotic massage?
Once you've taken in all the main areas, you'll reach the back of the building which opens up to a well-appointed pool and lounge area.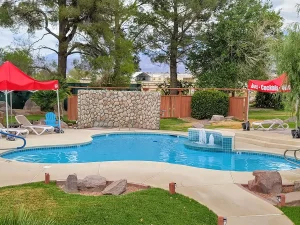 They've also contracted to have a large above-ground hot-tub installed behind the pool which will be perfect for cool winter nights.
A lot of first-timers will choose to hit the Leghorn Bar to grab a cold drink before moving to the parlor for a lineup.
The bar offers multiple entertainment options:
3 Large HD Screens showing sports
1 HD screen behind the bar showcasing the available ladies
Pool table
Digital Jukebox
Pinball machine
The back area of the bar offers seating in a sunroom, with large, comfortable couches and chairs where you can take in the beauty of the desert mountains while you refresh with a cold drink.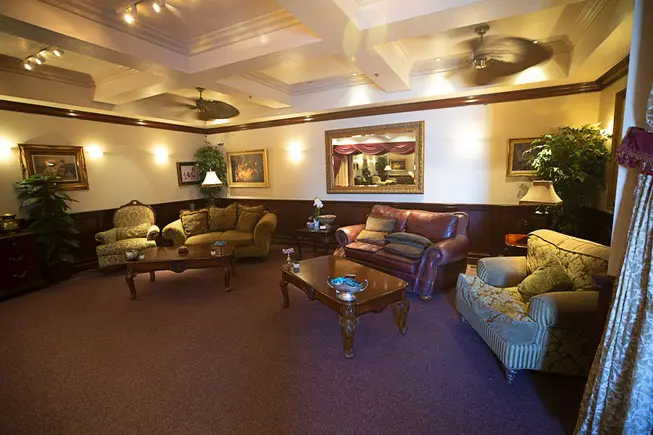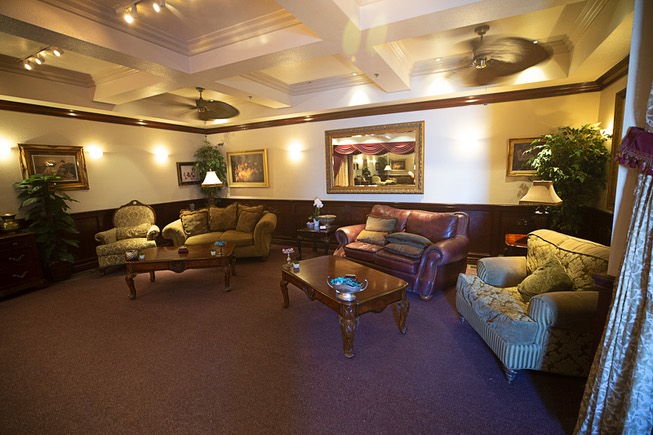 If you skipped the bar and enter the main brothel parlor you'll find an area with old world accoutrements including wood paneling, antique lamps and chandeliers, and a sumptuous leather couch.
This area is for a 'lineup' where the hostess will bring out all the available ladies. They will lineup in front of the couch for your appraisal. If you look up you'll see high-end lighting to ensure you can see every detail. There is also a long mirrored wall behind the ladies so you can get a view of their derrieres.
The customer selects the lady of his choice and they retire to the lady's quarters to negotiate a party. If an agreement can be made, the lady informs the hostess of the booking and duration and your fun begins.
If you fail to come to an agreement with the lady, whether it be price, duration, or specific acts then you return to the parlor to pick another lady and try again.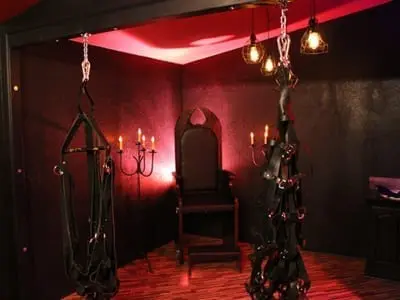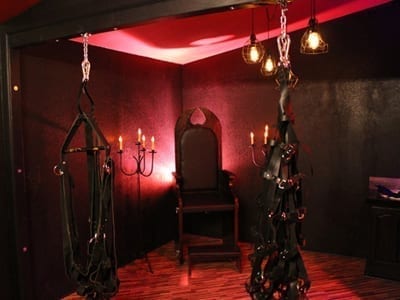 For those with a hefty bankroll, there are 3 specialty suites behind the pool in a separate building. Here you'll find the Victoria Suite, which as the name implies, is decked out in Victoria area decor and accouterments.
There is also a Safari suite with savannah-themed furnishings and artwork, replete with faux animal rugs throughout.
The final room is a BDSM room called "The Dungeon." As one would imagine, it contains all the toys and tools an elite fetish aficionado would appreciate. In the middle of the room is a large padded table with a secret cage underneath. There is a bondage throne with multiple restraint points. Off to the left you'll see a peg board of all the straps, implements, and other toys to satisfy any fetish. There is also a voyeur's closet where you can watch others getting naughty on the table (a couple's favorite).
Keep in mind not all girls offer services in the Dungeon, so be sure to ask before booking a party.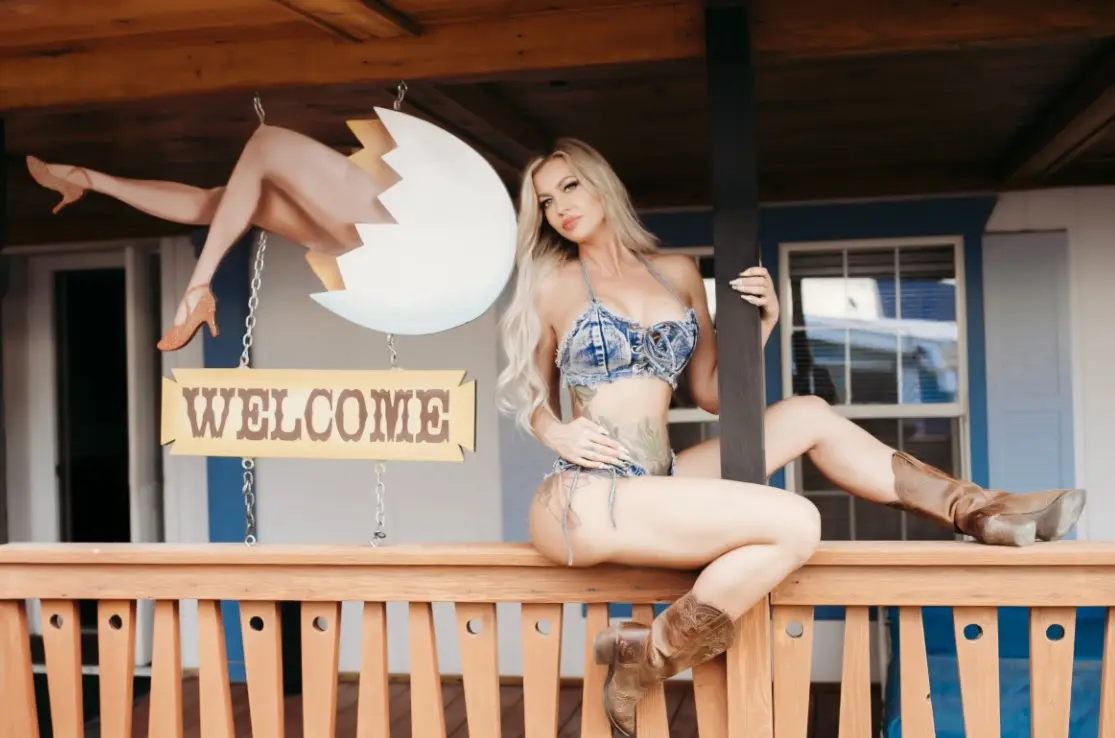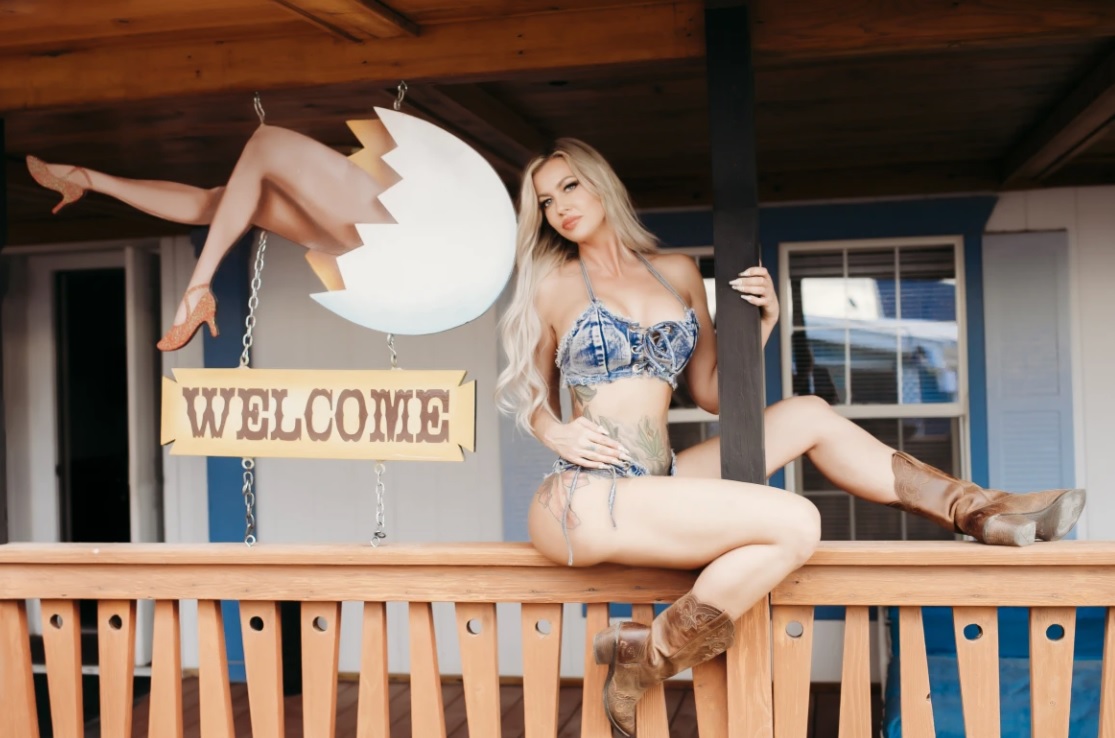 We can confirm that the girls you'll see on the Chicken Ranch actually work at the establishment. We were actually surprised as they have a lineup that rivals Sheri's ranch and they are high quality.
Sometimes you'll see certain girls, especially well-known porn stars listed on other brothel sites, but if you try to book, they're either 'fully booked' or 'just left'. So if you see a special lady that piques your interest, be sure to pre-book to ensure she is actually there when you arrive.
Per Nevada state law, all sex workers undergo weekly testing for STIs.
Information about Nevada Sex Worker testing & Safety
In addition, condoms are required at all times, with no exceptions. Expect to undergo a rudimentary inspection by your chosen girl before any sexual activity takes place. This is to ensure everyone remains STD-free. If you have any doubt, visit your local healthcare provider before making the trip to get a full checkup so you don't waste your time driving out there.s
Free STD Checkups in Las Vegas
The Chicken Ranch also employs on-site security to make sure all the girls are safe. There are panic buttons in every room, should the girl feel uncomfortable. The panic button summons not only the in-house security, but also local law enforcement, so the girls feel completely safe.
The first thing you need to know is the girls are all independent contractors. The girls set the rates, not the house.
Second, you can only legally negotiate services on-premise in the brothel. You can't call and ask how much for this girl to do a specific act.
With that being said, here's our take on approximate pricing and costs:
The elite girls cost multiple four figures for an hour.
We'd recommend a budget of at least $1500 per guy per hour to ensure you'll be able to enjoy the brothel to the fullest.
If you roll out there with $500 to spend, you're not going to have much fun and you're odds of booking a party is low.
You can move the needle in your favor if you show up well groomed and well dressed.
If you book a multiple four-figure party, you can upgrade to one of the specialty suites for around $500 based on availability
Be polite. If you appear to be a gentleman that a girl wants as a repeat customer, you'll likely get a better rate.
Other tips:
Don't call and ask how much for anything. The staff can't quote you a rate. And you can't talk to the girls on the phone. The only time you can legally negotiate is once you are in the girl's room.
If you stick to the guidelines we outlined, you'll have a good time.
But just know, the best girls cost a lot.
If it's busy, everyone costs a lot. So keep that in mind when planning your trip.
Our Recommendation
For best travel experience to the brothels near Las Vegas, call or text this number:
Ask for Ryan. We were introduced to him by a local friend who recommended his service. Ryan runs an great service with a fleet of modern SUVs that are clean and a big upgrade.
Ryan also does his best to accommodate special requests. He can take you to the liquor store before you leave if you want some beverages for the road.
His service is free, but if you receive good service, consider giving a generous tip. His crew depends on customers' generosity to ensure everyone has a good experience.
His service is also discreet, nobody can tell you're on your way to the Chicken Ranch. And you won't have any call entries on your phone bill for a brothel either!
Booking Directly
If you book directly through the Chick Ranch, you'll have a less enjoyable experience:
One of their house drivers gets dispatched. The house drivers are off duty Uber and Lyft operators.
Expect a well used small car or crossover that has a lot of miles and unique odors reminiscent of a bar floor.
These drivers make money when you book a party, so if you don't spend any money, they're boned.
The house drivers get a preferred rate, meaning they get paid more for their rides. This is tacked onto the cost of your party unbeknownst to the client. Which means you spend more for a worse experience.
Booking Your Own Transportation
Uber and Lyft cost around $80 for a basic car, one way. They run the clockwhile you're there at around $36 per hour. Expect to spend over $200 if you stay for an hour.
Private limos are prohibitively expensive unless you have a large group. Expect to pay at least $160 per hour with a three-hour minimum. That's $500 out of your pocket that could be spent spoiling your favorite girl.
Lastly, there are no drivers in Pahrump that will be available to take you back. There are no taxis, no rideshares, no limos waiting to take you back to Las Vegas. So be sure you talk to your driver to ensure they're going to be there when you get back. (Tips tend to get their attention.)
Driving Yourself
The drive out to Pahrump is beautiful during the day. You'll go up over the mountains exiting Las Vegas, passing Mountain Spring at the summit. Up in the mountains there are awesome views and you can often see wildlife that takes refuge in the high mountain forest.
You can stop for lunch or a beer at Moutain Springs Saloon, which is a cross between a retro diner, old west saloon, and biker bar. Definitely worth the stop.
At night it's a long drive through the remote desert. There's little traffic. If you have any issues it will be a long time for roadside assistance to arrive. The Taxi companies require drivers to check in at dispatch and grab an extra spare, tools, and an emergency kit before leaving on this trip.
It's much easier to give Ryan a call and relax with a drink and good tunes. Or if you're talkative, Ryan has see it all as a driver in Las Vegas, and he can entertain you with crazy stories of life in Sin City.
If driving far out into the desert for over an hour isn't your thing, consider staying in your hotel room and hiring an escort.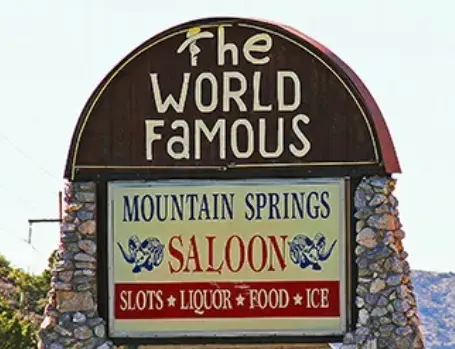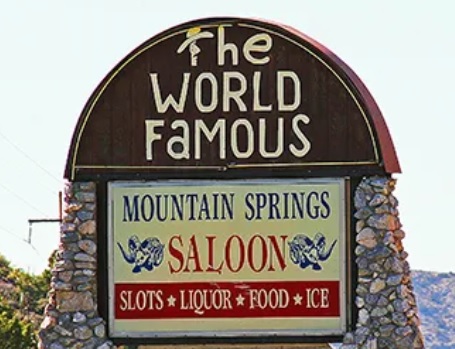 Tips to Having a Good Experience at the Chicken Ranch
The girls at the Chicken Ranch are professionals, treat them with respect
The preferred term is "sex worker." Terms like hooker, prostitute, whore, ho, and slut are viewed as derogatory and their use is generally frowned upon. So don't walk in the door yelling "Where da hoes at?" You may be asked to leave.
Understand the cost structure before making plans to visit. Rolling out there with a smaller bankroll and trying to shake down the girls on price isn't going to be fun for anyone
If you can, drive yourself, the route is gorgeous and you may want to stop along the way to take pictures or have lunch. If you take the "free" transportation, they're going to haul ass both ways to maximize their time, not your enjoyment.
Address & Contact Info
10511 Homestead Rd, Pahrump, NV 89061
+18775852397
https://chickenranchbrothel.com/