Las Vegas Porn Star Escorts & Strippers
Introduction
Have you ever entertained a fantasy where you're hanging out with your favorite adult film actress and suddenly she starts giving you a striptease? Next thing you know your clothes are coming off and you're balls deep in the porn star of your dreams?
Well, that dream may no longer be just a fantasy, according to listings on some of the adult classified and directory sites.
If you're looking for porn stars in Las Vegas, there are plenty of club fliers promoting famous adult film actresses performing at big events. Ever wonder what happens at a porn star party at strip clubs?
Can you book a famous porn star from an escort agency to be your girl for the night? It seems too good to be true. For a few grand, can you really bang that XXX hottie with the perfect Double Ds?
How about the brothels claiming to have a gorgeous hottie from your favorite adult films? Is she in-house, waiting to meet you?
These are valid questions, and we've got you covered. We'll show you what's available, how much it costs, and what to expect.
AVN Awards & Adult Expo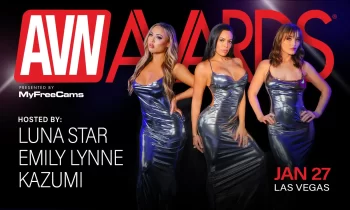 AVN Awards & Adult Expo
If you really want to interact with gorgeous pornstars who are still in their prime, book a trip for the annual AVN awards and Adult Expo. All the top talent rolls into Las Vegas for their version of the Oscars.
The major studios will have fan booths staffed by starlets and directors. There are also plenty of booths featuring adult toys and pleasure products. The expo starts on January 24, with three days of trade show activities leading up to the Awards Show on Saturday night.
The Awards show is the main event on the calendar, but there will be other opportunities to interact with your favorite actress. A few of the top gentlemen's clubs will throw an "AVN Afterparty" where you can get free cover and reduced drink prices if you show your badge to the show.
The next AVN Awards starts Jan 27th, 2024 at Resorts World.
Porn Stars at Strip Clubs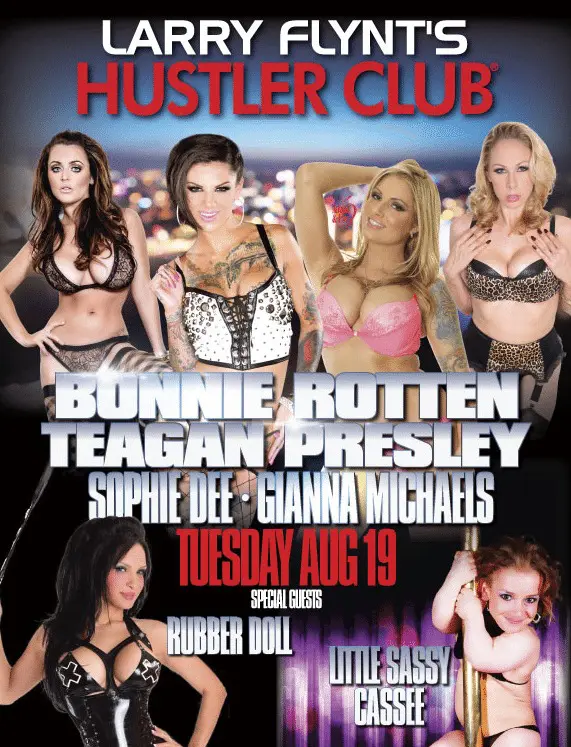 Back in the 2000s, every decent strip club in the nation would host "Feature Entertainers" as a way to bring out big crowds. The top performers were Adult Film stars, but clubs would often bring in former Playmates or other semi-famous hot chicks.
Usually, the girls are contracted for a certain number of "sets," which usually last 5-10 minutes. The high-end entertainers would have a certain part of their routine choreographed and included multiple costumes. At the low end, the girl is so wasted by the time of her set that she stumbles around and gets mad that the crowd isn't throwing cash on her stage. (I've witnessed this multiple times.)
These girls can make $3,000 or more per set, usually a max of 2 per night, and walk out of the club Saturday night with 15-20 grand.
Crowd Interaction
The high-end girls travel with their own private security, and they limit the time they interact with the crowd. The club will set up a special area for a "Meet & Greet" where patrons can pay $20 to meet the porn star. For $40-$50 they'll take a picture with you. For around $100, guests can get a signed picture and other swag from the entertainer.
If you want a private dance from the visiting porn star, it depends on the girl. Some will do it at the normal house rate (not often), but most will charge a hefty premium starting at $100 per song with a 3-song minimum. They make most of their money from the club and on-stage tips, so they're not motivated to interact with guests unless there's a decent fee involved.
Don't expect to get much more than that. You're not going to get personal contact details from a feature entertainer, but she'll happily point you to her profiles.
Other Considerations
One thing to keep in mind when attending a porn star party is that the regular strippers who work there aren't going to be super happy about it. The feature sets pull attention away from their stage time. In addition, a healthy portion of the tip money in the club ends up on the stage during the feature sets.
Veteran dancers know this, so they may try to call off or change their schedule so they don't have to work that night. In short, the top local talent will take the night off so they don't have to compete with an anal queen with perfect implants.
The club manager increases staffing, from servers to security, to address the increased crowd. Service may be spotty if the club is packed, as the waitresses will have difficulty moving from the tables to the bar well.
Security will be on high alert, as there will be more scrutiny from management and ownership due to the outlay of money for the event. In other words, it's not the greatest time for the staff either.
These events garner more attention from enforcement as well. The Nevada Alcoholic Beverage Control may send agents to ensure liquor laws are followed. VICE may also increase its presence to ensure the laws on prostitution are not being broken. Even drug enforcement may be on hand to probe for illicit substances being used or sold on-premise. These officers and agents typically keep a low profile, but the management and staff may know a few of them from previous interactions. In any case, everyone is on high alert, not wanting to jeopardize their job or club.
Finally, the DJ must play the music the feature entertainer requires for her sets. Management will also pay more attention to what music is played for the entire night.
The bottom line is, everyone is on edge due to increased demands and scrutiny, for less money, during Porn Star special events.
Porn Stars Working as Escorts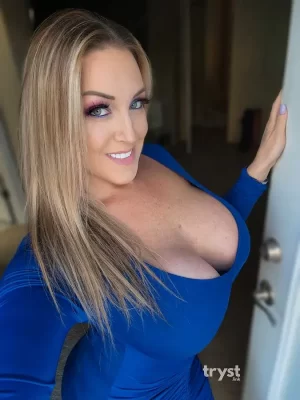 You can find escorts listed on the higher-end directory sites like Eros and Tryst. We've contacted a few of them with varied results. Most of the time these are girls way past their prime trying to maintain an income to support their lavish lifestyles.
The profile pics feature images from their best years, but if you do a little digging you'll realize they've got a lot of hard miles on them. If you do book one, don't expect them to be anywhere near as attractive as their profile pictures.
Prepare for Inspection!
We've noticed a trend on a lot of the big-name escort listings for porn stars. Often the only way to reach them is via email. Even if there is a phone number, the interaction will be much different than local girls.
The first thing they will do, before even saying "Hey babe!" is a request that you verify.  They will want a LinkedIn Profile, a selfie holding your driver's license, and most often, referrals from at least two other escorts.
If you're not ready to divulge that kind of information to a stranger over the internet, they're not going to talk to you.
Prepare to Break the Bank
The high-end porn star escorts charge $3,000 – $5,000 per hour, usually a 90-minute minimum for 1st-time clients. So unless you have several grand to spend on a very brief saree, these girls will be cost-prohibitive.
Most of the girls offer FMTY service (Fly Me To You). This will include an hourly minimum (usually 2 or more hours.) First-class airfare will be required by the client. They will also require you to book them 4-star or higher accommodations for the trip. If you want multi-hour bookings, they will require 8 hours of sleep and a few hours of personal time to work out and unwind. A weekend date could easily cost you $10,000 before you factor in airfare and hotel.
Be Prepared to Act Fast
The legit girls that are worth booking travel frequently. They often post a schedule in their listing so that they can pre-book and know they have enough clients to make the trip worthwhile.
If you do decide to go this route, don't dawdle. You may have the perfect itinerary in your head, but if you wait to book, she may have a full schedule for that trip.
Do Your Research (Or Prepare To Be Disappointed)
These girls put their best foot forward, so their profile pictures showcase their assets at their peak. Here's an example:
https://tryst.link/escort/hot-ass-hollywood#photos
Not the worst-looking porn star turned escort. But do a quick search for "Hot Ass Hollywood" on pornhub and you'll see that the current version is a definite downgrade from the profile.
The good news is that legit adult film actresses have a full catalog of material that is accurately dated. So you can get a really good idea of what she looks like beforehand. Put in the two minutes to find out before you waste your time.
Porn Stars Working at Brothels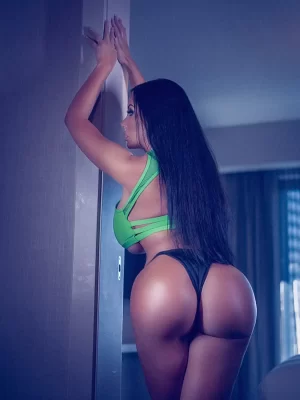 We've seen multiple listings for famous porn stars working at the brothels near Las Vegas. We decided to test it out and showed up unannounced to Sheri's Ranch. According to their schedule Sybil Stallone was on the roster for the day of our visit and not scheduled to leave until the following week.
When we arrived, we asked the hostess if Sybil was available. She replied "Umm, unfortunately, Sybil just left. She, uh, had some business at home that came up unexpectedly."
So read into that what you will. We guess that the girls may occasionally filter through for high-dollar clients, but for the most part, it's a marketing ploy to get guys to make the trip.
If you do want to book a session with a real porn star at one of the brothels, call ahead and schedule the visit.
The crappy part of the whole deal is that it's illegal to discuss rates over the phone or online. They are only allowed to discuss rates in their private quarters.
So even if you book a date, and drive all the way out there, your budget may not be enough to entice the actress to spend time with you.
We got the full tour and spoke with the gentleman who runs the website and online marketing for one of the legal brothels in Pahrump. He told us the top girls won't book a party for less than 3 grand. We bet that porn stars charge a premium over that, especially if they are still in their prime.
Final Thoughts
Much like many offerings in Las Vegas, the reality doesn't live up to the hype. Yes, Porn Stars perform at gentlemen's clubs for big event nights, but it's not that great.
Sure some of the adult film stars that have been put out to pasture try to earn some extra income working as escorts or at a brothel, but they are usually many years past their peak attractiveness. Do you want to bang a girl who's been taking it in every hole from the largest dicks on the planet for the past decade?
If you want a hot chick that's fun to hang out with and will make you feel like you're a king there are much better opportunities in town.