Sapphire Las Vegas Overview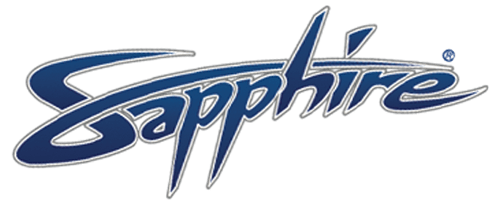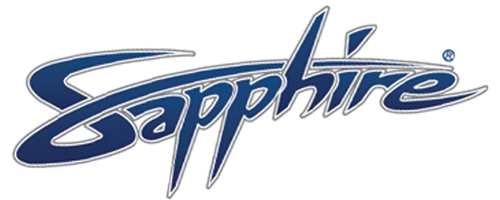 We took a trip to Sapphire to see how the club has changed over the years, see some old friends, and have a cold drink. One thing that hasn't changed is the pricing. Sapphire is probably the most expensive strip club in Las Vegas, which is why we are not frequent visitors. But the club is huge, they have a massive lineup of strippers and a reputation that allows the club to continue to overcharge for a night out.
Sapphire Exterior
The parking lot at Sapphire is pretty spacious and has been recently resurfaced. So there's plenty of parking and you don't need to worry about bottoming out your car's suspension on potholes.  
The valet area and transportation drop-off area could use a refresh. Most clubs try to make a good impression at the entrance with a decorative front facade and luxurious porte-cochère.
In our opinion, Treasures, Peppermint Hippo, and Hustler all feature a better experience where you feel as though you're arriving somewhere grand. Getting dropped off at Sapphire feels like you're about to enter a furniture warehouse or low-budget underground rave.
Also, you'll find that there's a lot of blue on the outside of the building. Lots of blue. Because, you know, it's Sapphire right?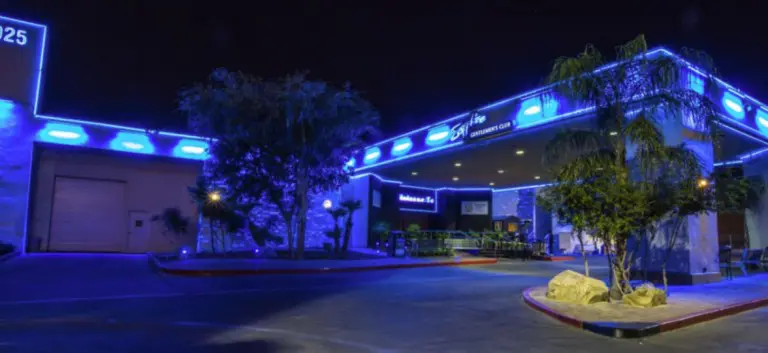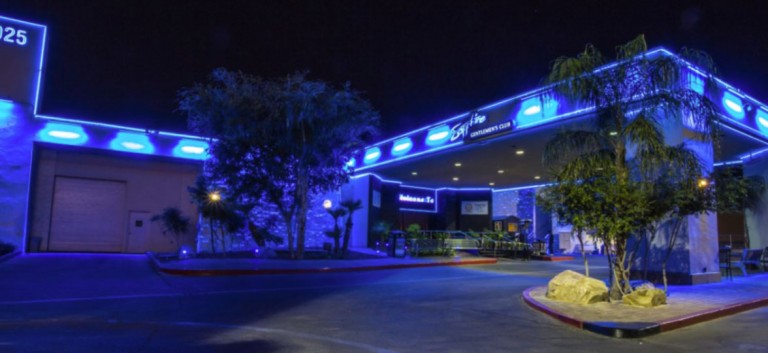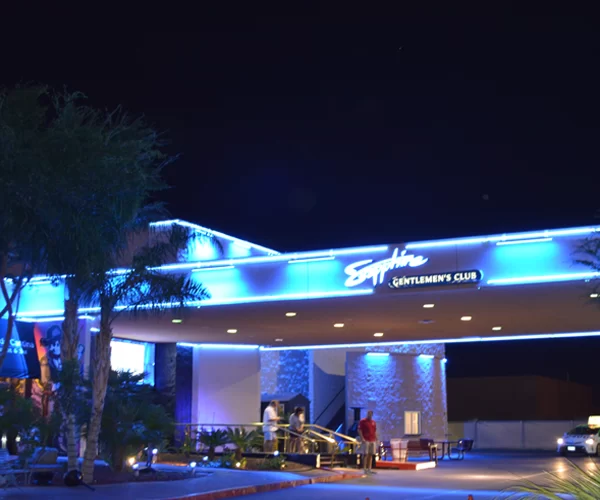 Entryway
Once inside, the entryway is large and well-decorated. Their walls feature various works of art to give the space an upscale feel, but you'll also find placards on tables promoting upcoming events. It's a weird juxtaposition where you have a nice painting obstructed by a display promoting their 69K Formula 1 package. Nice?
There's plenty of space for when it gets busy on weekends and holidays, with velvet ropes keeping the crowd orderly and moving forward. Much better than being stuck outside in the sun on a hot summer day when the line is out the door like at some other strip clubs in town.
The security guy at the door will scan your ID, then you'll proceed another 40-50 feet where you get wanded with a metal detector and patted down for weapons. If you wear a clip knife, leave it in your room or vehicle or you'll have to remove it before entering the club.
Provided you pass the pat-down, there's a cute girl at a circular reception booth where they extract the cover charge. On the night we visited, the cover charge was $50, but you can expect a $100 cover or more on busy weekends or holidays. Ouch! After you pay, the hostess will inform you that the cashier cage is on your right if you "need any cash for tipping the girls."
Fatburger at Sapphire
At the end of the entryway on the left you'll see signs for Fatburger, which we thought was weird. They have displays that look like they are legit displays from the Fatburger main office. Apparently, you can order Fatburger on the premises. However, we don't believe the food is prepared at Sapphire. We asked a dancer and she said they basically DoorDash the food to a side entrance and then serve you at the back of the main bar. This area was slated to have gambling machines on the bar but the permitting hasn't gone through. Again a strange choice of Americana in an "upscale" gentlemen's club.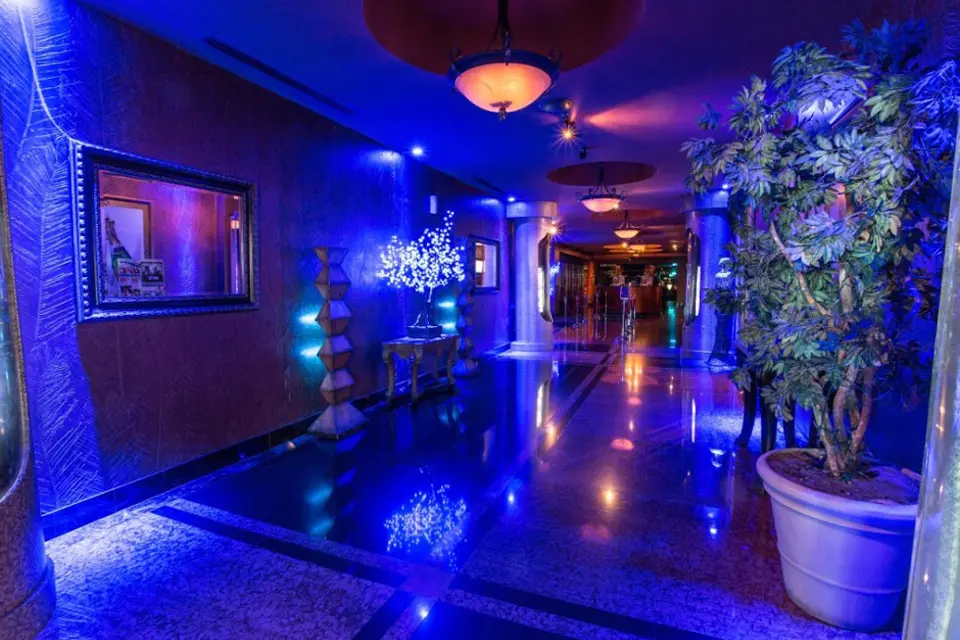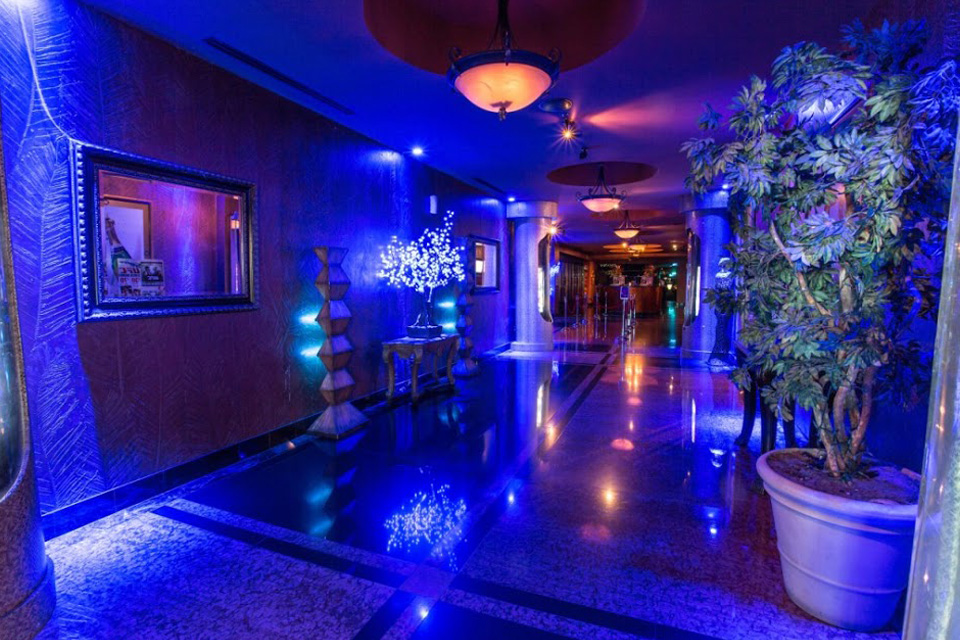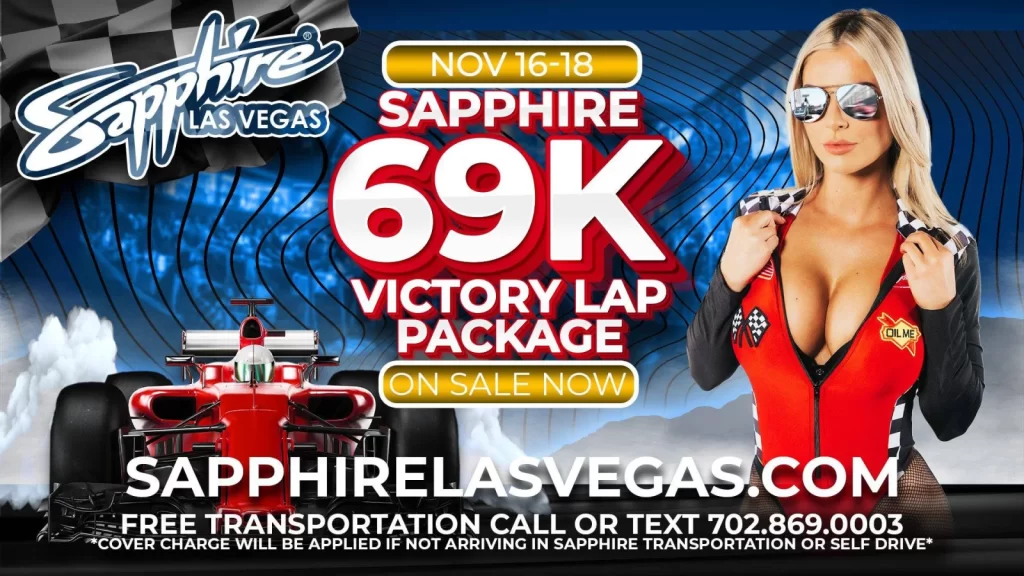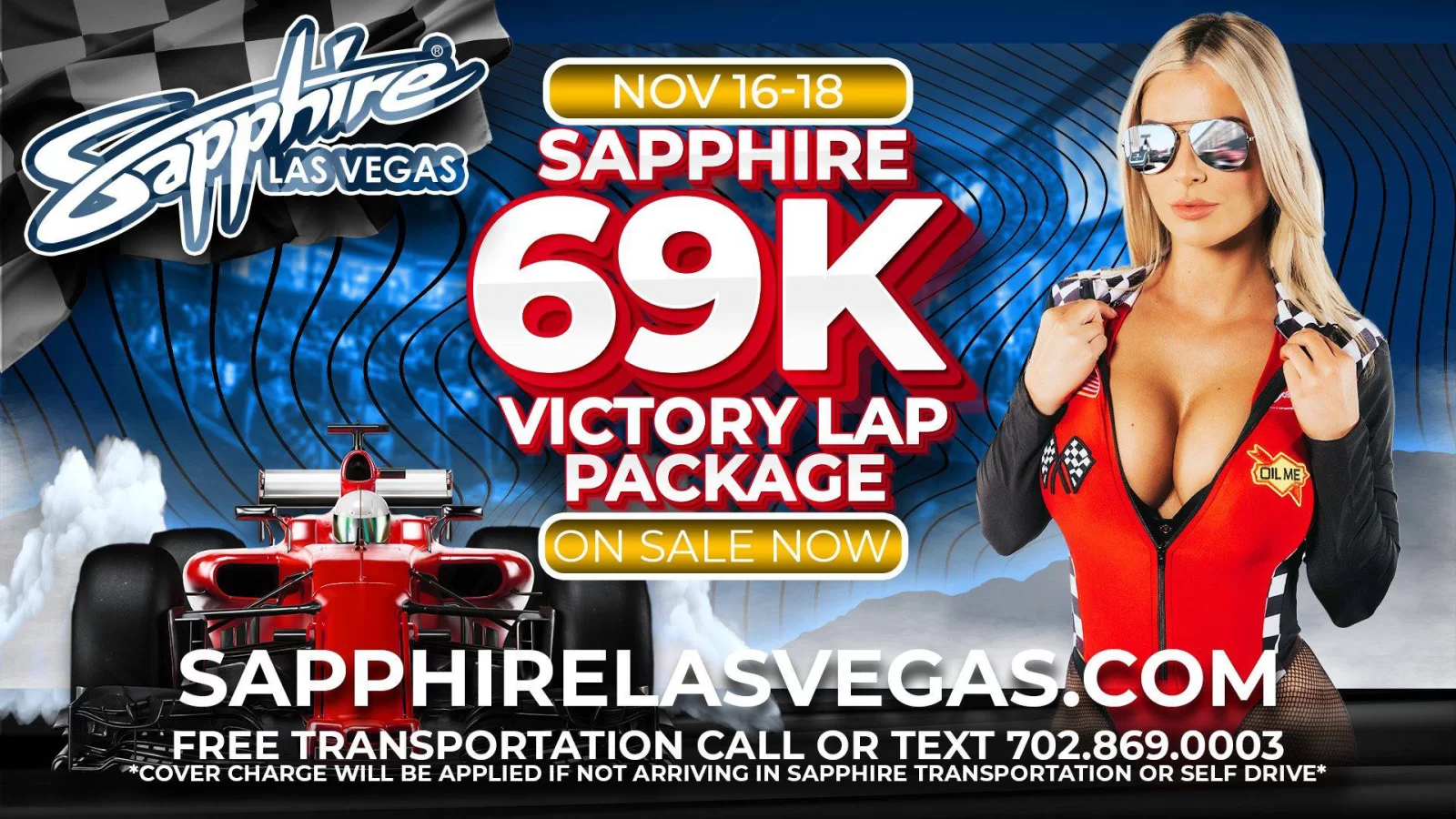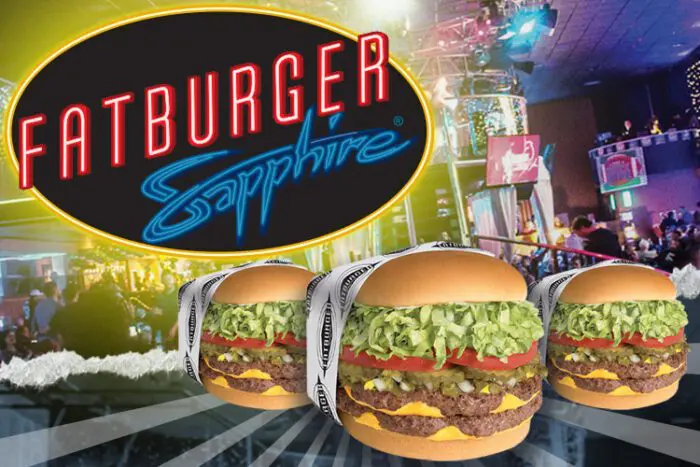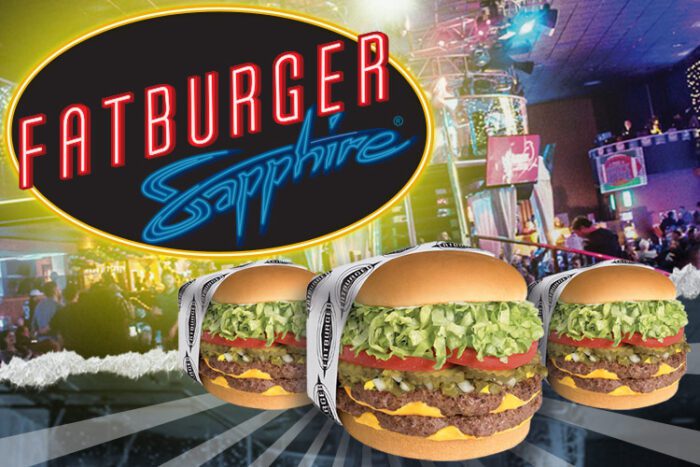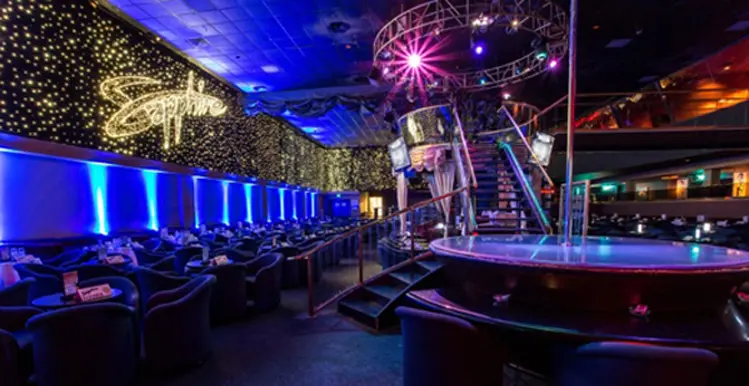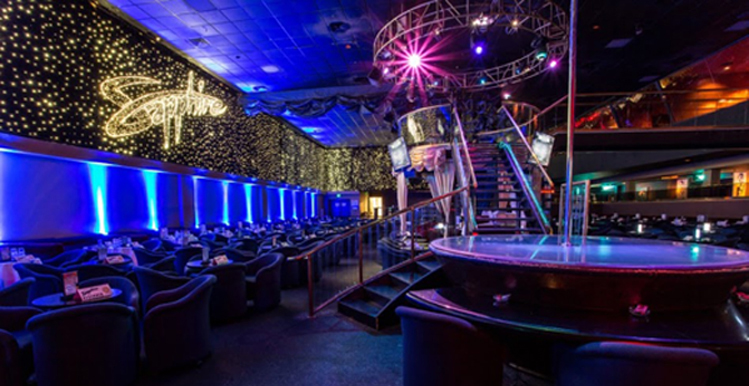 Sapphire Main Stage Area
Once you make it past the Fatburger lounge you'll see the main bar off to your left. There's a service well right in the way of access to the main bar, again another subpar choice in terms of layout. The other option is to walk down to the main floor, back up a small set of stairs to enter the bar.
The floor is decorated with numerous small tables surrounded by 4 rolling strip club chairs.
You can't miss the main stage, it's set up dead center of the room. There's a catwalk that ascends behind the main stage to a platform. From the platform you can go right, up into the Skybox private suites, or go straight, and down an identical set of stairs to stage 2. The steps are glass, the descent is steep, and we're glad we don't have to try to navigate this death trap in 6-inch stripper shoes with a couple of drinks affecting our balance.
The room has curtains that separate the main stage area from stage two, so even if the club isn't really populated it still appears busy. Once the main floor fills up, they open up stage two, roll back the curtains, creating a massive party space.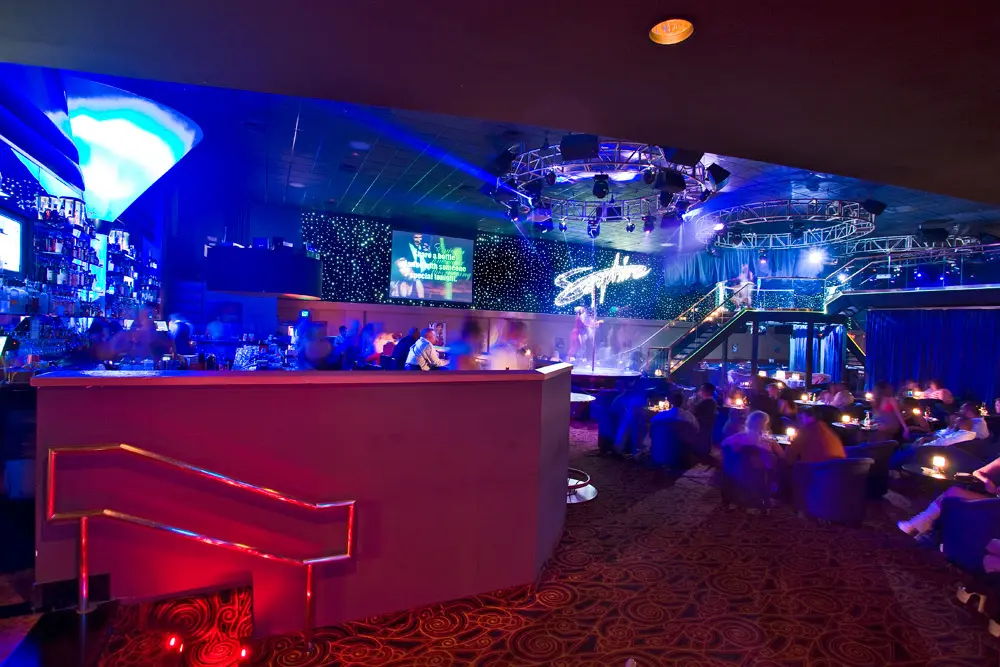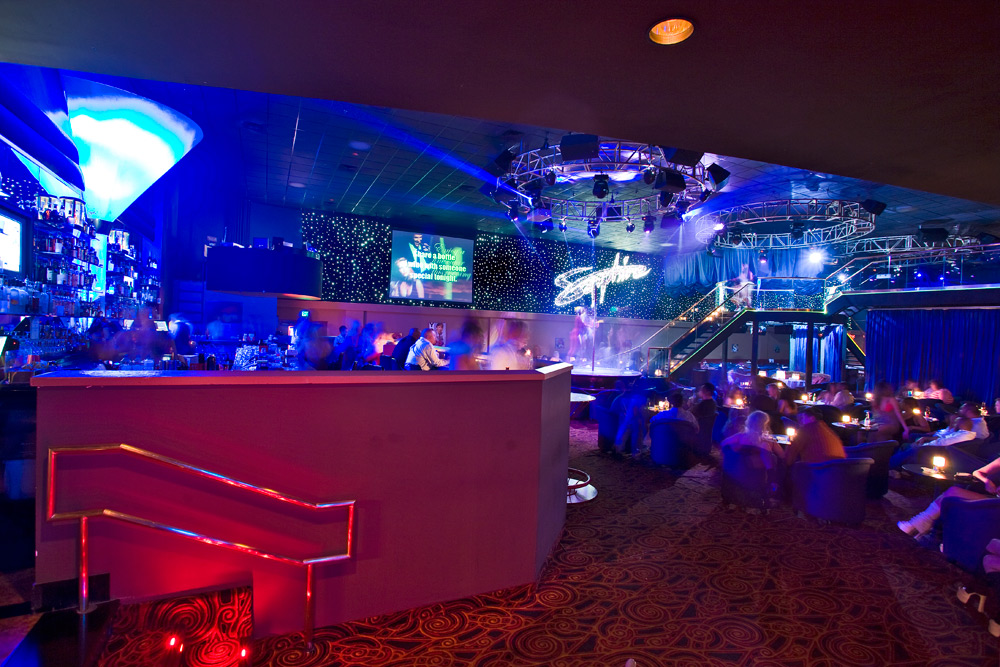 Sapphire Main Bar
Once you make it past the Fatburger lounge you'll see the main bar off to your left. There's a service well right in the way of access to the main bar, again another subpar choice in terms of layout. The other option is to walk down to the main floor, back up a small set of stairs to enter the bar.
Many girls hang out near the service well entry to the main bar, so it's a traffic jam of people trying to get to the bar, waitresses trying to do their job, and dancers trying to get a dance. Definitely not an optimal setup.
Behind the main bar, you'll find the usual selection of high-end liquor and mixers. The bartenders are competent and attractive. The blonde bartender appears in a lot of the club's promotional material going back a couple of years which means she probably an owner's or manager's partner.
Above the bar are two very large, and very bright HD plasma screens. Sounds neat right? The downside is that these screens are so bright that when the light from the screens hits the girl's skin, you can see every single flaw in high definition. Why? Because most gentlemen's clubs are set up with complimentary lighting. If you've ever looked at a girl's skin under candlelight, it seems to glow. A similar technique is used by social media influencers who know how to light their scenes. That's why most clubs use a lot of UV lighting or black lights. When it's reflected it gives the skin a smooth appearance. They also select the hues and intensity of the stage and floor lighting to make sure their strippers appear as flawless as possible.
Since most of the dancers loiter near the bar, this horrible lighting choice accentuates every scar, cellulite dimple, stretch mark, and cosmetic surgery mistake in HD.
The main floor is no better. As the overhead lighting would be more appropriate for a nightclub. No care to intensity, hue, or direction behind the implementation. The mantra seems to be, "More and brighter is more better!"
The good news is that if someone in charge ever takes an objective look at their lighting situation, it's pretty easy to fix. They just need someone who knows what they're doing to make some conscious decisions and adjust their current equipment.
Showroom
From the entryway, if you look to your right, you may notice the area curtained off with the marquee displaying "Showroom." This area is dedicated for big events, especially sporting events. The Showroom features huge HD flat screens that are perfect for watching everything from the Superbowl to the UFC. When this room is in play the cover charges are usually ridiculously expensive. Expect $150 or more just to get in the building if they're using the showroom that night.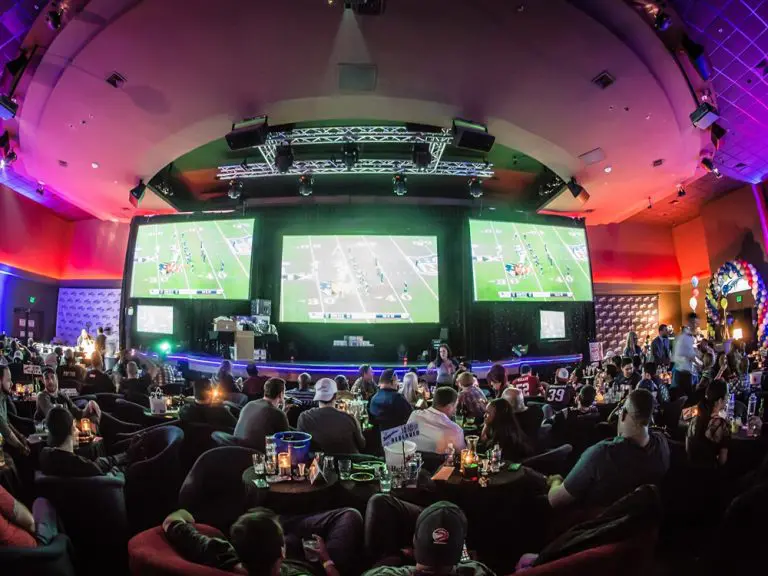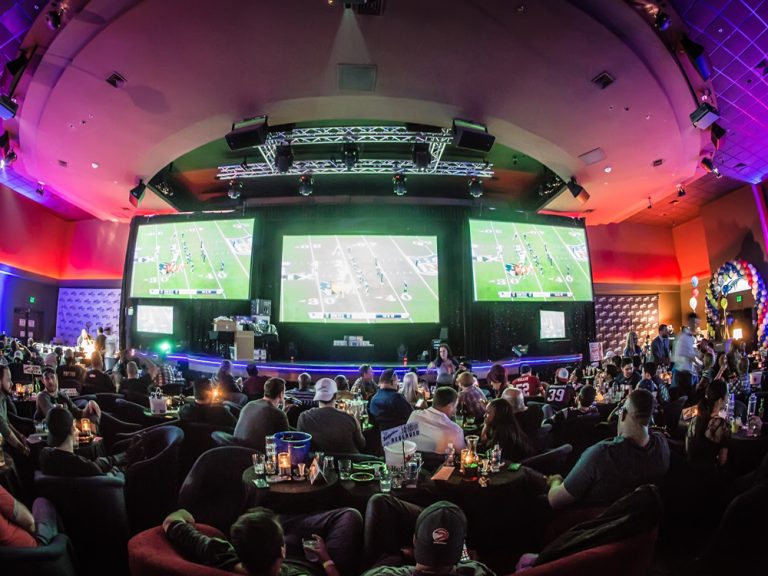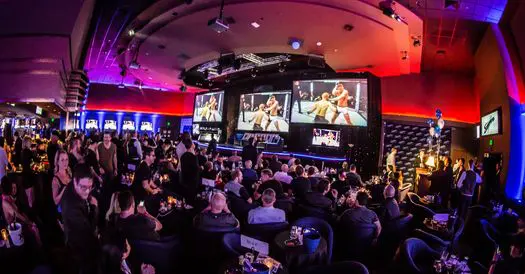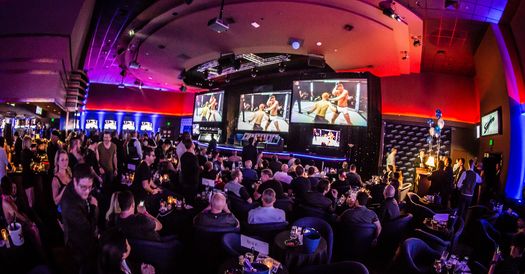 Sapphire Private Dance Areas and VIP Rooms
We got the rundown on the VIP areas from a helpful perky blonde who goes by Blake. Basically the small chairs are 15 minute packages for $300 to the girl and $62.50 to the house and you get two drinks included.
The slightly larger loveseats are in a different area, and here you can get 30 minutes for $600 to the girl plus $185 to the house and you get 4 drinks.
Neither option was very sumptuous or private.
If you have big bucks they have multiple Skyboxes, which are private rooms that come with steep minimums. We were quoted $2500 for an hour which included entertainment and bottle service. If you look on their website they have the same package for $1500 but we have no way of knowing if that's just the "get the party started" price and they try and upsell you once you're on the hook. The Skyboxes are differently-themed VIP rooms that have an alcohol as the theme. For example the Krug Skybox.
In our personal opinion, Hippo and Rhino have much better VIP experiences for the money, and the girls are much more friendly.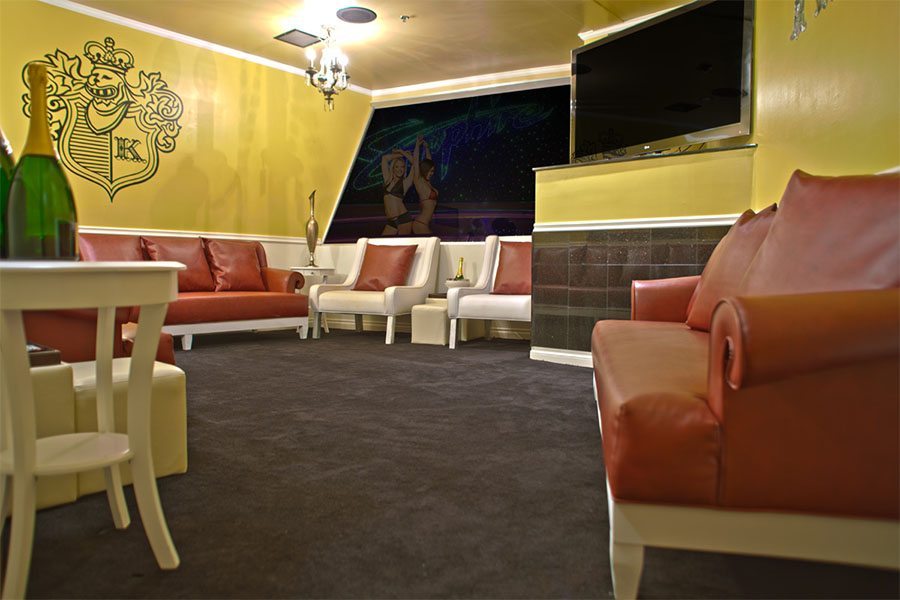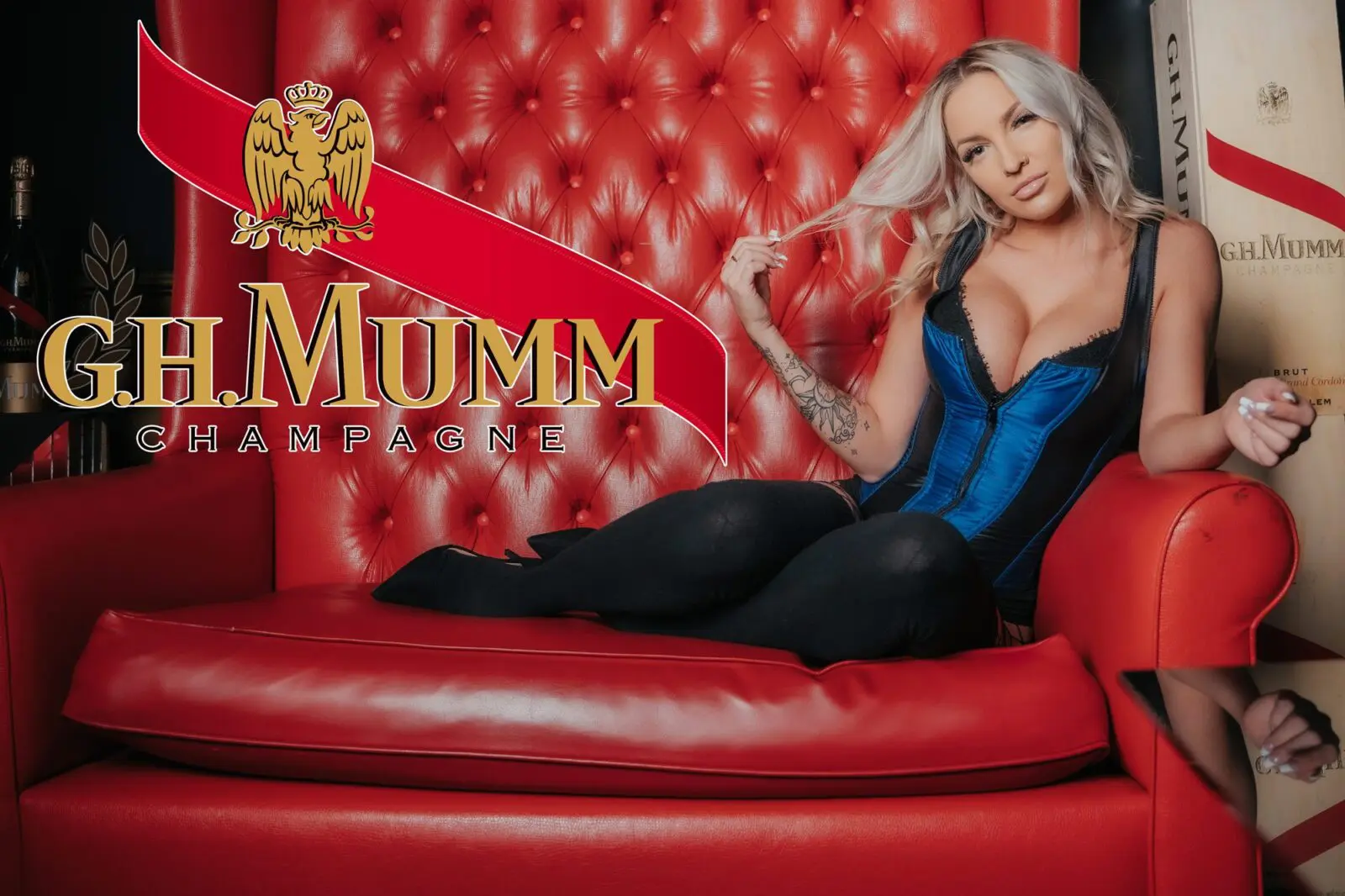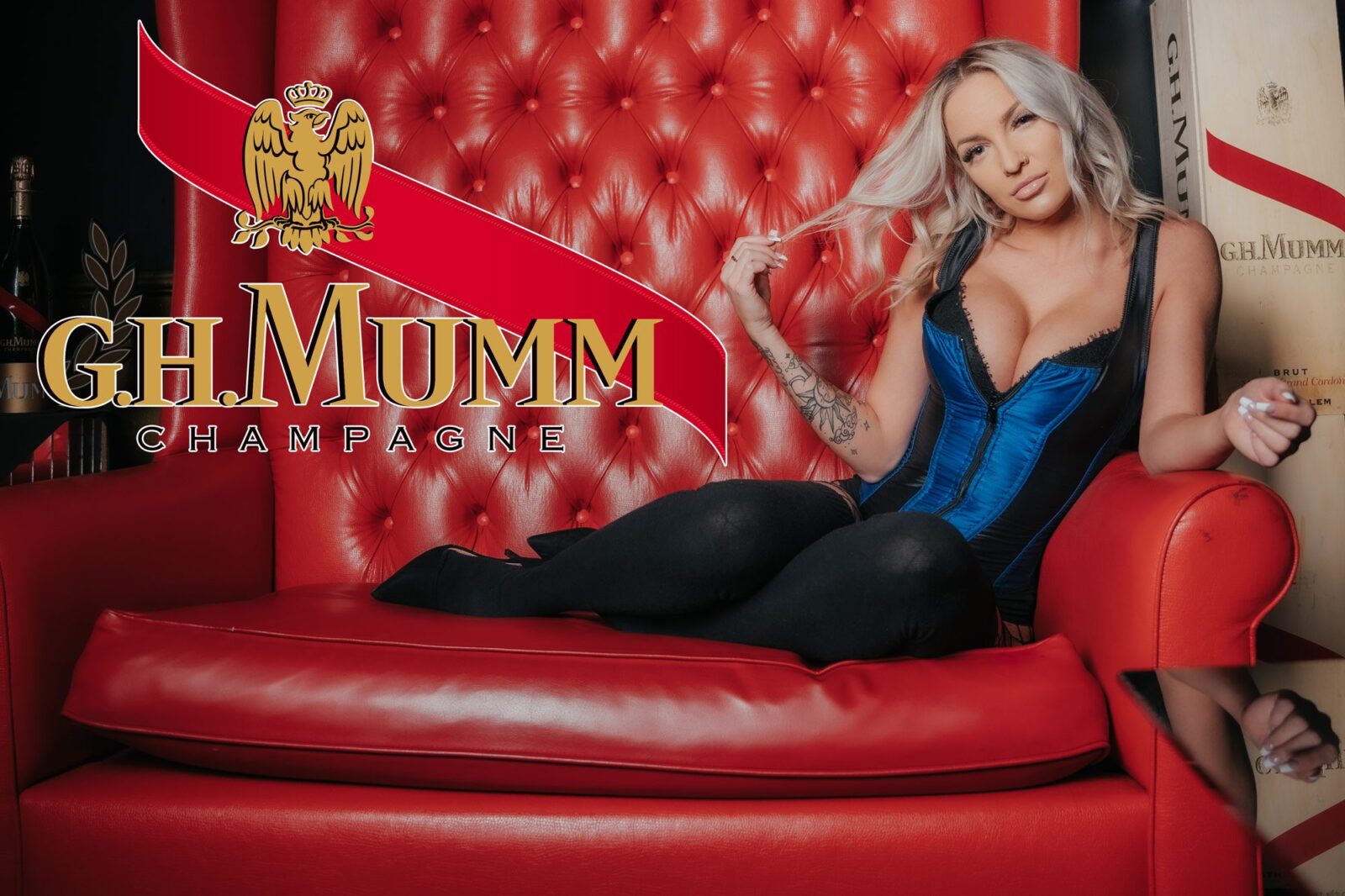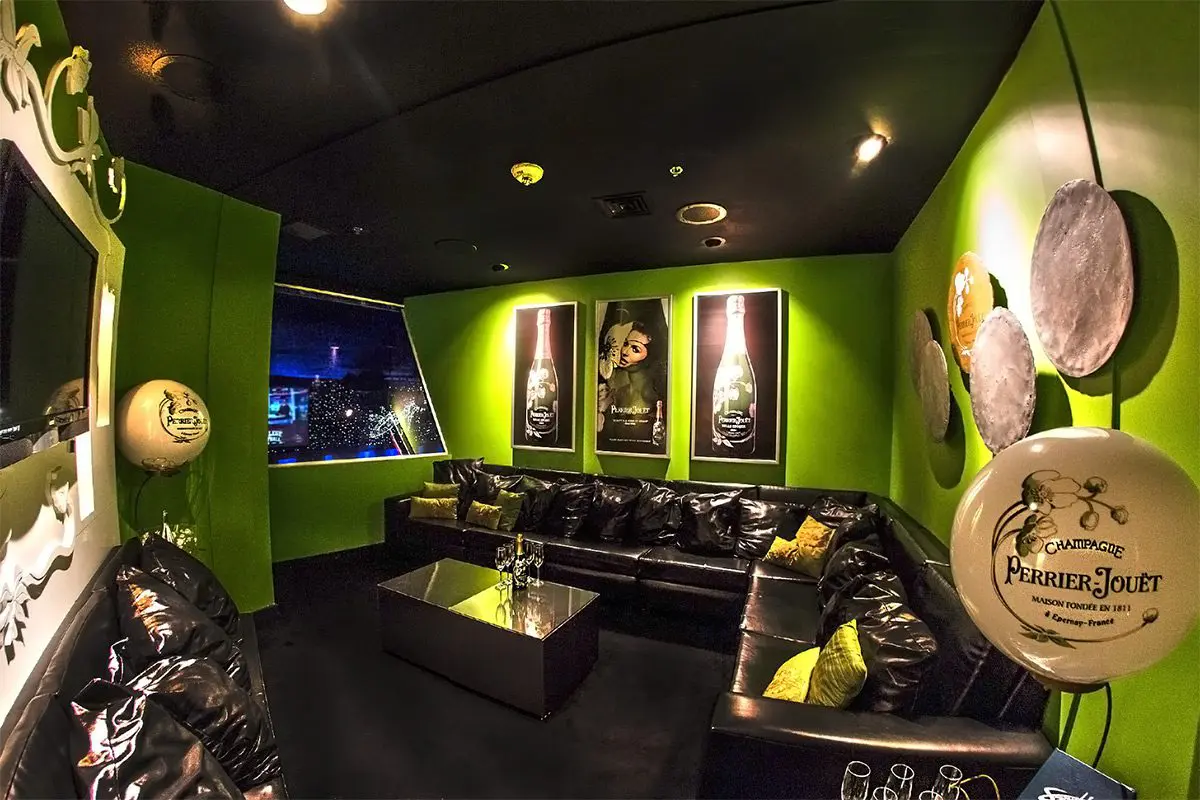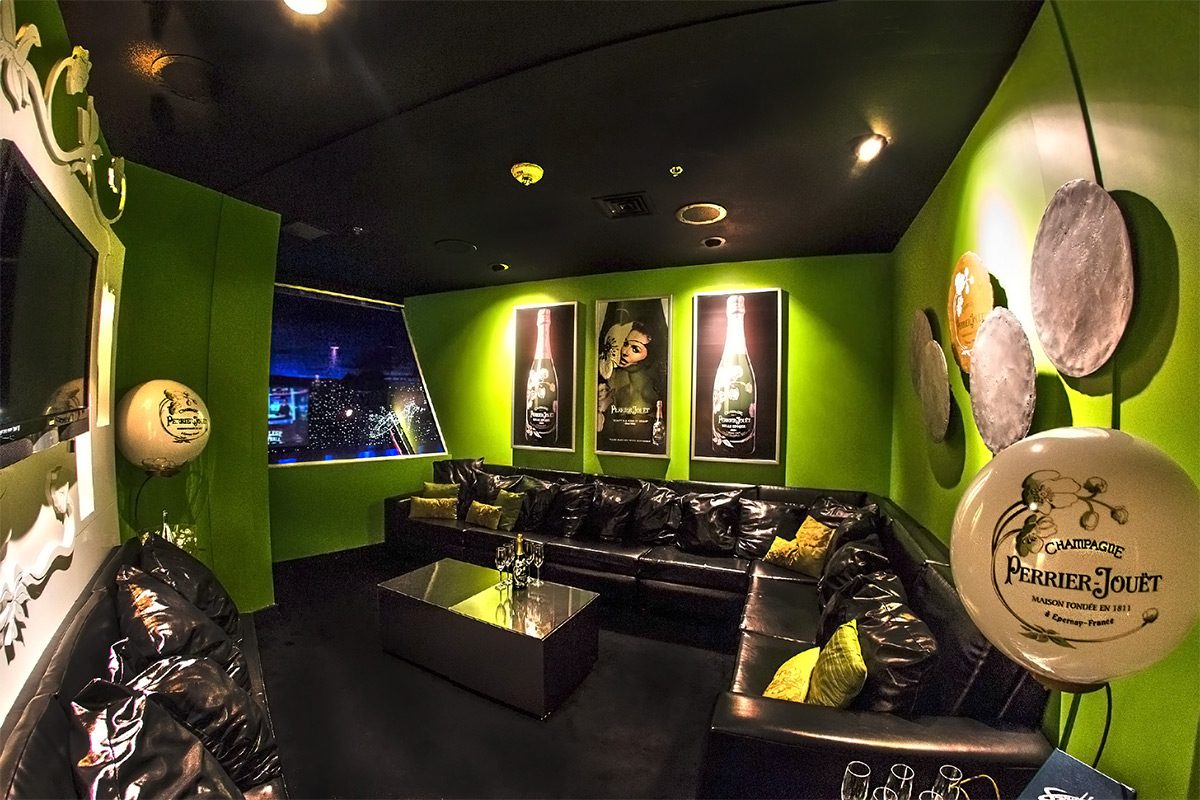 Sapphire Dress Code
The dress code is casual, but you'll want to keep in mind a few rules:
No sweatpants
No jerseys
No tank tops
No flip-flops/sandals
No open toed shoes
Sapphire generally has the most strict dress club in town. If you want to visit this club, it's best to err on the side of over dressed!
Sapphire Prices
Sapphire's pricing skews towards the high end in Las Vegas.
Cover Charge
The cover charge during the week is $50. On weekends the cover charge is $100. For special events and holidays, expect $150 or more for cover charge.
Drinks
We bought a Red Bull and Grey Goose for $26. Expect well drinks to run $20 and up.
Draft beers run around $14 with bottles costing $16 or more. Imports run $18 plus.
Bottled water costs $13 and they have a premium bottle water supposedly equivalent to Fiji water for $19 for 10oz bottle.
Champagne bottles start at $199 and go up from there.
Lap Dances
$40 per song at your table or
3 for $100 at your table
VIP Dances
$300 for 15 minutes plus a $62.50 house fee on a small seat in a not-so-private area. Two drinks are included.
$600 for 30 minutes plus a $185 house fee on a loveseat in a slightly more secluded area. Four drinks are included.
VIP Rooms / Skyboxes
$1500 per person per hour per girl. $500 drink credit included and $1000 entertainment credits
As you can see, everything from the drinks to the girls costs large premiums over other clubs. If you want to know where you can have a better time without breaking the bank, call us and we'll hook you up.
The Strippers
We were pretty disappointed by the lineup of girls on the night of our visit. Out of the 50 or so strippers there, we only saw 4-6 that were legitimate babes. There were a lot of not-so-hot 30-somethings just trying to make a buck. There was also a fair amount of not-so-great cosmetic surgery.
The girls were for the most part charming and polite and we spent about 30 minutes chatting with one of the first girls to approach us. She was funny, perky, and cute, but not really our style. But she was so positive and outgoing that we did the 3 for $100 table dances.
We chatted up a few other girls, rebuked many many more, and were on our way out when something uncomfortable happened. This dancer in her late 20s to early 30s with frizzy red hair approached us as we were finishing our last drink and getting ready to head out. She was dressed in a half-assed "schoolgirl" outfit, that was not particularly endearing.
To put it nicely we wouldn't have hired her to work as a server, let alone a dancer, even at the small clubs we've run in the past. She kept pressing us to get a dance when we simply told her we were on our way out. She says, "I dare you to leave." We just looked at her like, "Are you fucking serious?" She stood her ground, so we calmly finished our drink slowly during the uncomfortable silence.
As we set our drink down to leave she says, "At least buy me a drink before you leave." We declined. She said, "You have to pay a $25 rejection fee." We just laughed and walked away. The sad thing is, that little bit probably works on a lot of guys, but it is a terrible experience. Most guys aren't going to recall that as a great final experience of their night.
As we were walking towards the entryway, we went into the "Fatburger Lounge" to get some more info and see if this was for real or just a meme. There was a gorgeous Asian gal in her early 20s sitting at the bar. She gave us the rundown on the Fatburger arrangement.
We got to chatting about tennis and pickleball and had a great conversation. Guess who was giving us the evil eye through the opening in the bar? You guessed it, frizzy red-headed schoolgirl. I gave her a little wave just to let her know I saw her and to piss her off. We bought the beauty at the Fatburger bar a drink as a thank you for the conversation and information, then left.
Management
The managers need to get on top of their lineup. There's no reason there shouldn't be 50-100 absolutely gorgeous strippers working the floor at their club at all times. Here's where Sapphire gets it wrong. The managers probably have quotas. "We're known for having the biggest lineups in town, so get 300 girls or I'll find someone else who will." That's how this homely frizzy red-headed schoolgirl gets hired. That's how her negative antics don't get punished and she remains on the roster. This is how you have to wade through a gauntlet of girls that couldn't get hired at a knockoff Hooters restaurant just to find the 4 or 5 girls that are attractive, friendly, and professional.
Once the lineup gets a little homely, the hot girls won't want to work there. It's like, "These girls are janky as fuck, I'm outta here!" They go where the other 9s and 10s are working. This is why Treasures, Hippo, and Rhino all have smaller rosters but much hotter girls.
The other thing the management needs to figure out is what kind of club do they want to be. Do they want to be an upscale gentlemen's club or do they want to be a bad rave full of unattractive dancers pushing fast food and 69 jokes?
They have an awesome location and a great reputation. But right now it's being squandered and eventually, their reputation will get punished.
Hours of Operation
Sun through Thur: 8 pm – 4 am
Fri – Sat: 8 pm – 8 am
Sapphire Quick FAQ
How much is the cover charge at Sapphire Gentlemen's Club in Las Vegas?
The cover charge at Sapphire is $50 on weeknights. On weekends and special events, the cover charge at Sapphire is $100 or more.
How much are cocktails at Sapphire?
We bought a Red Bull and Grey Goose for $26. Expect well drinks to run $20 and up.
Draft beers run around $14 with bottles costing $16 or more. Imports run $18 plus.
Bottled water costs $13 and they have a premium bottled water supposedly equivalent to Fiji water for $19 for 10oz bottle.
Champagne bottles start at $199 and go up from there.
What kind of music do they play at Sapphire?
The most common musical genre they play at Sapphire is House and EDM. During our visit, they did play some hip hop as well, but the music selection will typically skew towards electronic music. They do have large screens behind the bar that play videos of many of the songs the DJ selects.
How much do lap dances at Sapphire cost?
A table dance costs $40 per song at your table or $100 for 3 lap dances. We got the tour of the VIP room and for a small bench, you get 15 minutes for $300 to the stripper and $62.50 to the house. Two drinks are included. For $600 to the dancer and $185 to the house, you get a larger couch in a more private setting and 4 drinks are included.
How much is the bottle service at Sapphire?
They have prepaid packages on the website starting at $700 including one premium bottle and one small champagne bottle for $700. Once you're inside the club, bottles start at $700 for bottle service including premium mixers.
How much do the private VIP Skyboxes at Sapphire cost?
They have bottle packages on the website that indicate you can book a Skybox for one guest starting at $1500, which includes a $500 credit toward a bottle. This also includes a $1000 entertainment package which goes to the stripper (we assume the house keeps a cut of this). When we asked a dancer in person, she said it's $2500 for an hour which includes the dancer and bottle service. This seems to be a small premium over the $1500 prepaid, but again they may upcharge the prepaid voucher for drinks and entertainment. There's no way to tell which is true without dropping $1500, which is out of our budget for the night.
How much "mileage" can you get in the VIP rooms at Sapphire?
The VIP room won't allow you to "do more" regardless of what a stripper tells you. Sapphire is a large gentlemen's club that makes millions in revenue every year. The managers simply aren't going to risk their liquor and business licenses so dancers can get nasty in the champagne room. You may have a better chance of getting her number by spending more, but your odds of any on-premise activity are zero.
How many strippers work at Sapphire?
Sapphire boasts over 400 dancers on the weekends. During our recent visit, we saw approximately 50 girls working the floor during peak hours.
What are Sapphire's hours of operation?
Sapphire is open Sun through Thur: 8 pm – 4 am and Fri – Sat: 8 pm – 8 am. While this club used to be a great 24/7 option since the pandemic the hours have been reduced. While they have slowly expanded their operating hours since they are not back to full round-the-clock availability.
Find the best strip clubs in Las Vegas and get the right club for your tastes and desires!
Spend your time and money getting the best experience in town.
Not sure what to wear? Don't get shut down at the door! Quick and easy dress code guide for all major strip clubs in town!
Arrive in style and comfort with the confidence to know you've dressed appropriately.
First time to a strip club? Have questions. No problem, enjoy our curated Strip Club Frequently Asked Questions.
Still confused? Call Us!
Want the best coed strip clubs in Las Vegas? Get hot lineups for both sexes at these venues.
Looking for the full skin factor? Check out our guide for the best fully nude strip clubs in Las Vegas!
Skip the club and bring the party to your room. Some of these girls work at the top strip clubs in Las Vegas. But they get wild when they're not supervised by a bouncer in the club!