Hustler Las Vegas Overview


We took a trip to Hustler to see how the club has changed over the years, see some old friends, and have a cold drink. This used to be one of our favorite gentlemen's clubs pre-pandemic. We wanted to see how the club evolved.
Hustler Exterior
The parking lot at Hustler is pretty spacious but a lot of the space is occupied by limos and sprinter vans used to ferry guests from their hotel to the club. The layout can be confusing regarding where you're supposed to park. If you take a right entering the parking lot, you'll end up parking in front of the adult store. You can go in, but you'll have to come back outside if you want to enter the gentlemen's club. If you go straight, that's for valet, taxi, and house transportation. You want to go left and find a spot in the front parking lot.
The valet area and transportation drop-off area in on point with a large porte-cochère, with ample lighting and neon effects that make a good impression. The decorative front facade and party atmosphere add energy to the vibe as you enter the club.
It's weird how they check you in though. The main guy asks for your ID. Then you walk 5 feet and another security guy pats you down. After that, you're allowed to enter the club and pay at the cage on your left. Where they check your ID again. If you pay with a credit card they also scan both your ID and your credit card front and back. If this were a $1000 bottle service purchase, we get it. You want proof if a customer has buyer's remorse and wants to dispute the charges. But for a $50 cover charge, it seems a little overkill. I'm sure Hustler's IT security team is top notch and these documents would NEVER end up in the wrong hands, right?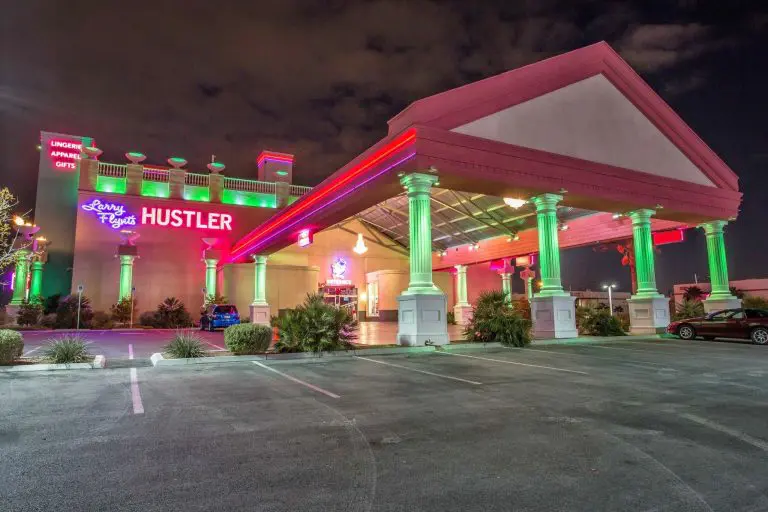 Entryway
Once you enter the club, you move off to your left to pay the cover charge. Unfortunately, you can't see the entire floor. You have to pay before you know the size of the crowd, how many girls are working, and if there are hot strippers on stage. Most clubs are set up this way, otherwise, nobody would pay $50 to enter a vacant club.
Personally, if there are less than a dozen people in the club and less than at least 10 dancers on rotation, charging a cover is a rip-off.
Once you pay you'll enter the club proper. Off to your right is the Hustler Hollywood adult store, which is actually pretty awesome as far as sex shops go. Straight ahead is the restrooms and ATMs. The left option leads to the club proper and puts you near the main bar.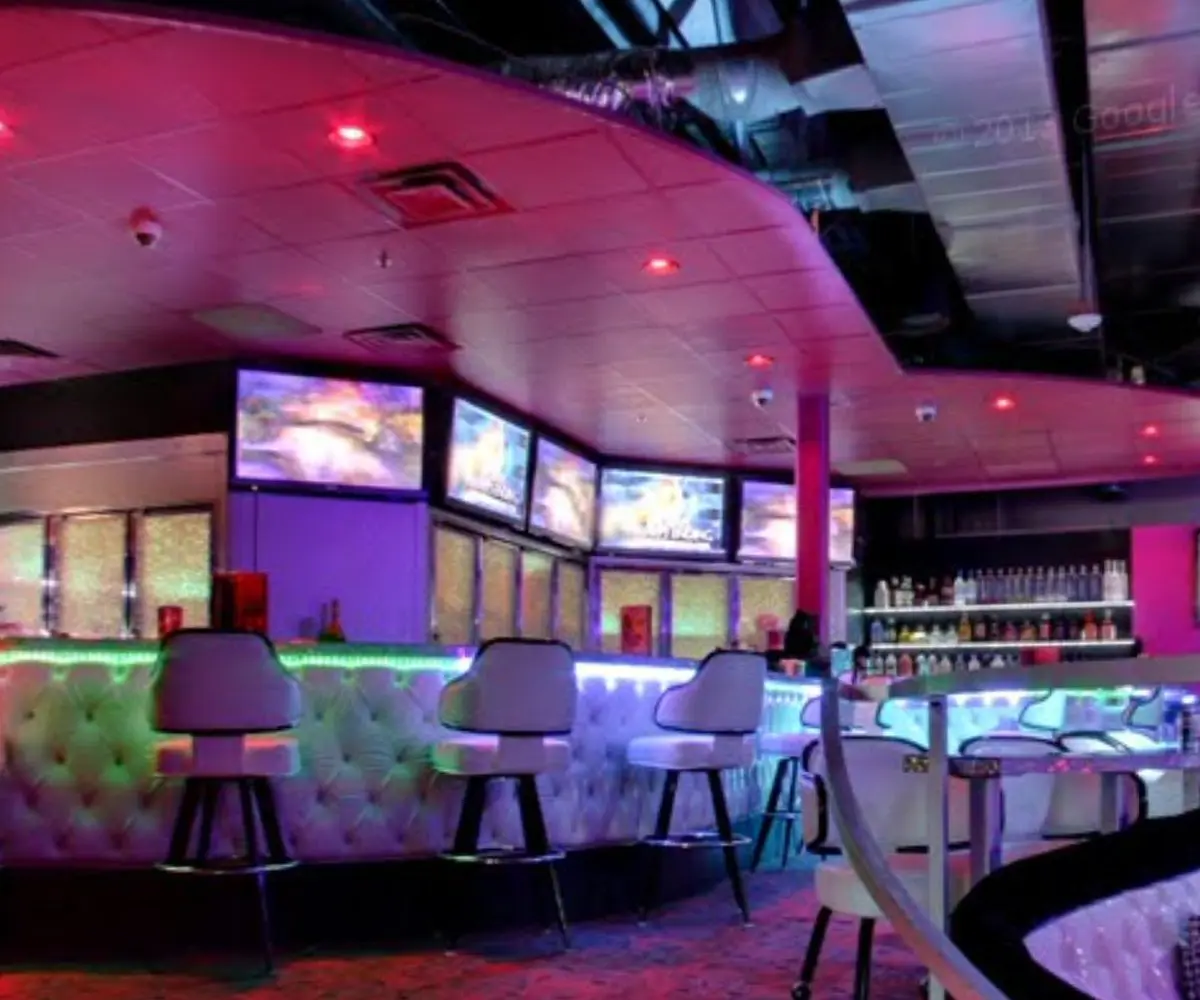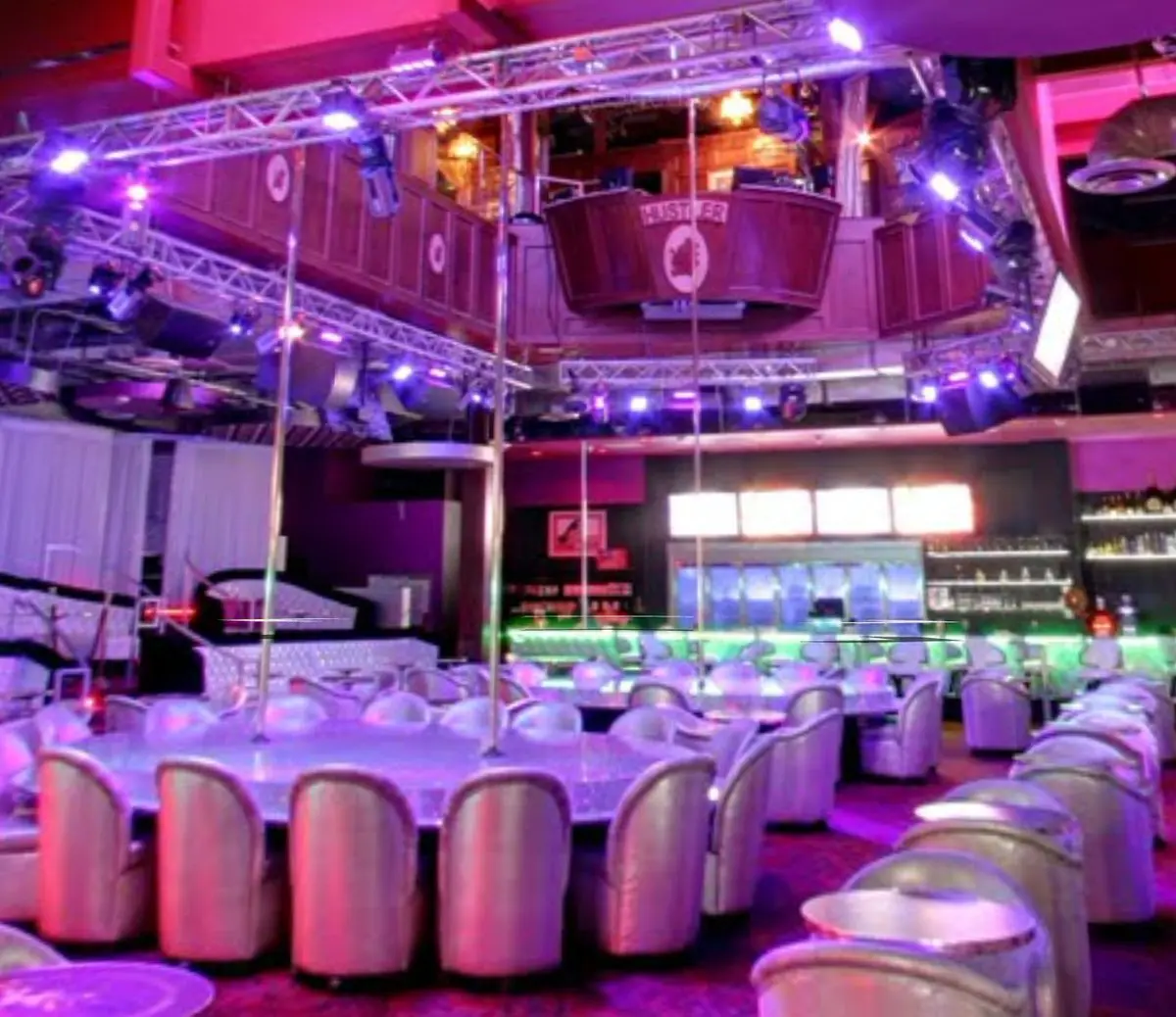 Hustler Main Stage
There are actually two main stages on the club's first floor, and you can see them both as you enter. The floor is packed with classic small drink tables surrounded by 4 rolling strip club chairs.
The floor is packed with classic small drink tables surrounded by 4 rolling strip club chairs.
One interesting design choice you'll notice is the DJ booth occupies a prominent space on the main floor. You can walk right up to the booth and we can only imagine how hectic it must be on a busy weekend trying to protect your sensitive electronics from intoxicated guests asking if you can play Baby Got Back just one more time.
But it does encourage the DJ to interact with the crowd, which is nice. Most clubs tuck the DJ booth out of sight. This can be especially good if you have a well know DJ hosting for the night.
To the left of the room is the VIP bottle service areas. This area takes up about a quarter of the entire floor space. The booths are terraced, rising as you get further away from the stages. In order to sit in these special seats, your group needs to purchase bottle service.
What is surprising is the small size of the main floor area of the club. Hustler claims to be the second largest strip club in Las Vegas, second only to Sapphire. Their square footage comes from the multiple floors of the club, vs a large footprint at Sapphire. As we'll see, most of the club remains unused most of the time.
Due to the intimate size, the main floor always feels like there's a party going on simply because it is so small and a lot of the space is dedicated to the DJ booth and VIP bottle service area.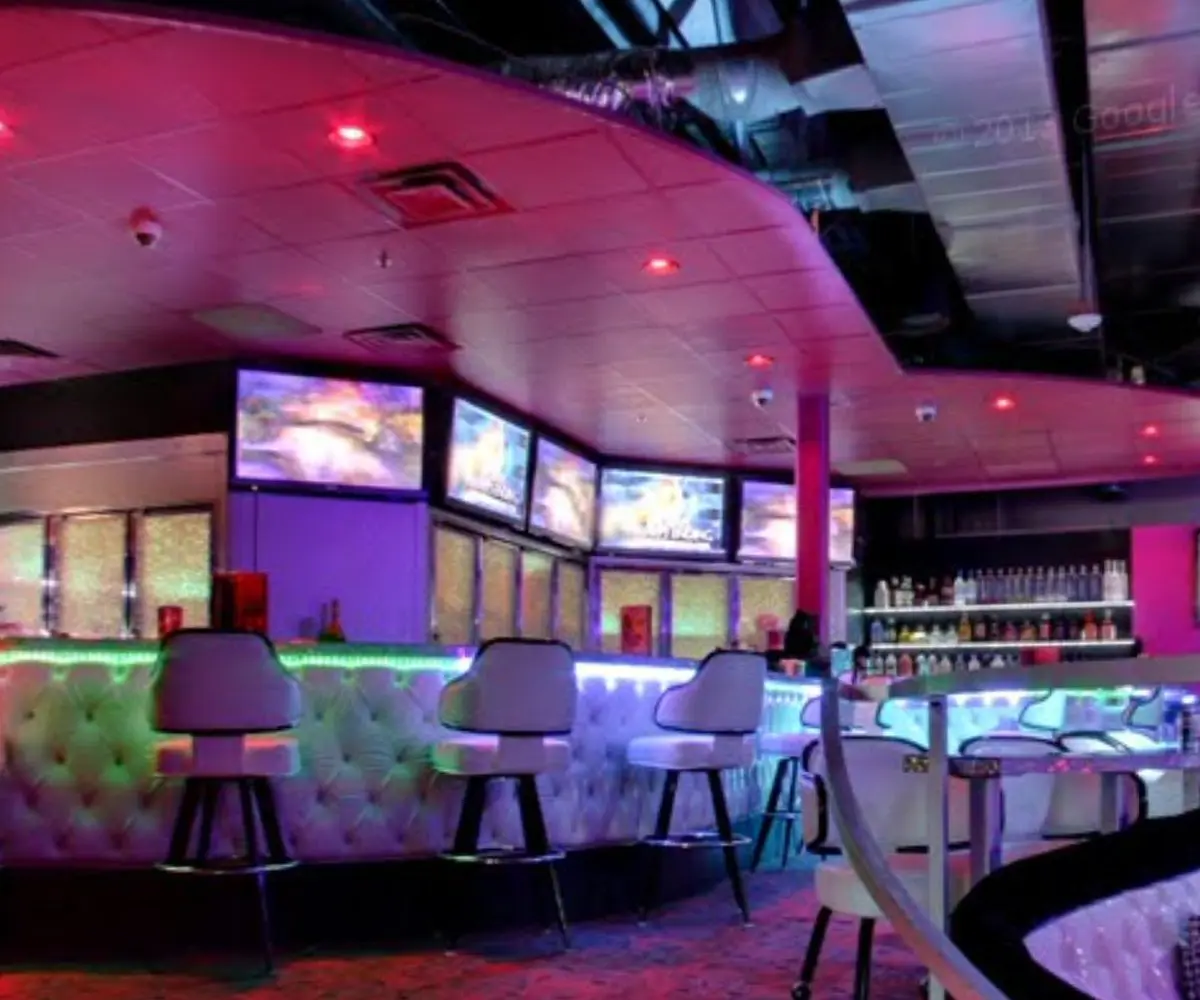 Hustler Main Bar
The main bar is what you would expect from a strip club, with a curving drink surface, adorned with swivel chairs. There are screens above the bar and when we attended they had a good mix of sports showing. Most guests were interested in the Vegas Golden Knights playoff game, and would get a little rowdy everytime there was a good play.
Even though there were only a handful of guests, it felt like a small party with good energy.
The bartender was attractive and polite, dressed in stockings and bustier similar to what you'll see at many gentlemen's club. Our only issue at the bar was we asked for a receipt when we ordered our drink and didn't get one. So we reminded the bartender and apparently they can't just print you a receipt. The manager had to come over and do some kind of override to get the receipt to print. She made us feel like it was an odd request to get a receipt, which was weird.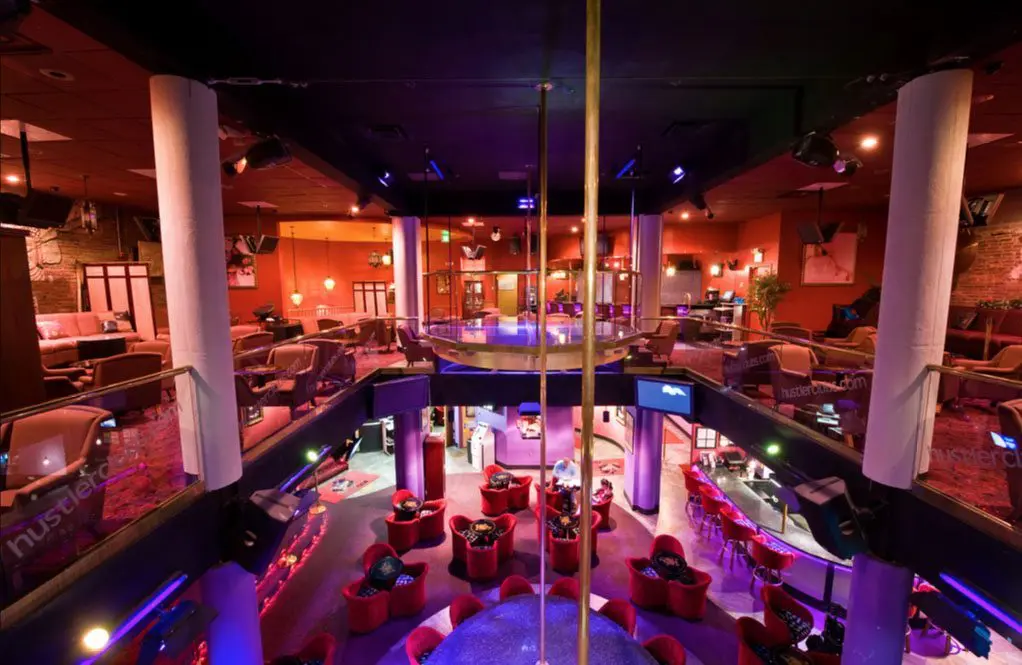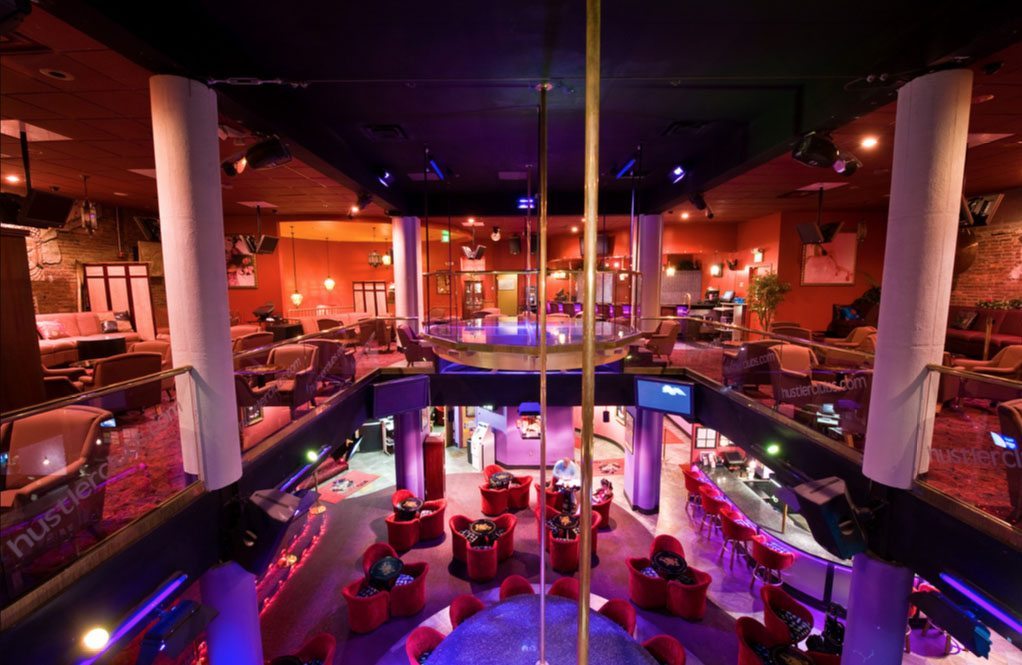 Hustler Private Dance Areas and VIP Rooms
You can't get a table dance on the main floor unless you're in the VIP bottle service areas. To get to the 2nd floor, there is a small elevator that whisks you and your lady up to the private dance floor.
This area looks very much like a strip club with stages, a few tables up against couches, with numerous VIP rooms off to the side. However this floor is used exclusively for VIP dances.
The girls offer the typical $40 for 1 dance or 3 for $100, which gets you basically a table dance on the long couches with drink tables.
For $250 you can get 15 minutes, in a slightly more private area.
If you upgrade to a half hour, that costs $700 but includes drinks and entertainment.
An hour will cost you $1500 and you get drinks and entertainment. The time you prepay, you get access to the more intimate and private rooms.
If you really want to blow your load, they have full-blown VIP suites starting at $3520 for one hour which gets you entertainment, access to the Cristal VIP room, and of course a bottle of Cristal!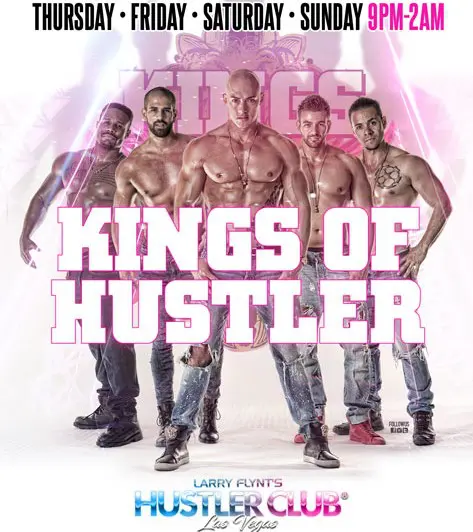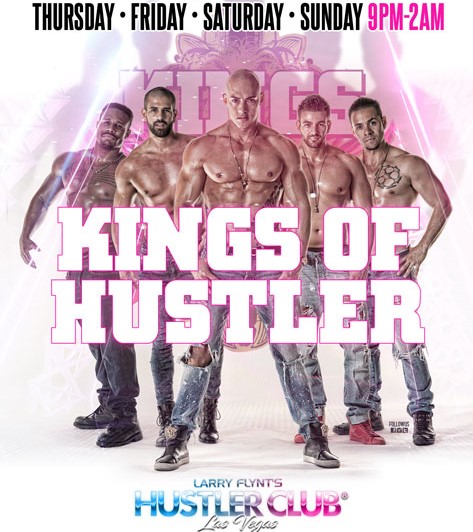 Hustler 3rd Floor Rooftop Bistro
The third floor of Hustler is one of the club's most unique and best features. Thursday through Saturday this hybrid space is home to the Kings of Hustler, a male revue for the ladies. This all-male stripper extravaganza runs from 9 pm to 2 am, and is perfect for bachelorette parties, or a girls night out.
There is also an open air rooftop that servers as a safe space to have a cocktail and enjoy the views if you're not feeling the strip club vibe. This floor is only accessible by elevator.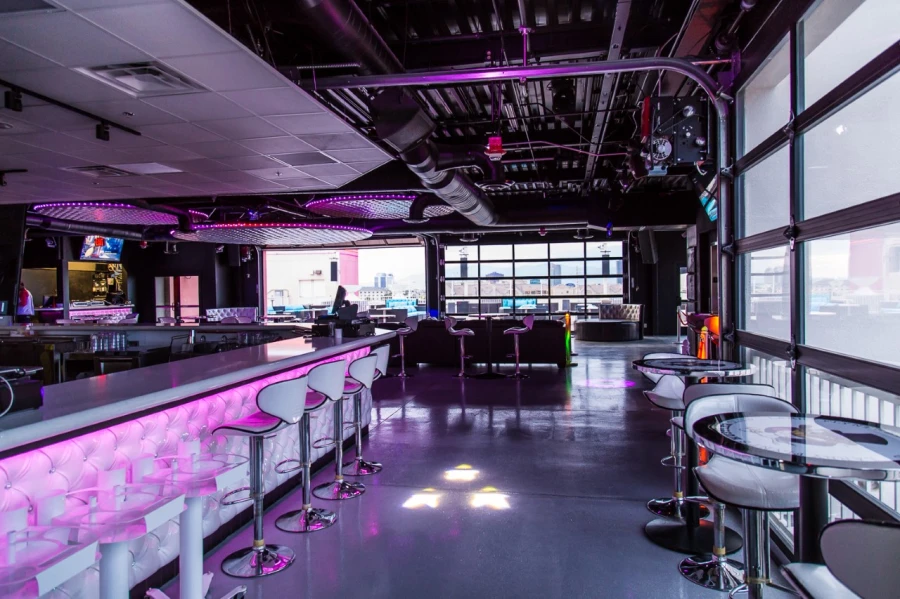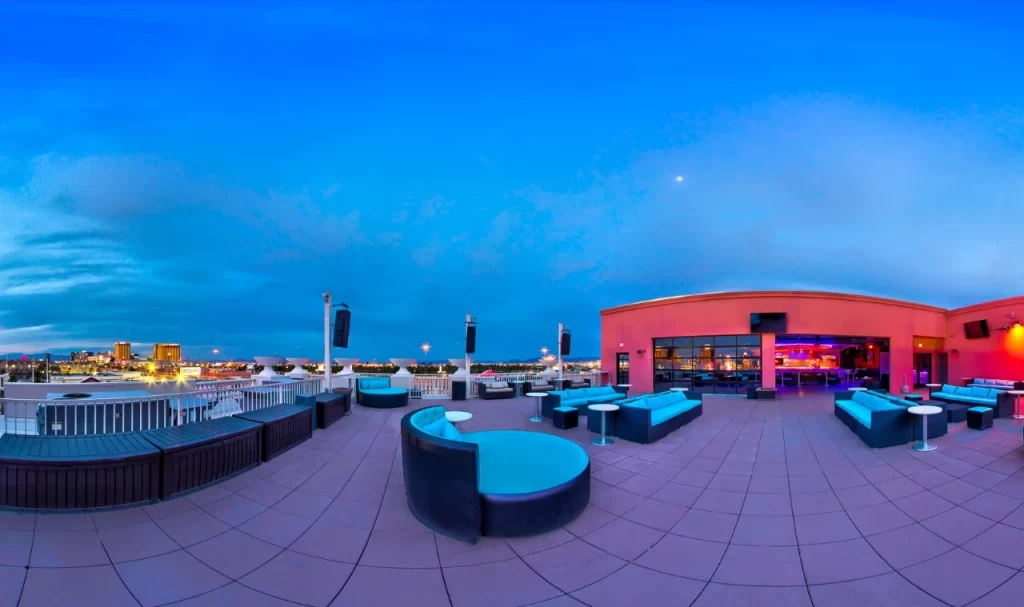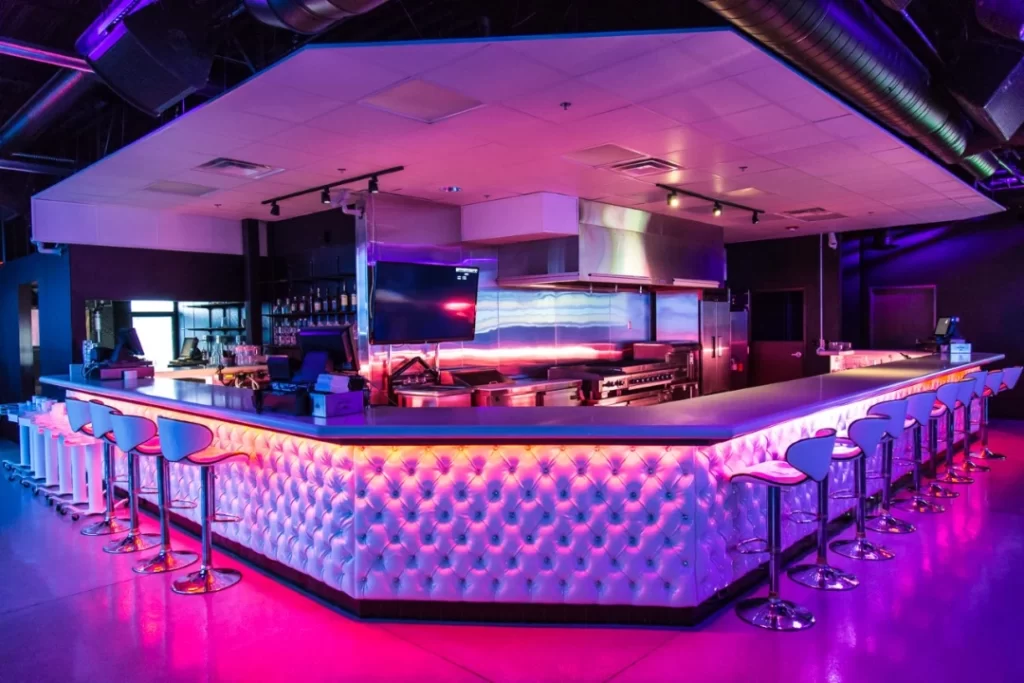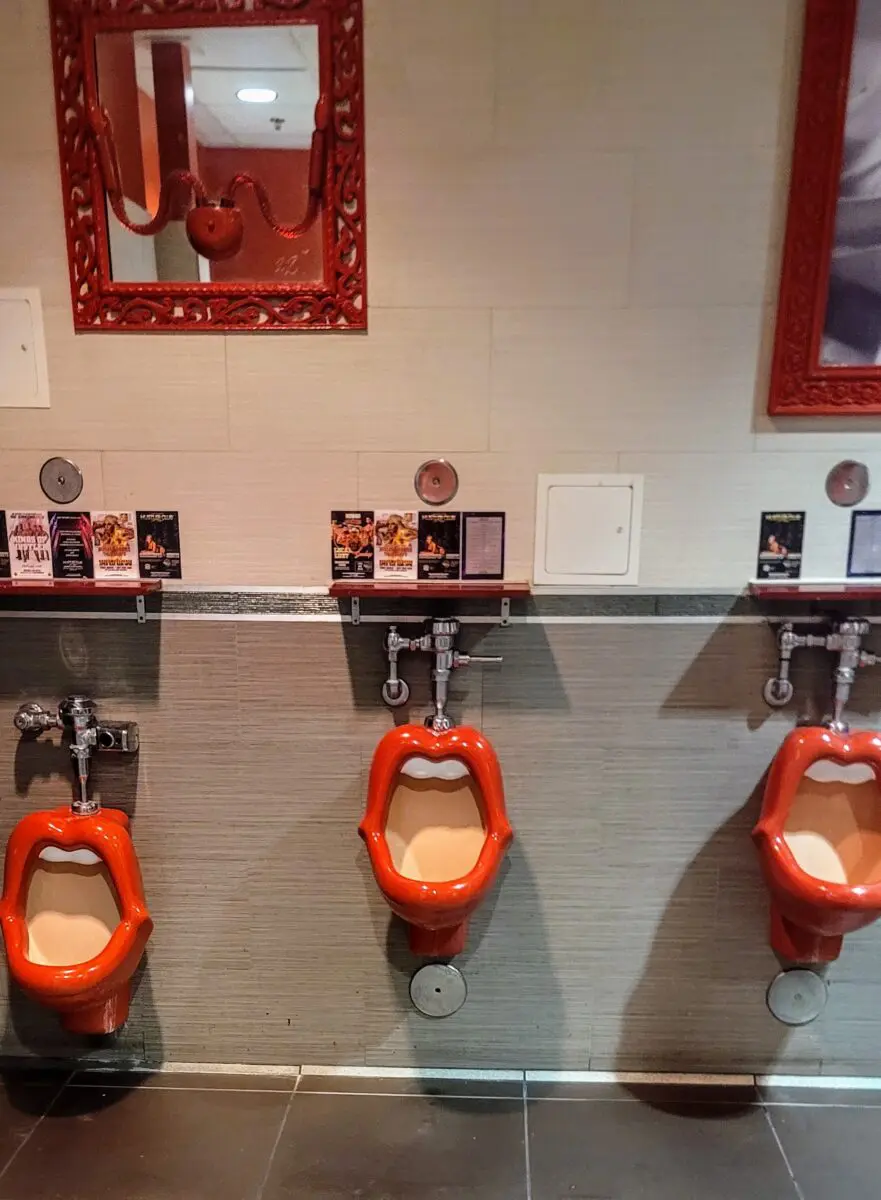 Hustler Facilities
So while there isn't a whole lot to talk about in terms of hot chicks or a party vibe at Hustler, at least the men's room is interesting.
Instead of the plain white urinals that you'll see at every establishment in the United States, from gas stations to steakhouses, they do things a little differently at Hustler.
To emphasize that you are indeed, in a "gentlemen's club," the urinals resemble a woman opening her mouth, replete with hot red lipstick, eagerly awaiting your urine.
So if you've ever wanted to piss in a girl's mouth and just aren't very persuasive, here's your chance.
Hustler Dress Code
The dress code is casual, but you'll want to keep in mind a few rules:
No sweatpants
No jerseys
No tank tops
No flip-flops/sandals
No sportswear
No basketball shorts
No plain white T-shirts
In general, dress to impress. You may wear jeans or shorts, just make sure they are upscale. If you have any questions please call in advance.
Hustler Prices
Hustler pricing skews towards the high end in Las Vegas. Less expensive than Sapphire, but more expensive than Peppermint Hippo.
Cover Charge
The cover charge during the week is $50. On weekends the cover charge is $100. For special events and holidays, expect $150 or more for cover charge.
Drinks
They have a happy hour during the week that offers open bar until 9pm. We bought a Red Bull and Grey Goose for $9. Not sure if part of the open bar was deducted and we were just charged for the upsell on the vodka. But expect well drinks to run $20 and up when the open bar closes.
Draft beers run around $14 with bottles costing $16 or more. We bought a Corona after the open bar closed for $17
One major turn-off at Hustler is the only info on their website is for ludicrous party packages that nobody in their right mind would buy. Which is a tip-off to how they've overpriced drinks at their club. In fact, it's so overpriced they have to run an open bar to get locals in the door so the club isn't a total ghost town. Sadly, that only managed to pull in a dozen or so customers on the night we visited.
Lap Dances
$40 per song at your table or
3 for $100 at your table
VIP Dances
$250 for 15 minutes
$700 for 30 minutes Drinks are included.
$1500 per hour with entertainment a bottle included
VIP Rooms / Skyboxes
$3520 per person per hour per girl. Includes premium champagne bottle. Prices go up from there based on the room and the vintage. Most of the suites overlook the main floor.
As you can see, everything from the drinks to the girls costs large premiums over other clubs. If you want to know where you can have a better time without breaking the bank, call us and we'll hook you up.
The Strippers
There only appeared to be about 12 girls on rotation when we arrived. That situation didn't resolve itself before we left an hour and half later.
We only got approached by a couple of girls, neither of which were native English speakers. We approached one attractive girl and got the tour. She said she was from Cuba and had the accent to match. She wasn't a 10 but she had a decent face, a fit body, with well-proportioned implants.
She gave us the full tour showing us all the VIP rooms and the price menu. She seemed disappointed we didn't go for the big ticket items and instead settled on the 3 dances for $100. The dances were fine, nothing crazy, but you basically have to sit on this bench out in the middle of the whole area. But since nobody else was up there it was private, maybe?
She did her best to seem aroused about two minutes into the dance, but when it became clear we weren't going to spend more money the show was over and she left after about 5 minutes, which has to be a record for the shortest 3 songs in the history of lap dances. But it was a blessing because overall the entire experience was depressing.
Our trip reminded us of the sad fact about strip clubs in the United States. It used to be you could go to a gentlemen's club, as that was where attractive women came to work, have a few drinks, and unwind. Spend a little money and have a pretty girl pretend that your life is interesting for a while.
In today's age, there are so many better options if you want to spend time with a beautiful girl, that strip clubs have become relics of a glorious era long past. Sure some guys still swing by, but it's not the frenzied party we knew in our younger years. It's a lot of people who don't know any better or people that don't want to change. The girls spend most of the time on their phones, distracted, or looking for another way to "make it." From OnlyFans to influencer platforms, there are so many ways a pretty girl can leverage their good looks to make a living. Hell, there's a golf thirst trap. Just find an open niche and start posting.
You can even use Google Trends to confirm what we already know; interest in strip clubs in severe decline.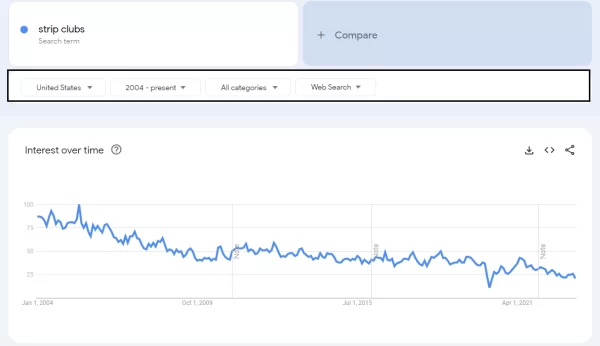 This leads to this miserable outcome. The club owners have to overcharge for everything just to keep the lights on. The girls, facing steep house fees and rising costs need to squeeze every last dollar from every guest that walks through the door, or they may be in for a rough month.
Customers feel the pressure, and guess what? They don't come back. This is why this amazing facility which used to be stacked with gorgeous dancers from all over the planet, and a full house of rowdy customers eager to throw some cash, feels more like an alternate armageddon timeline where a large portion of the population vanished. Like, where is everybody? They sure as shit aren't at Hustler, that's for damn sure.
Management & Staff
The management and staff at Hustler are fine, nothing special, but not terrible.
For the amount of money they're asking for everything from cover charges to drinks and entertainment, you'd think they'd be treating every customer like they're royalty. Especially if there are only 6 or 7 people in the club.
But for the most part, everyone was going through the motions and kept to themselves, which suits us fine.
The only issue we had was when we asked for a receipt for one of our drinks. We asked for it upfront, but the bartender forgot. So then she had to get the manager, and it was a huge production to print a receipt for me.
It was like we were asking for top-secret information. The bartender got all flustered and made it well known she was not super stoked we wanted a receipt.
She must have been overwhelmed with the 5 other customers nursing their open bar complimentary drinks.
Hours of Operation
24/7/365
Hustler Quick FAQ
How much is the cover charge at Hustler Gentlemen's Club in Las Vegas?
The cover charge at Hustler is $50 on weeknights. On weekends and special events, the cover charge at Hustler is $100 or more.
How much are cocktails at Hustler?
They have an open bar that is included with the cover charge most week nights up to 9pm. Call for availability
Draft beers run around $12 with bottles costing $15 or more. Imports run $17 and up.
Bottled water costs $13
Champagne bottles start at $199 and go up from there.
What kind of music do they play at Hustler?
The most common musical genre they play at Hustler is Rap, Hip Hop, with a good dose of House and EDM.
How much do lap dances at Hustler cost?
A lap dance costs $40 per song in the 2nd floor or $100 for 3 lap dances. We got the tour of the VIP floor and for a small bench in a wide open area, you get 15 minutes for $250, no drinks included.
If you upgrade to a half hour, that costs $700 but includes drinks and entertainment. The couch is slightly more private but you're still in view of everyone.
An hour will cost you $1500 and you get drinks and entertainment. The more time you prepay, you get access to the more intimate and private rooms.
If you really want to blow your load, they have full-blown VIP suites starting at $3520 for one hour which gets you (1 person) entertainment (1 girl), access to the Cristal VIP room, and of course a bottle of Cristal!
How much is the bottle service at Hustler?
They have prepaid packages on the website starting at $599 including one premium bottle and one small champagne bottle for up to 6 guests. Once you're inside the club, bottles start at $700 for bottle service including premium mixers.
How much do the private VIP Rooms at Hustler cost?
They have a sign on the second floor with all the pricing for the VIP rooms. A Cristal Skybox starts at $3520 which includes entertainment, club fee, and a bottle of Cristal. The prices go up from there based on which room you want and what liquor you choose.
How much "mileage" can you get in the VIP rooms at Hustler?
The VIP room won't allow you to "do more" regardless of what a stripper tells you. Hustler is a large gentlemen's club that makes millions in revenue every year. The managers simply aren't going to risk their liquor and business licenses so dancers can get dirty in the champagne room. You may have a better chance of getting her number by spending more, but your odds of any on-premise activity are zero.
How many strippers work at Hustler?
Hustler boasts over 200 dancers on the weekends. During our recent visit, we saw approximately 12 girls working the floor during peak hours on a weeknight.
What are Hustler's hours of operation?
Hustler is open 24 hours a day, seven days a week. Just keep in mind that during off-peak hours there won't be many dancers or customers there.
Find the best strip clubs in Las Vegas and get the right club for your tastes and desires!
Spend your time and money getting the best experience in town.
Not sure what to wear? Don't get shut down at the door! Quick and easy dress code guide for all major strip clubs in town!
Arrive in style and comfort with the confidence to know you've dressed appropriately.
First time to a strip club? Have questions. No problem, enjoy our curated Strip Club Frequently Asked Questions.
Still confused? Call Us!
Want the best coed strip clubs in Las Vegas? Get hot lineups for both sexes at these venues.
Looking for the full skin factor? Check out our guide for the best fully nude strip clubs in Las Vegas!
Skip the club and bring the party to your room. Some of these girls work at the top strip clubs in Las Vegas. But they get wild when they're not supervised by a bouncer in the club!