Map of Strip Clubs in Las Vegas
Find the Closest Gentlemen's Club to Your Hotel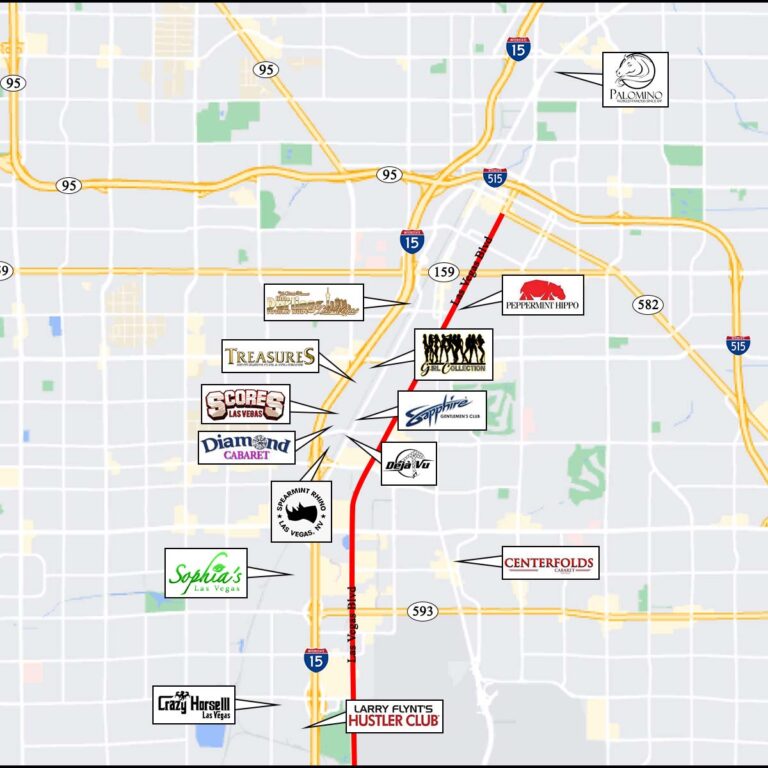 What's the Closest Strip Club to My Hotel
We often get inquiries asking, "Is there a strip club near me?
Our strip club map will give you a general idea of how far away each strip club is from your hotel or current location.
Just a word of warning, the distances can be deceiving, and walking is NOT recommended. The heat will get to you quickly. You'll have to walk through some dimly lit not-so-nice areas.
We offer complimentary limo service to most gentlemen's clubs in Las Vegas, so give us a call.
Why Proximity is the Wrong Question
Las Vegas is not a very pedestrian-friendly city once you leave the confines of Las Vegas Boulevard, aka the strip.
All the strip clubs except Peppermint Hippo are off the main strip, and they're not very walkable. Peppermint Hippo is located to the north of the Las Vegas strip and south of Downtown Las Vegas and the Freemont Experience.  If you're staying at the most northern resort on the strip, Resorts World, it's a 42-minute walk. The only casino hotel within walking distance is the Stratosphere. And even then you're going to be wandering through a dimly lit part of town that's not particularly nice.
All the other major strip clubs are hour-plus walks from the main strip resorts as well.
If you're driving,  you'll be wanting to valet, which costs money, and if your resort charges for parking you may have to pay for the day again as well.
The Right Question to Ask
Since most of the strip clubs in Las Vegas offer free limo and discounted drinks, a better question is, "What's the best strip club in Las Vegas that offers VIP transportation from my hotel and has a deal on entry and drinks included?"
These clubs all compete for your business so they're willing to give you a deal to get you in the door. Their hope is that you'll have a good time and spend some money on the girls, drinks, & food.
If you're not sure which strip club would be best for your location and tastes, simply contact us.