8 Best Las Vegas Strip Clubs – Photos, Prices, Atmosphere & More
Top Las Vegas Strip Clubs
The largest strip clubs in the world call Sin City home. As a Las Vegas strip club enthusiast, choosing the right one for your party presents a challenge. Not to worry, we'll list our favorites and give you insights on what to expect when you arrive!
If you want to skip all the reading, feel free to call or contact us, and one of our VIP hosts will help you find the perfect strip club for your needs.
Want to know which strip club is closest to your hotel? Check out our Map of Las Vegas strip clubs.
Also, don't get stopped at the door for a dress code violation. Be sure to read our Las Vegas strip clubs dress codes guide.
New Club Alert: Peppermint Hippo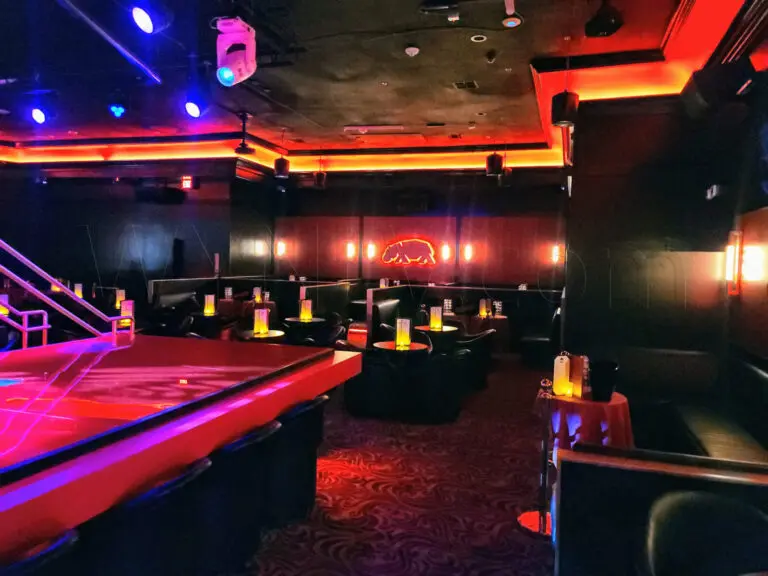 Peppermint Hippo opened in April as the newest Las Vegas strip club. We got invited to the grand opening party and had a blast. You can read our full article on Peppermint Hippo if you want all the juicy details.
One of the best aspects of Peppermint Hippo is that they don't try to gouge you on the prices. A lot of the other clubs in town charge ridiculous $50-$100 covers, plus a drink minimum.
The pricing for private VIP rooms and private dances are the best we've seen in town. Many clubs tack on huge drink minimums and "club fees" on top, making it ridiculously expensive. Even when there are few dancers and fewer customers in the building.
But best of all, the management at Hippo isn't forcing high "stage fees" or "house fees" on their dancers. That is why there are always hot strippers at Peppermint Hippo, regardless of the time or day of the week.
Many of the other clubs struggle to pull in top-tier girls (or any strippers at all) during off-peak times because the girls know earning enough to cover their fee means long hours.
Size – 25,000 sqft
Floors – 2 (upstairs closed)
Lineup – 160+ Girls nightly
Stages – 2
Music – Rap, Hip-Hop, R&B
Table Dance $20
VIP Lap Dance $40
Cocktails – $12 and up
Beer – $8 and up
Bottle Service – $400 and up
Drink Minimum – 2
Payment Methods – Cash, Visa, Mastercard
ATM – Yes
Reputation – Newest Gentlemen's Club in Las Vegas
Peppermint Hippo Entryway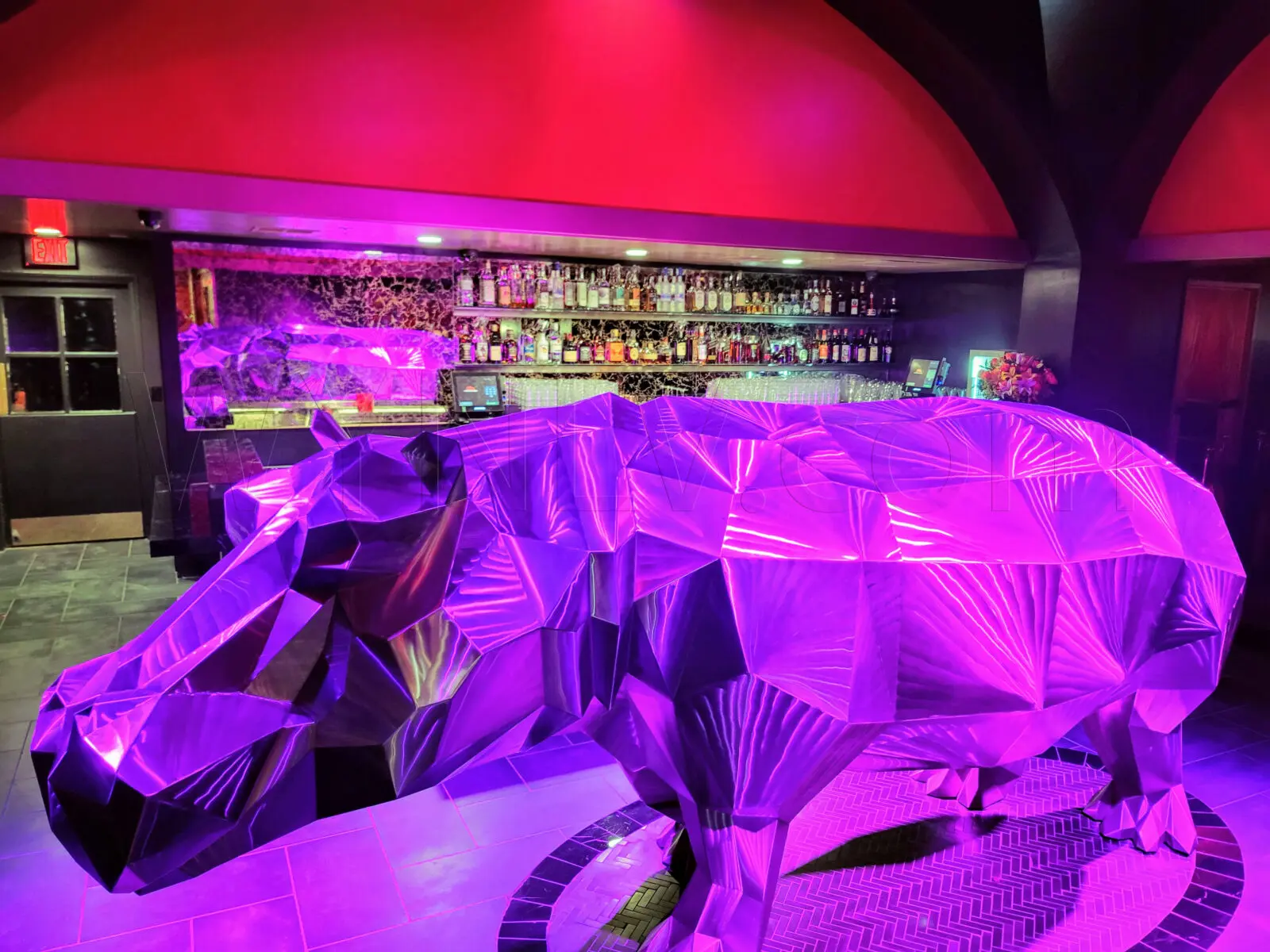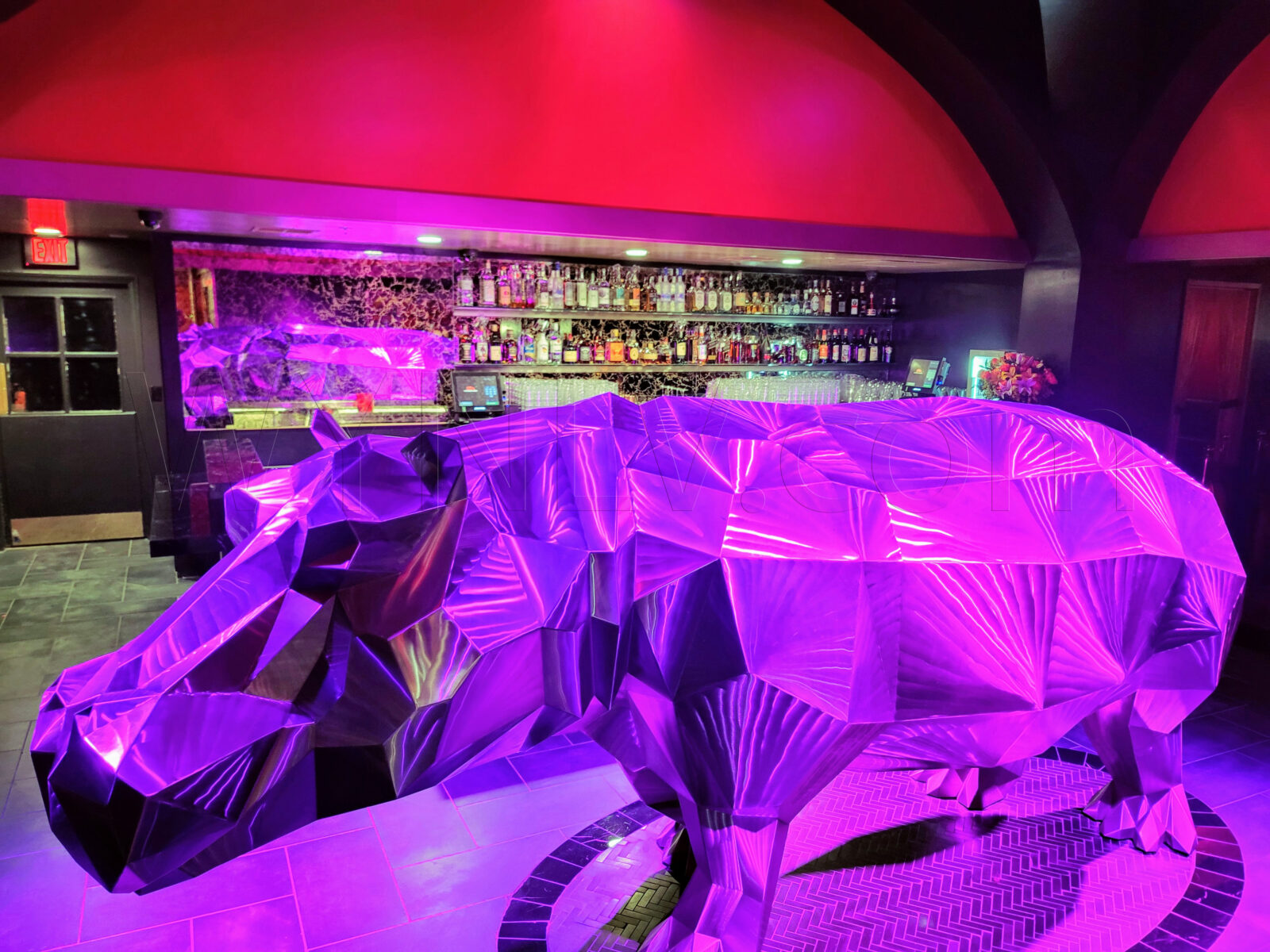 The entryway at Peppermint Hippo is tastefully done and brings guests right up to the Peppermint Hippo metal sculpture and Entryway bar. Great place to grab a quick drink before you sit down.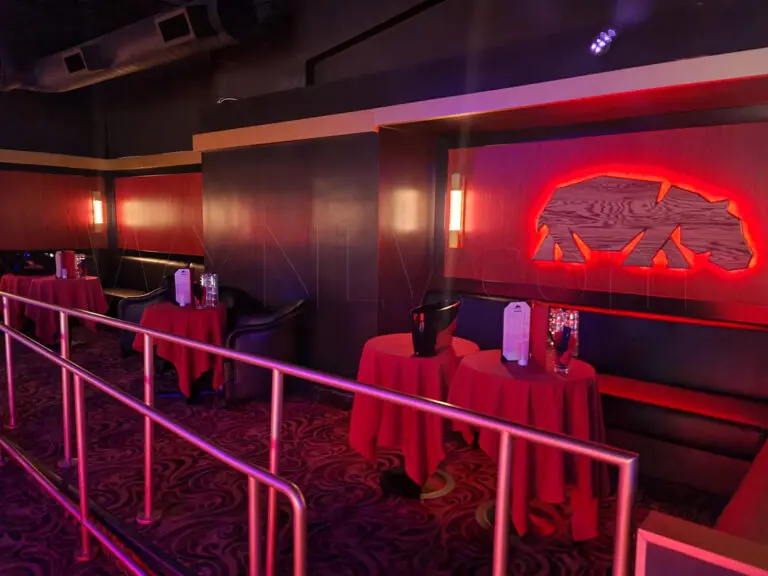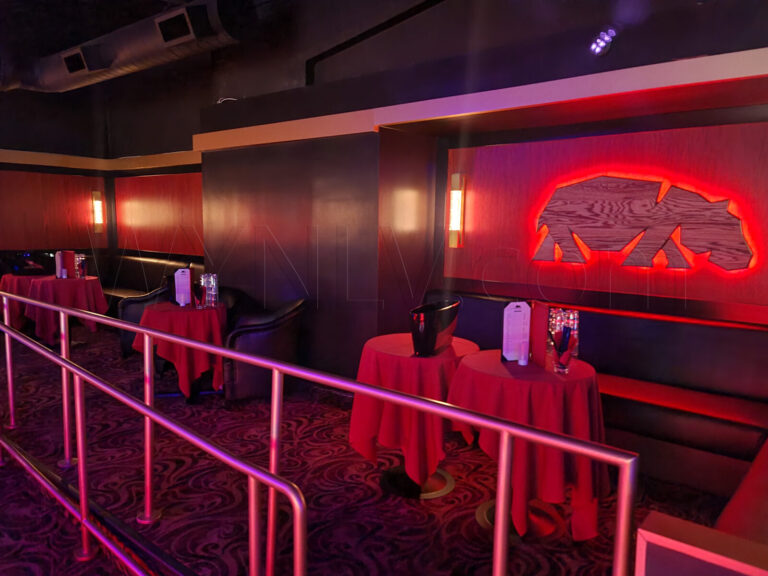 Peppermint Hippo Strip Club is Best for…
Bachelor Party
Only strip club on the Las Vegas strip
Great bottle specials
Fun party atmosphere that's not too snobby
The newest club in town
Hidden VIP room for high rollers through the bottle service cellar
Peppermint Hippo Strip Club Dress Code
The dress code is casual, but you'll want to keep in mind a few rules:
No tank tops (applies to guys only)
No athletic wear (track pants, sweats, jerseys (except during major sports events)
No dirty, ripped, or torn apparel
No plain white t-shirts
No gang patches, colors, or regalia
No headgear (hats, helmets, masks)
Treasures Gentlemen's Club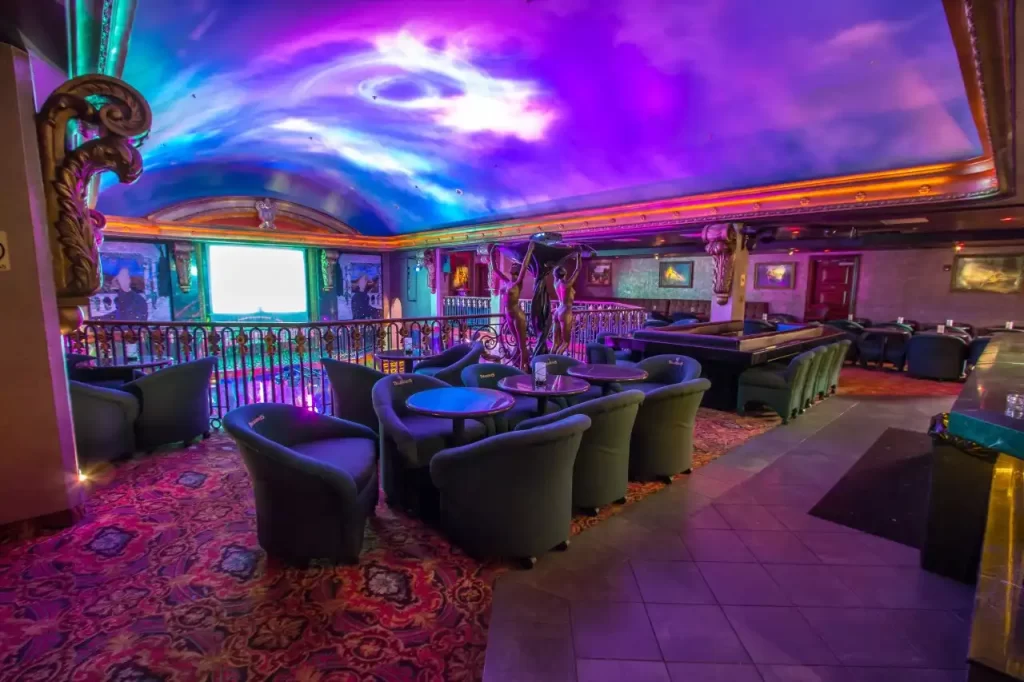 Treasures Gentlemen's Club routinely tops our list of the best strip clubs in Las Vegas.
The building exudes class both inside and out. You'll find plenty of gorgeous girls working the stage who aren't too pushy. But they will make you smile and won't let you sit alone all night if you're shy.
Treasures' reputation for service still tops the list. The staff is attractive and attentive. Management knows how to run an upscale gentlemen's club. You'll be treated like a VIP no matter your budget.
If you've never been to a strip club in Las Vegas, Treasures would be a great first choice. Your friends will love your taste, and you'll come off as a classy guy.
Size – 40,000 sqft
Floors – 2
Mezzanine – Yes
Lineup – 120+ Girls nightly
Stages – 3
Music – House, Electronic, Top 40
Table Dance $20
VIP Lap Dance $40
Cocktails – $12 and up
Beer – $8 and up
Bottle Service – $350 and up
Drink Minimum – 2
Payment Methods – Cash, Visa, Mastercard
ATM – Yes
Reputation – Most Upscale Gentlemen's Club in Las Vegas
Strip clubs are not generally known for high-end dining. Most offer fried bar food and appetizers, high in salt and fat to keep you drinking.
Treasures took a different approach and embedded a 4-star steak house on premise. It's in a secluded area off the main floor so you can enjoy an intimate conversation and not be overwhelmed by the music and scenery. It's a perfect way to start your night with an amazing meal. They often run a buy one steak dinner get the second 50% off. Perfect for couples, or if you find your dream girl on the floor.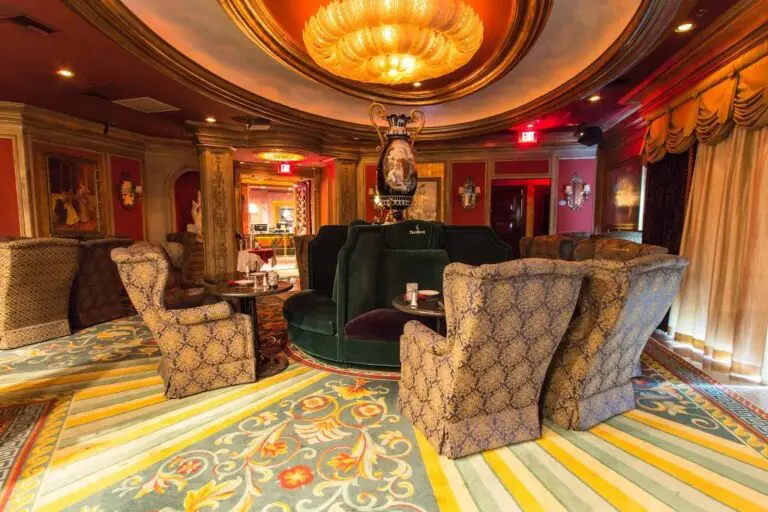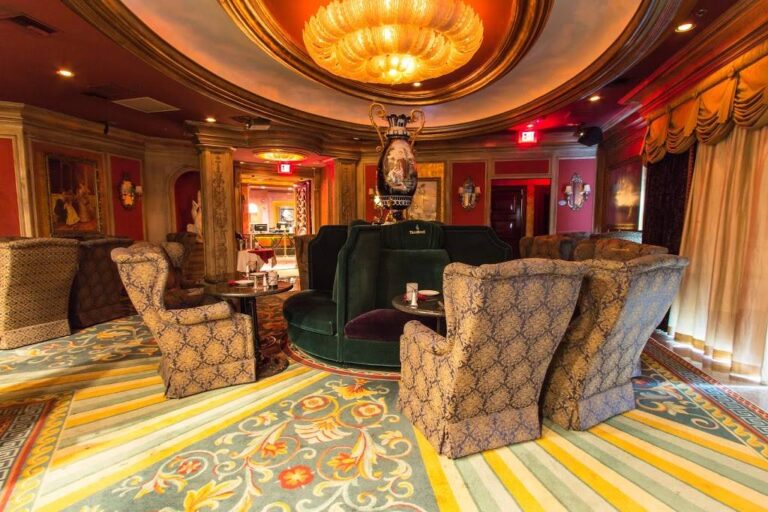 Treasures Gentlemen's Club is Best for…
Beautiful girls in an upscale environment
Couples enjoy the secluded seating where they can enjoy the company of a dancer
#1 for dining options if you're up for dinner
You want the quality of a mega strip club in a more intimate environment
Treasures Gentlemen's Club Dress Code
No tank tops (guys)
No jerseys
No sweatpants or basketball shorts
No Gang or Club regalia
Hustler Gentlemen's Club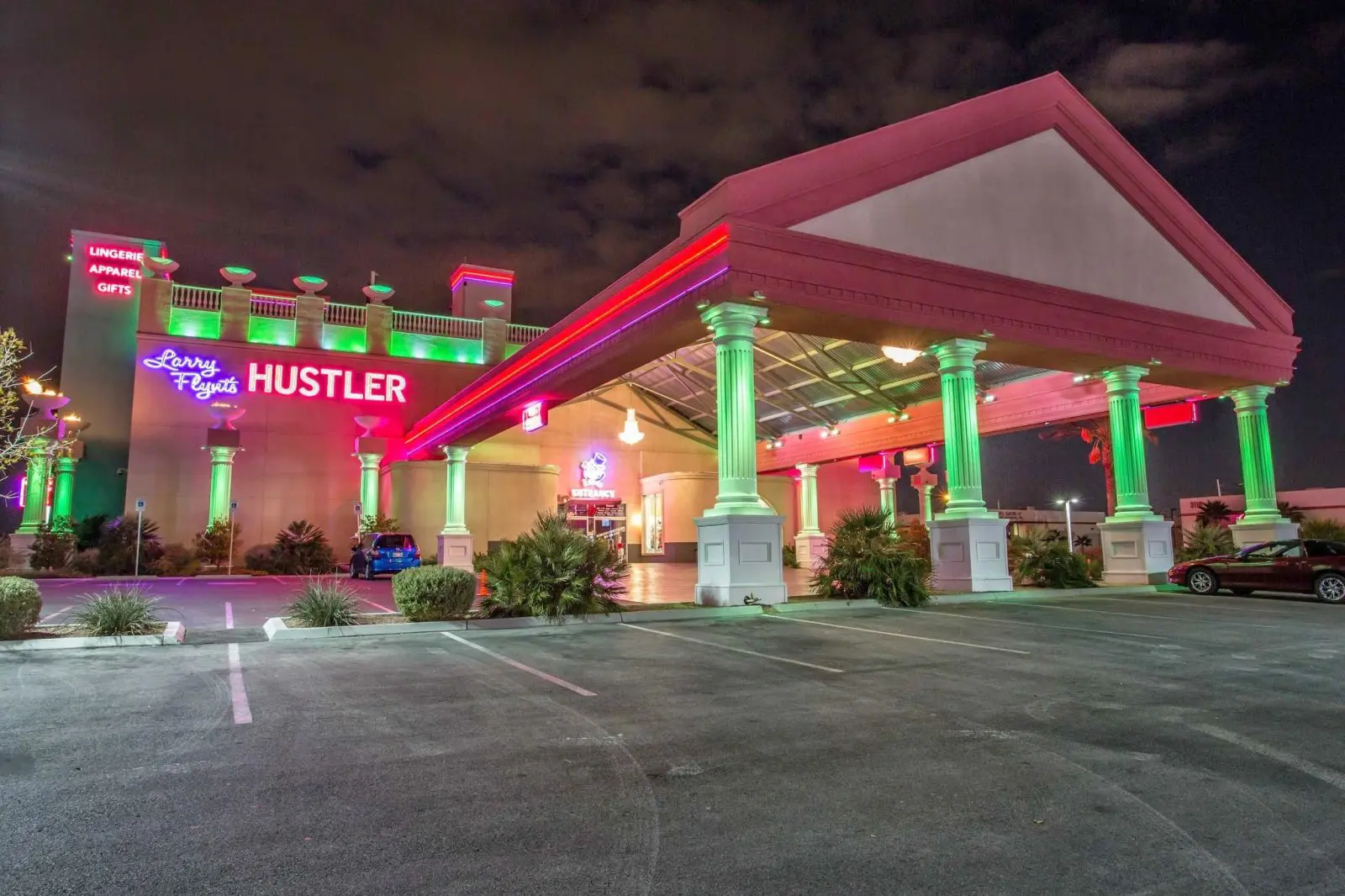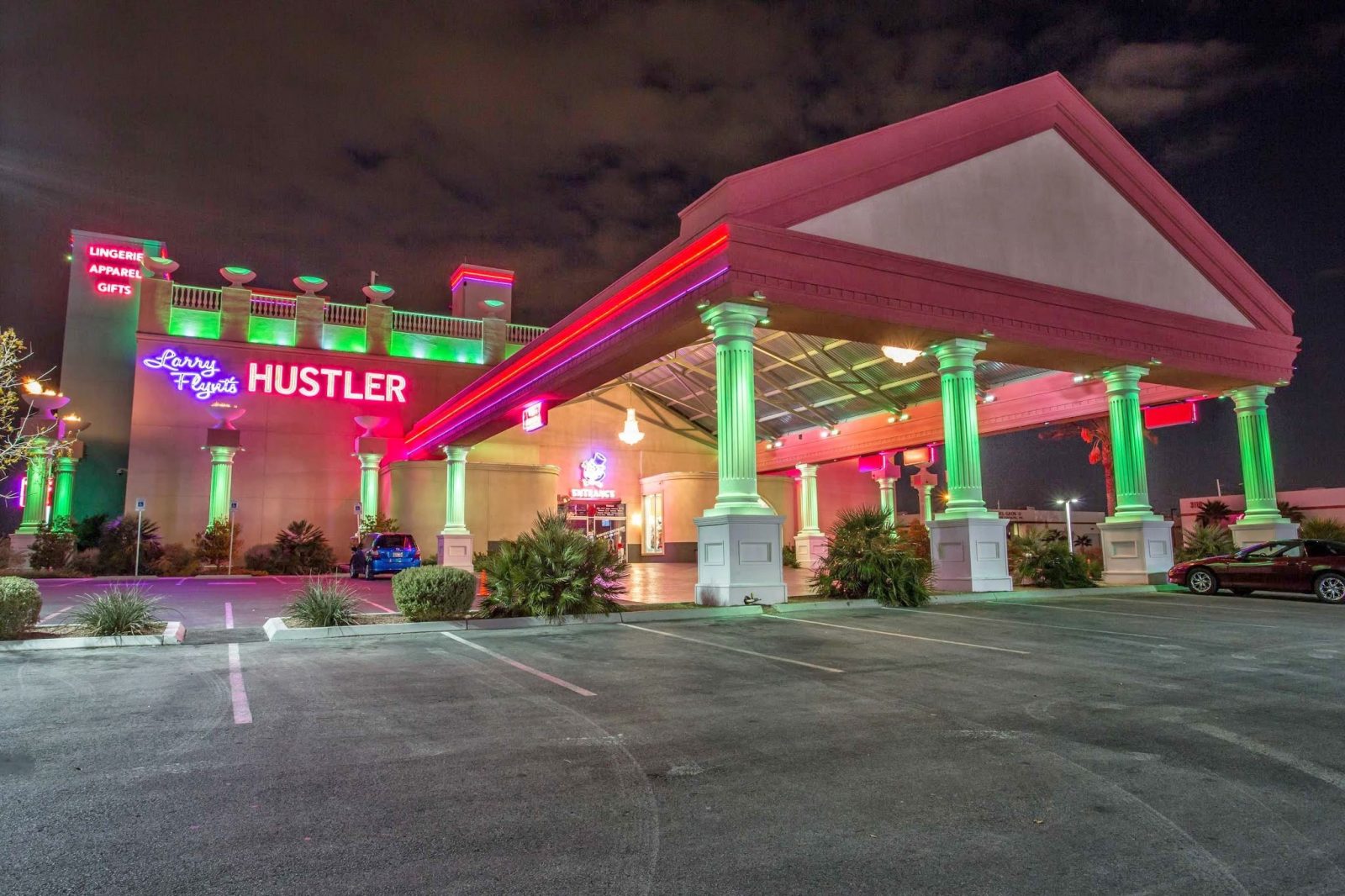 Hustler Gentlemen's Club offers something for everyone. This massive club features over 70,000 square feet of adult entertainment. The main floor showcases 4 main stages. Expect dancer rotations exceeding 200 girls on weeknights, and over 250 strippers on the weekends and big events.
Hustler also offers 3 stories of entertainment. The main floor operates like a massive strip club that you'd expect. On the second floor, the entire space is dedicated to VIP dances. From unsecluded benches for tame lap dances to $3000+ per hour wild private VIP rooms, this is where the action goes down.
On the third floor, the Kings of Hustler perform a male revue nightly, so there are many couples and single female customers at the venue. The third floor also operates as an open-air bistro/nightclub with amazing views of the strip and city.
Tucked in near the front of the building Hustler offers a full adult shop stocked with all the toys and costumes to satisfy any fetish.
Size 70,000 sqft
Floors – 3 + Basement (staff only)
Elevator Access
Lineup – 200+ Girls nightly
Stages – 4
Music – Hip Hop, R&B, House, Electronic, Top 40
VIP Lap Dance $30+
Cocktails – $12 and up
Beer – $8 and up
Bottle Service – $500 and up
Drink Minimum – 2
Payment Methods – Cash, Visa, Mastercard
ATM – Yes
Reputation – Something for everyone
Hustler Hours of Operation
24/7/365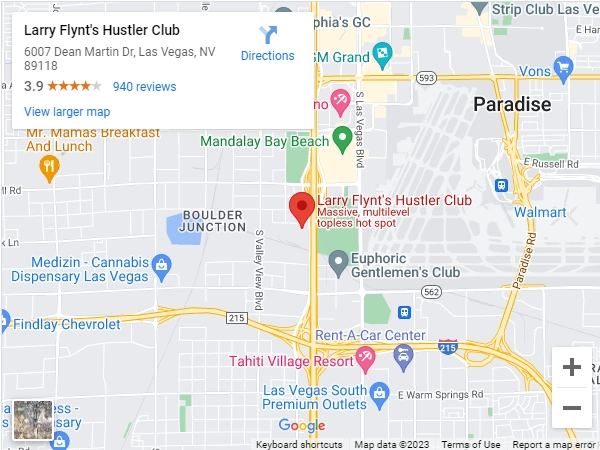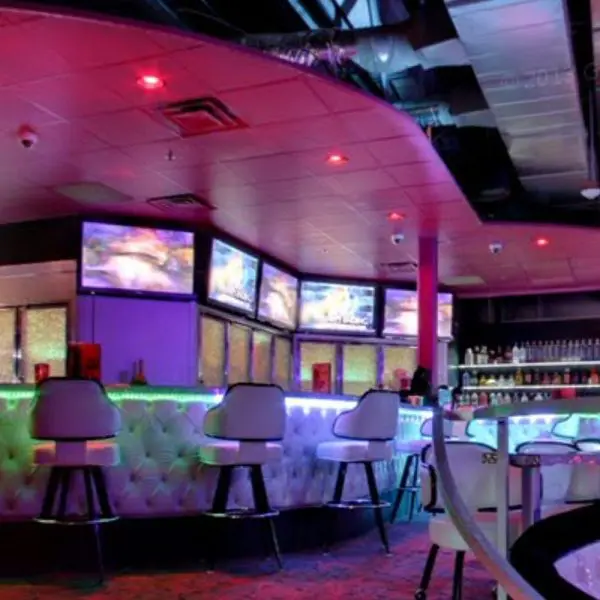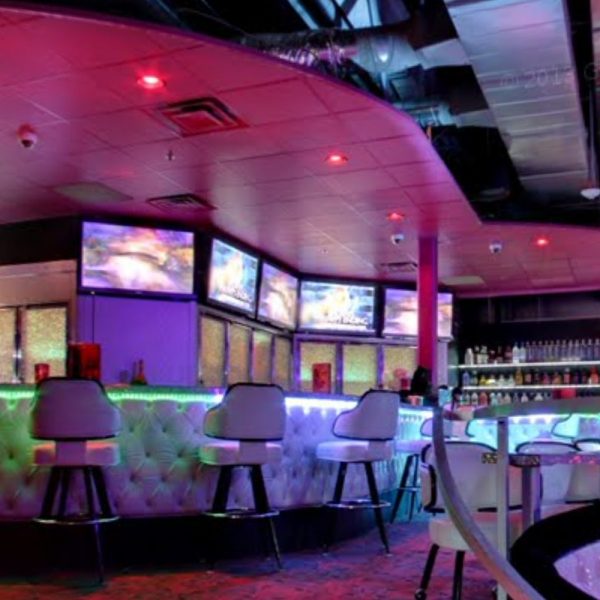 Hustler is one of the few strip clubs in Las Vegas that consistently runs events and featured performers. So if you want to watch the big game surrounded by hotties, Hustler is a great bet. If you want to watch your favorite porn star strip and finally meet them in person, they will most likely be performing at Hustler.
If you're a couple or group of couples, there's entertainment for the ladies upstairs, so everyone can have a good time.
Also, we let our male guests know that there's a male revue on the 3rd floor which means there are throngs of buzzed horny female guests in the club looking to party. All you have to do is intercept them as they leave the male strip show and invite them over for some cocktails. Then take the party back to your suite. You're welcome.
Hustler Gentlemen's Club is Best for…
Bachelorette Party
Large groups
Couples enjoy the option of seeing female and male strippers
Great to watch big events
There's an open-air venue on the roof if you have any friends that aren't into the strip club scene
Porn Stars
Adult shop on site
Bigger is better – second largest club in Las Vegas
Hustler Dress Code
Our Dress Code is Very Simple:
No sweatpants
No jerseys
No tank tops
No flip-flops/sandals
No sportswear
No basketball shorts
No plain white T-shirts
Sapphire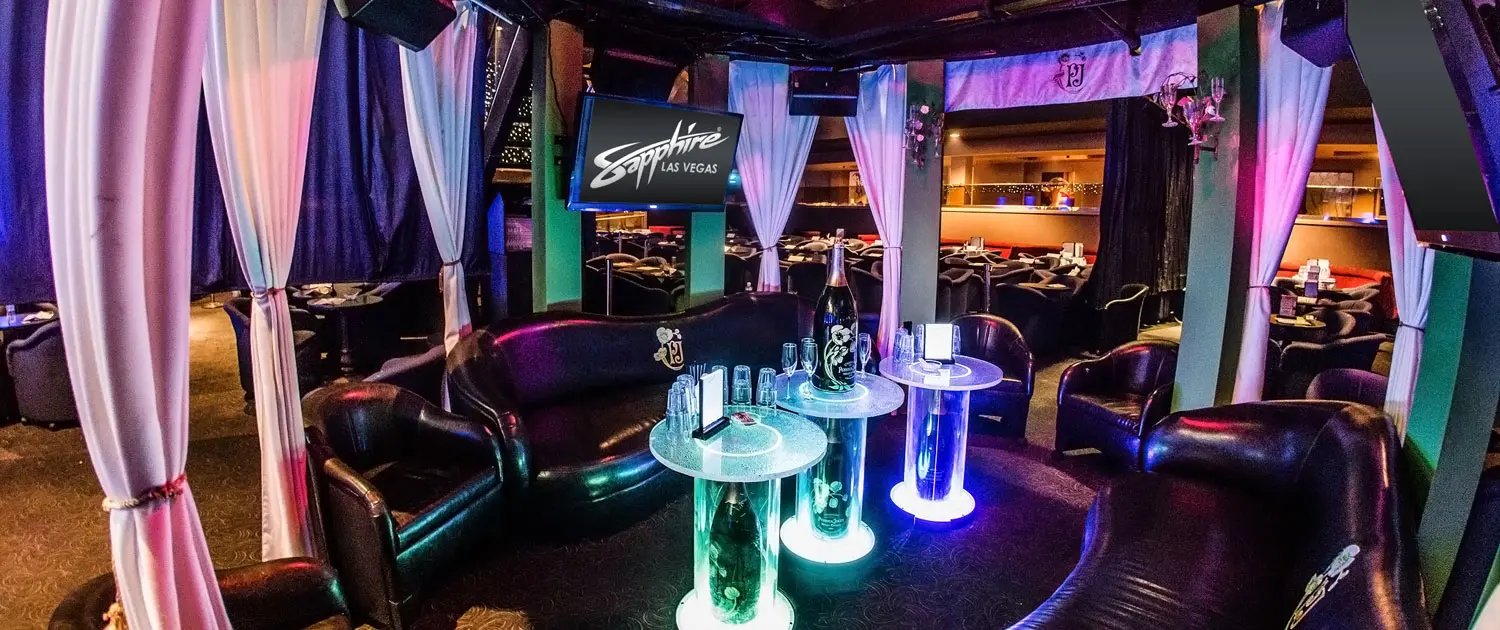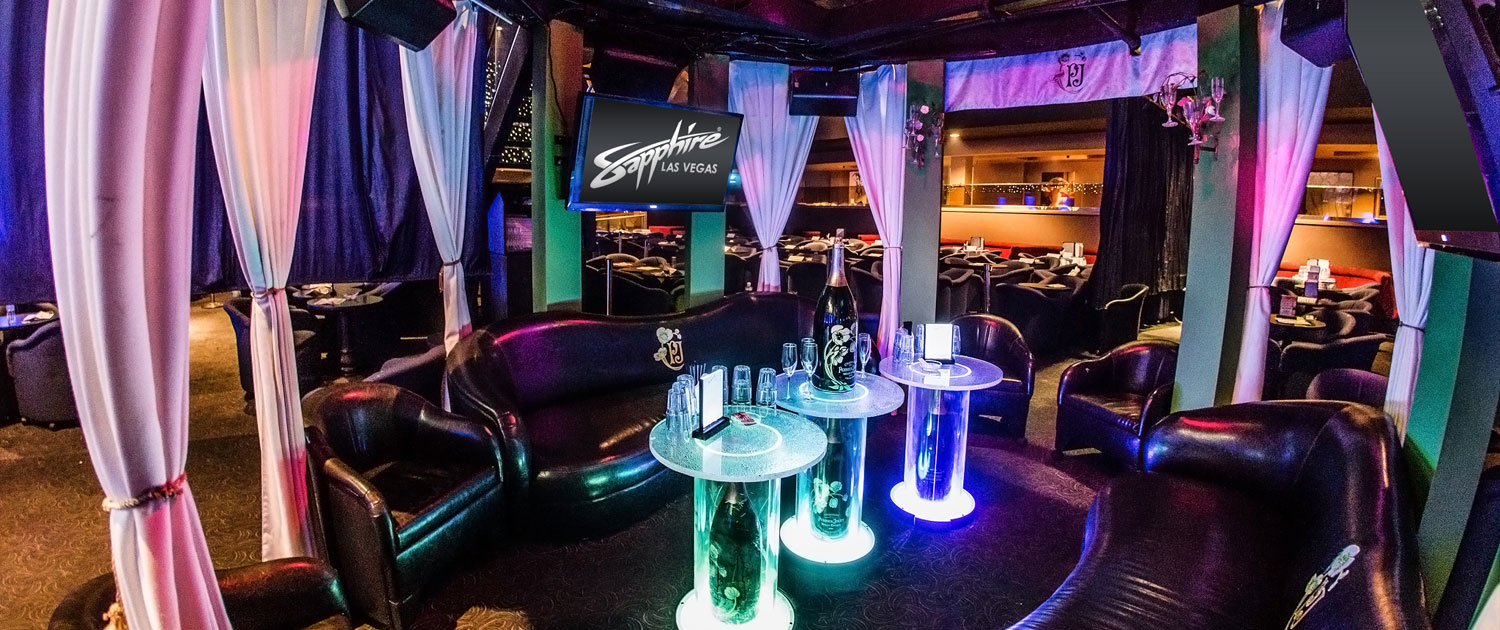 At 71,000 square feet, Sapphire boasts the largest strip club in the world, showcases over 300 strippers nightly, and commands brand recognition worldwide.
If you ascribe to the motto, "Bigger is Better," plan a trip to Sapphire. Just keep in mind, the prices track with the building size. Cover charges are high, drink prices are some of the worst in town, and the rates for private dances and bottle service ballooned after the pandemic reopening.
Sapphire's owners repurposed a building that originally operated as a mega health club/gym. To say the club is massive is an understatement.
The outside basks in the glow of neon-lit in the signature Sapphire blue. When you enter the building, the main foyer is massive with plenty of room allowing for easy access to the club.
Tasteful art decorates the walls and you'll get the vibe you're in a high-end operation, although the Fatburger Bar directly behind the main bar immediately crushes that illusion.
The main floor offers 4 stages of live pole dancing. The elevated main stage at one time allowed guests to walk underneath and peer at the gyrating strippers through a glass floor. It was definitely a unique experience, but the glass has been replaced with opaque flooring and this stage is rarely used. It's now mostly used to access the skyboxes from the stage.
The VIP private booths are upstairs, luxurious, and overlook the main floor. If you're a high roller, you and your friends can enjoy a more intimate and private experience, if you have the coin.
Sapphire Dayclub features a pool that operates during the pool party season, and yes, the beautiful cocktail waitresses wear stimulating bikinis.
The Sapphire Events Room features a massive screen for viewing large events like playoffs, UFC, MNF, and more. If you want to watch your favorite team surrounded by gorgeous strippers, you'll love the experience.
Size – 70,000+ sqft
Floors – 2
Lineup – 400+ Girls nightly
Stripper stages – 3 plus multiple smaller satellite stages
Music – House, Electronic, Top 40
Table Dance $20
VIP Lap Dance $40
Cocktails – $12 and up
Beer – $8 and up
Bottle Service – $500 and up
Drink Minimum – 2
Payment Methods – Cash & Major Credit Cards
ATM – Yes
Reputation – Largest Strip Club in the World
Sapphire Takes Bigger is Better to the Extreme


Sapphire runs events and showcases featured performers like porn stars, just not as frequently as Hustler.
The space is massive, the huge stripper lineup offers a lot of diversity and choice, but it can be hectic at times.
Sapphire would be our recommendation for a large bachelor party looking for an intense party scene.
There is entertainment for ladies as well, but the showtimes are short compared to other clubs, so you have to time it right.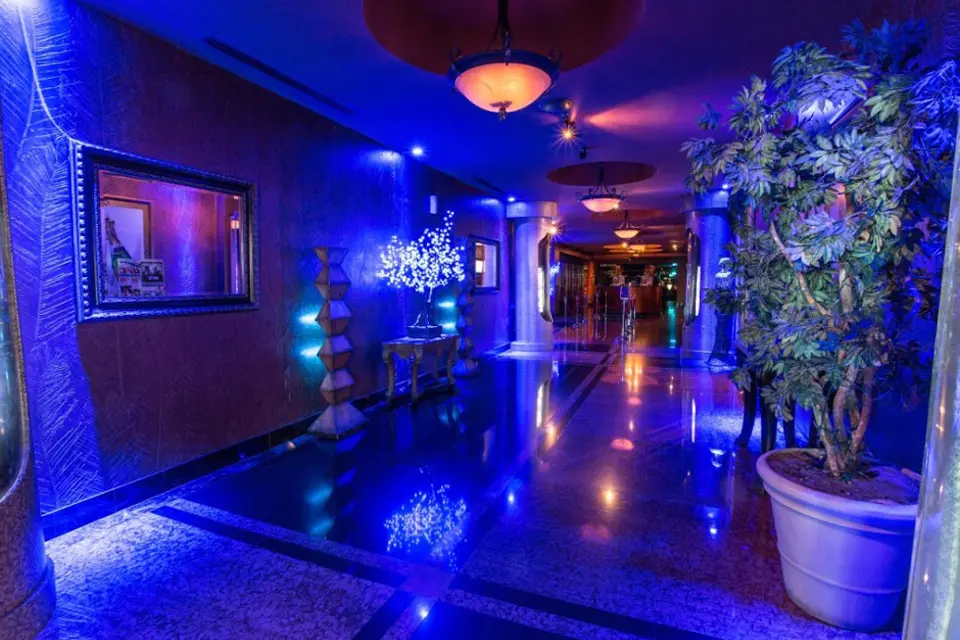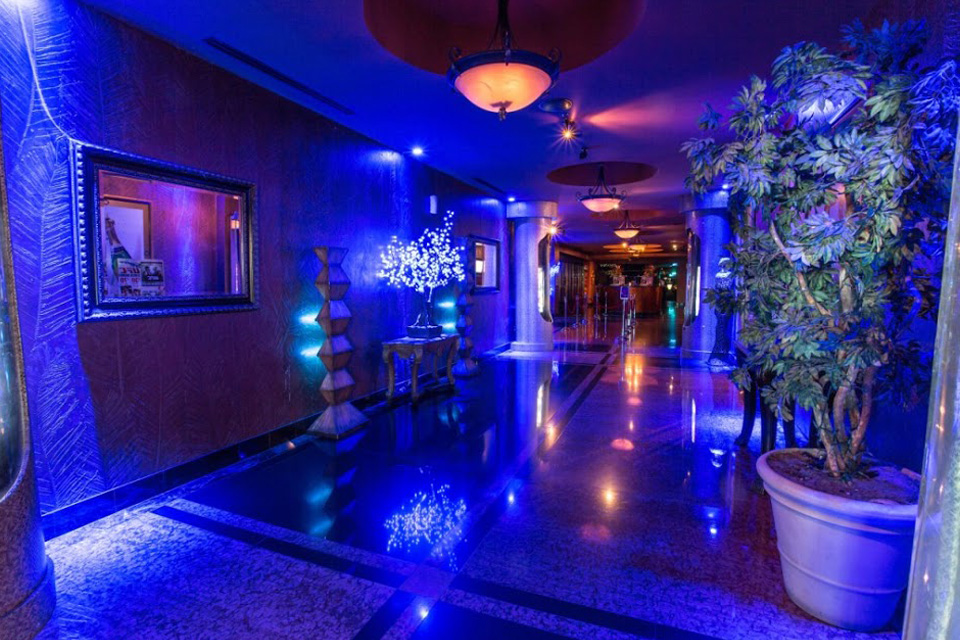 Sapphire is Best for…
Large groups
Bachelor Parties looking for a crazy night
Good venue to watch games and events
They offer a dayclub pool (in season) if you want to chill by the pool and be waited on by hotties
Bigger is better – the largest strip club in the world
Dress Code at Sapphire Gentlemen's Club
No sweatpants
No jerseys
No tank tops
No flip-flops/sandals
No open toed shoes
Scores Las Vegas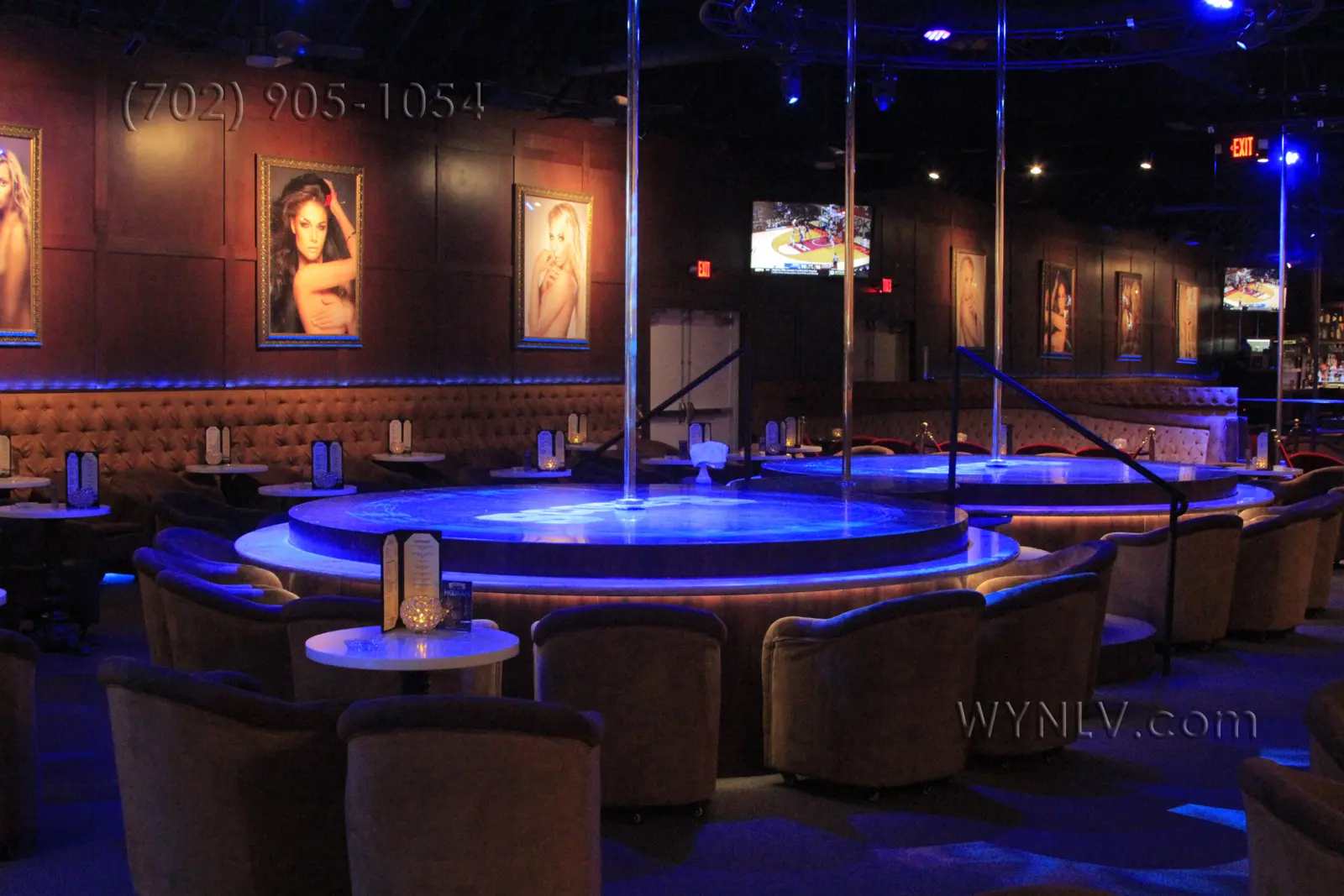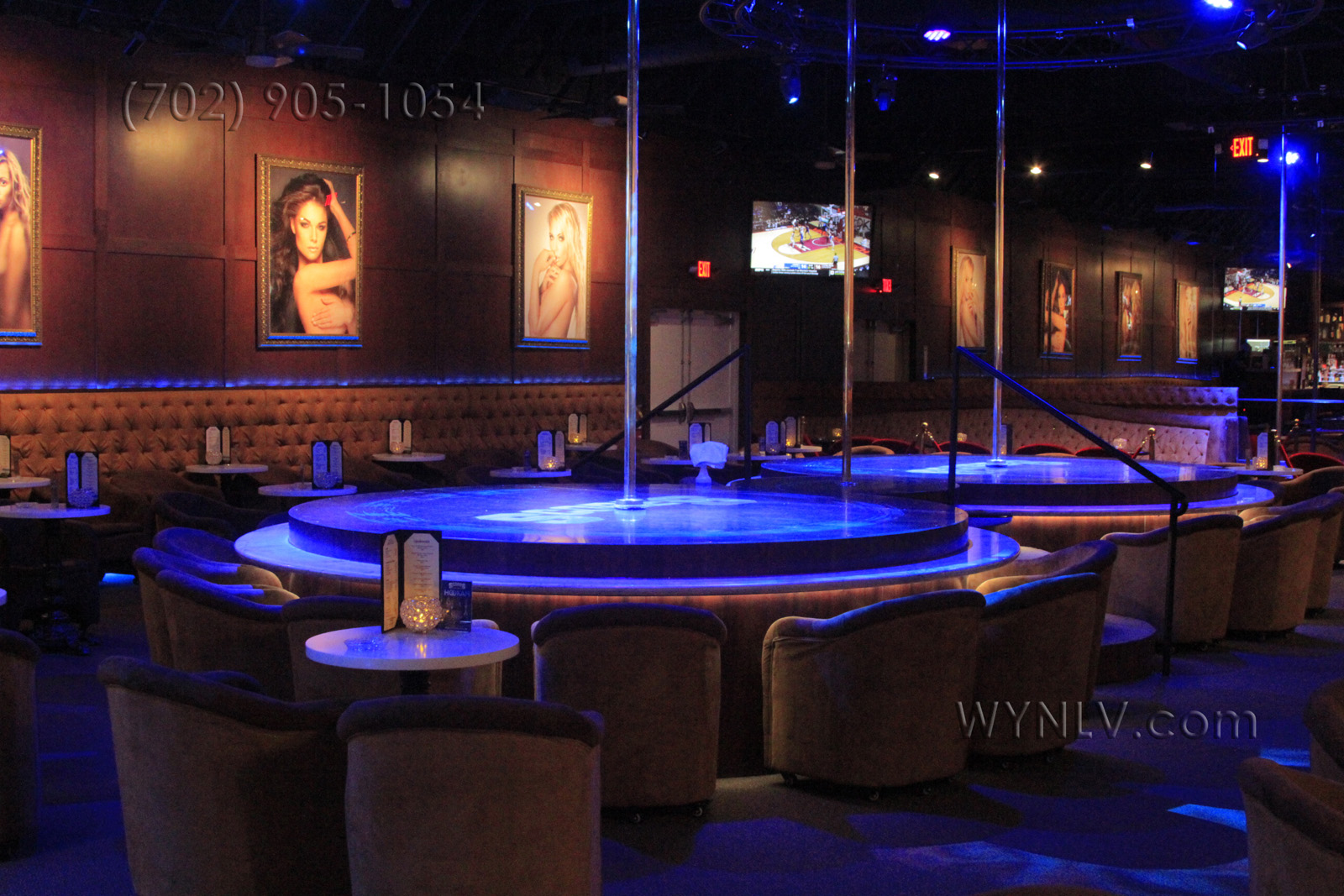 Scores definitely flies under the radar in terms of the top strip clubs in Vegas. Part of the Scores Gentlemen's Club family nationwide, this club may be smaller in terms of size but is big on entertainment.
The girls at Scores pride themselves on being a member of one of the hottest lineups in town, so it's definitely quality over quantity.
The more intimate space always feels like a party, no matter what time of day.  The reason is simple, you're not entering a huge vacant cavernous space during off-peak times like you'll experience at some of the mega clubs.
Best of all, it's right of the strip, so its a quick limo ride to get to the action. If you want convenience, smoking hot strippers, and a good old fashioned strip club, Scores is perfect.
Size –

6400 sqft

Floors – 1
Lineup – 80+ Girls nightly
Music – Classic Rock, Top 40, Old Scool Rap/R&B
Table Dance $20
VIP Lap Dance $40
Cocktails – $12 and up
Beer – $8 and up
Bottle Service – $300 and up
Drink Minimum – 2
Reputation – Classic Las Vegas Strip Club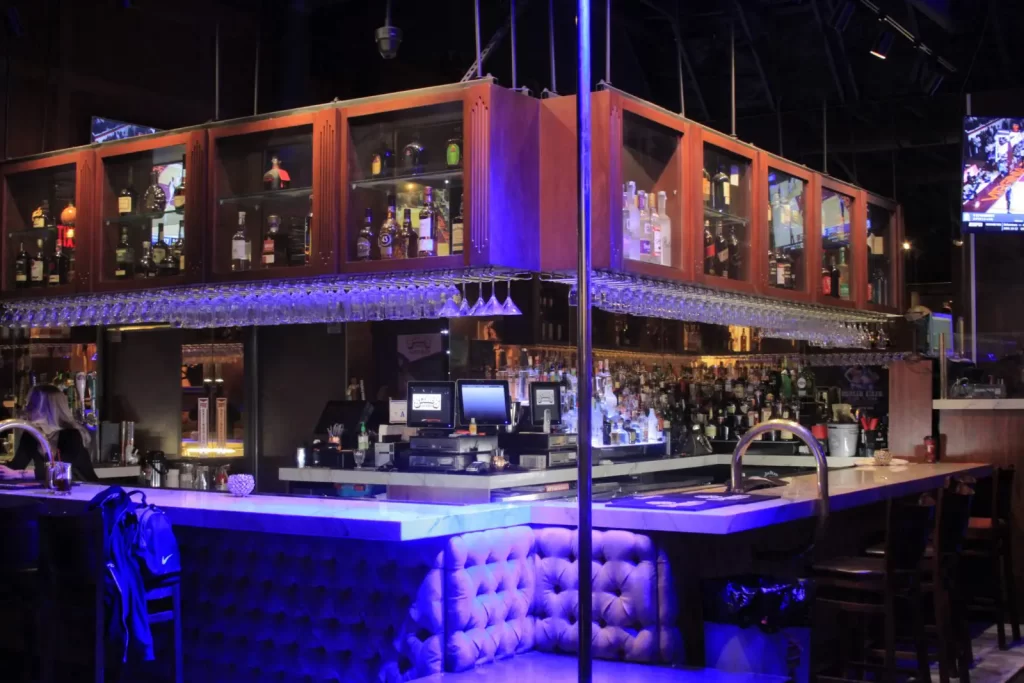 Scores operates like a classic strip club from the good ol' days. No fancy events, just hot chicks stripping to good music. When you just want to grab some drinks and be surrounded by gorgeous girls, this is your spot.
If you're a single guy in town and don't want big lines, the razzle-dazzle, and the overbearing bass of a large club, book your free limo to Scores. You can get in, have fun without a lot of hassle. Most of all, you'll feel like a king, not just one of a 1000 guys trying to get the attention of the dancers in the large clubs.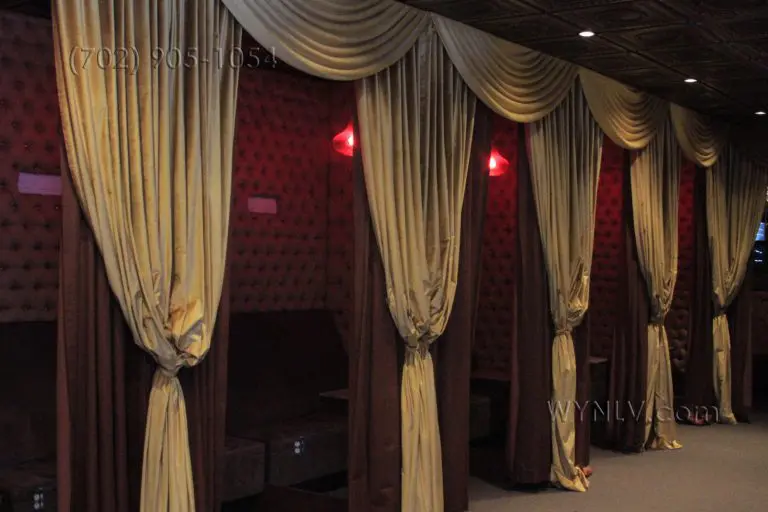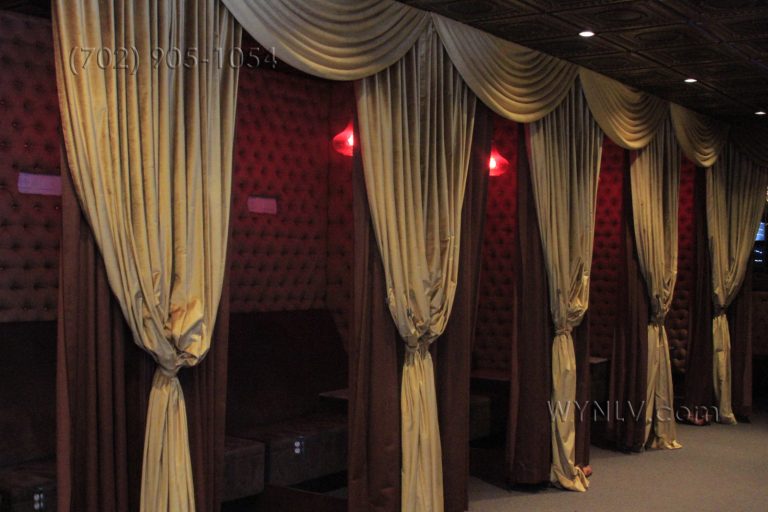 Scores is Best for…
Smaller groups or single guys looking to party
Enjoy a chill vibe
Want the hottest girls in town
Want to get to the club quickly and start enjoying themselves
Intimate and private VIP dances
Crazy Horse 3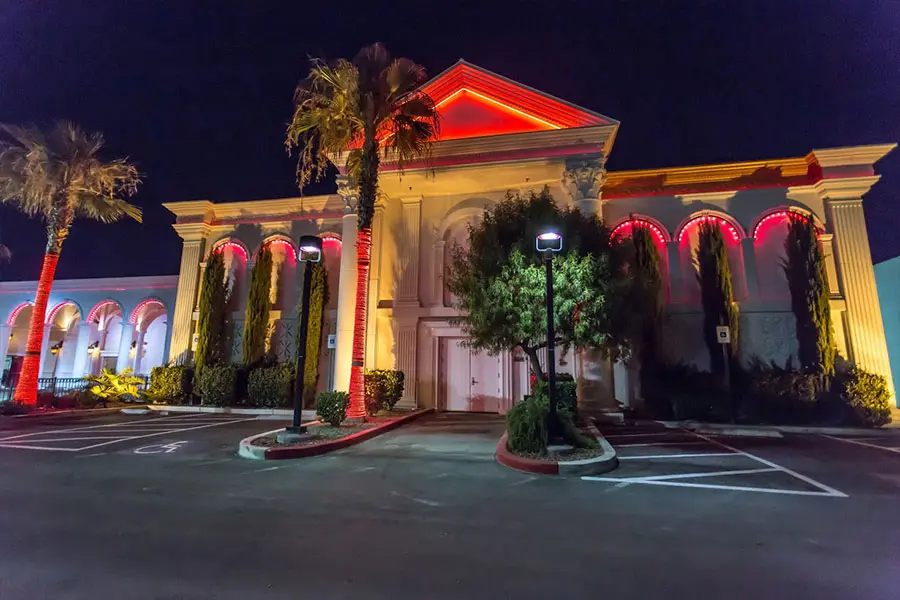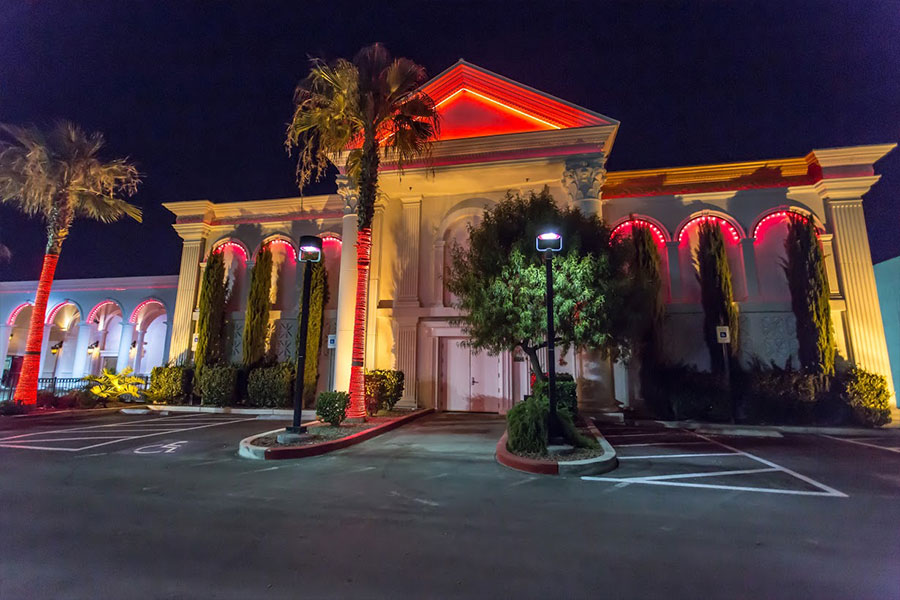 Crazy Horse 3 sits right in the middle of the pack in terms of size, but the club has a lot going for it. CH3 is located right off the freeway next to the Las Vegas strip, so getting in and out is fairly efficient.
One of the interesting design choices that we love is the fact that they have an entire section partitioned off for VIPs or to expand seating on busy nights. That way, when it's slow, the floor size is reduced, giving it more of a party feel. Once it gets packed they can open up an entire section with its own bar, stripper stage, and ample seating.
More importantly, proximity to Allegiant Stadium, home of the Las Vegas Raiders, makes this venue perfect for game day pre-partying. Or you can watch all the games at Crazy Horse 3 on over 25 large HD screens strategically placed throughout the club. Or hit the club after a big win (or loss, the girls will cheer you up!)
The dancers here are above average, and there's usually a good lineup, but what sets CH3 apart is the relationships they've cultivated with celebrities. If someone is having a divorce party, birthday party, or dirty 30, odds are Crazy Horse 3 will be the venue of choice.
CH3 also hosts featured performers and porn stars but has died down since the epidemic. We expect their celebrity and featured entertainer lineup to return to its former glory once the Raider's season kicks off.
Crazy Horse 3 reworked their menus and mixology in 2019, and feature an extensive lineup of craft cocktails. Their food menu is also very good with a wide selection sure to have something for everyone.
Crazy Horse III Private Party Venue
Want to know a secret? There's a secret second club inside Crazy Horse 3 that few know about. In the original format, this venue operated Posh nightclub in an attempt to appeal to a wider demographic.
The Posh nightclub space was repurposed to become the ultimate private events venue. If you're planning a large event or hosting a corporate party, this venue offers seating for up to 100 guests. You can opt for full catering, private bartenders, and even dancers if you want.
Perfect for:
Large wedding parties
Corporate events
Large bachelor parties
Any large gathering requiring private space
CH3 Quick Facts
Lineup – 120+ Girls nightly

Floors – 1
Stages – 2 main stages with additional satellite stages
Music – House, Rap, R&B, Top 40, Electronic
Table Dance $20
VIP Lap Dance $40
Cocktails – $14 and up
Beer – $10 and up
Bottle Service – $389 and up
Payment Methods – Cash, Visa, Mastercard
ATM – Yes
Drink Minimum – 2
Reputation – Best Strip Club to See Celebs
CH3 – LA Face with the Oakland Booty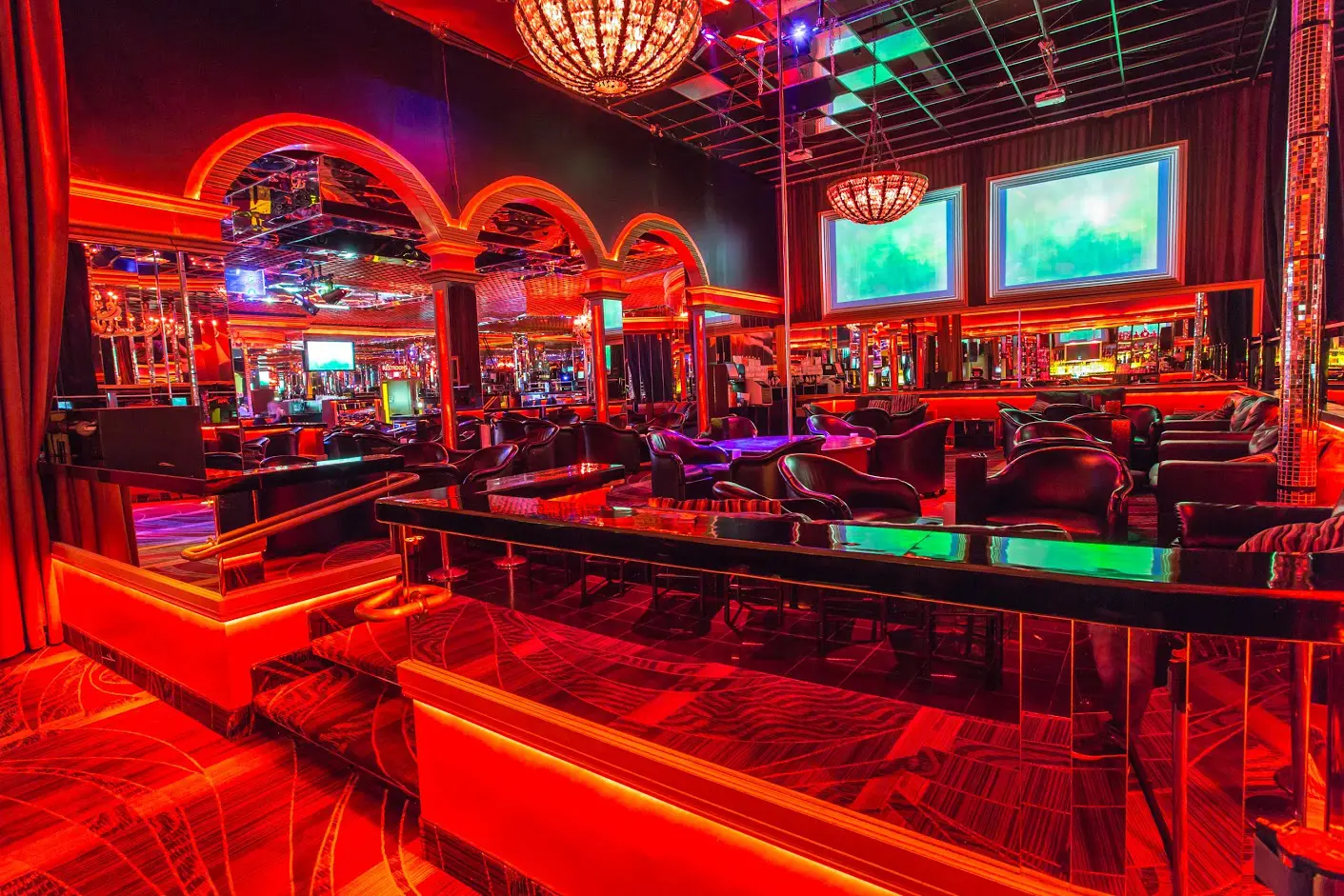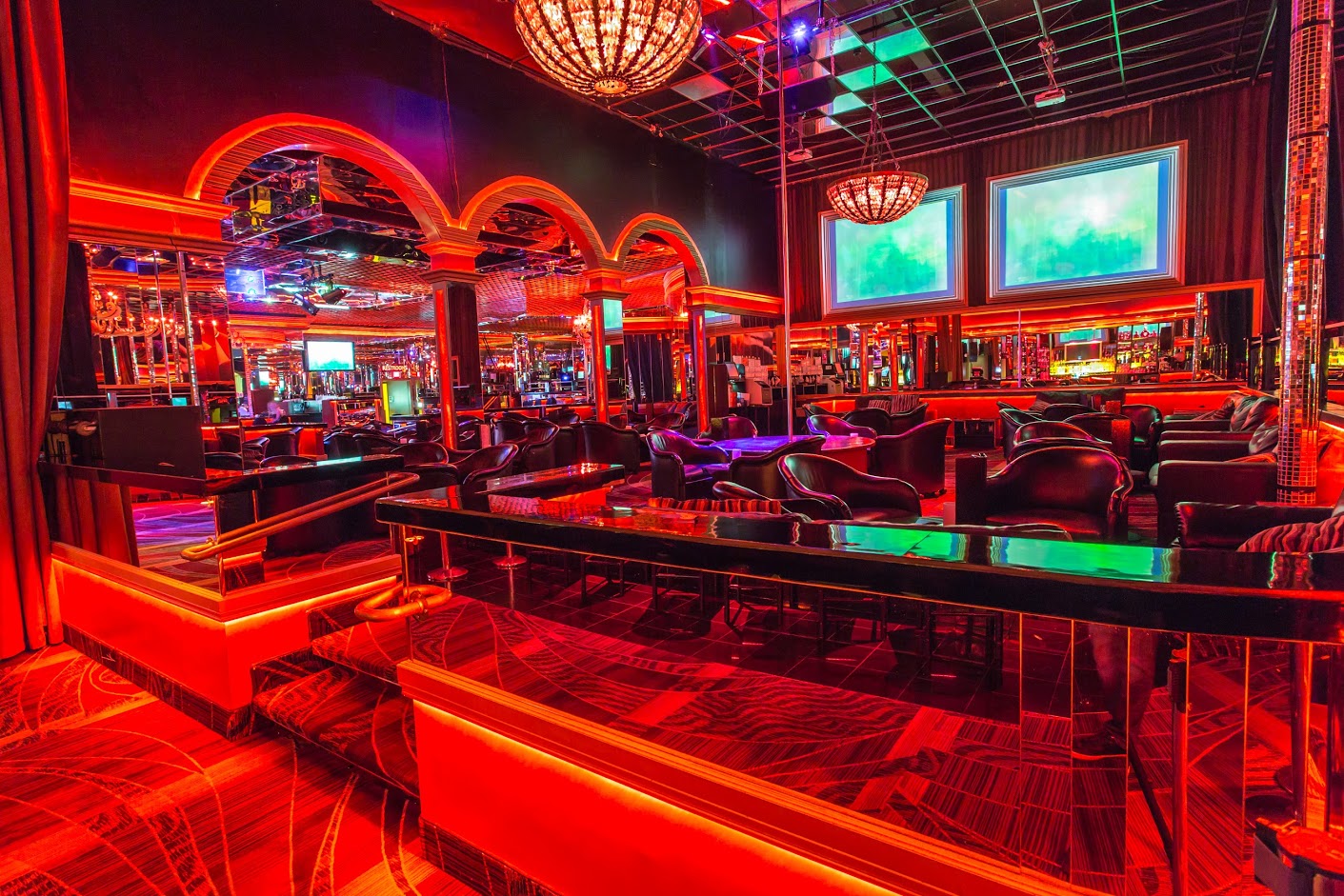 Crazy Horse is where Las Vegas strip club mingles with Los Angeles glitz & glamor. If you want to see a celeb in the wild, there's a good shot one of them will be in the club on the weekend.
This is also the best strip club for Raider's fans. You're right next to the stadium should you want to get geared up for the game.
Also, if you're a cryptocurrency mogul, Crazy Horse 3 started accepting Bitcoin (BTC) this year.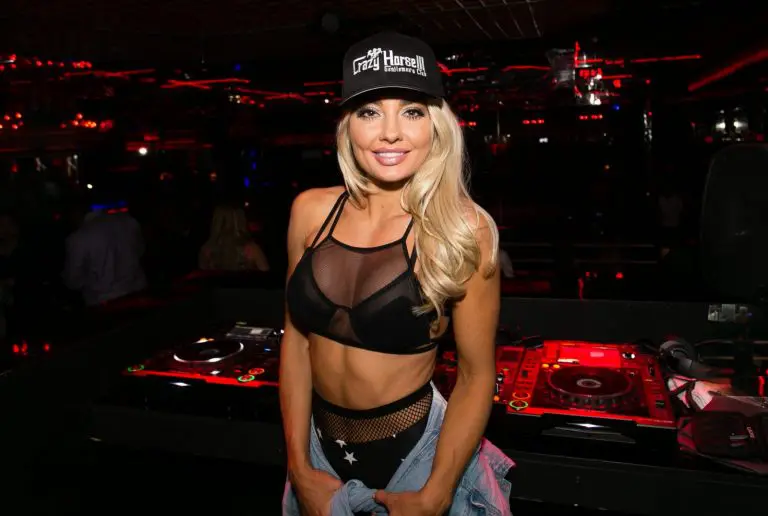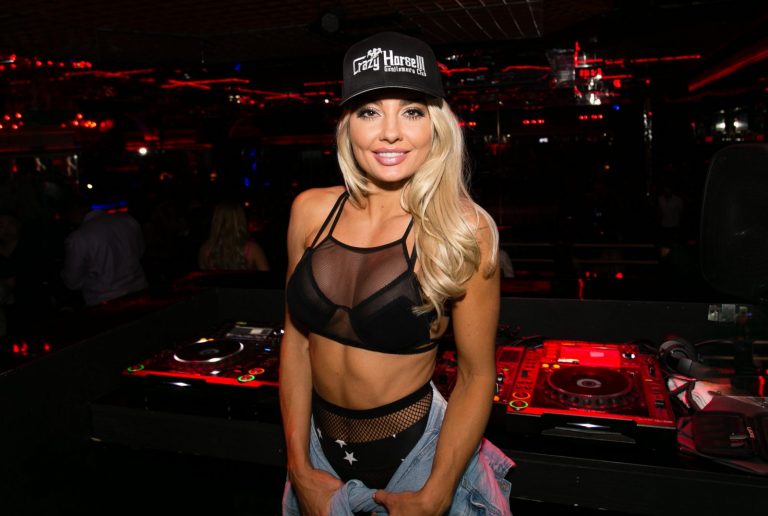 Crazy Horse 3 is Best for…
Raiders Fans
Seeing a celebrity at a strip club
Wide selection of craft cocktails
Extensive menu
Hosting private events
Crazy Horse 3 Dress Code
Dress codes are strictly enforced.  We recommend upscale and fashionable attire.  Example would be dress shoes, soft dress pants and a button up shirt or T-Shirt with a sport coat and nice jeans.  Absolutely no shorts, sandals, flip flops, jerseys, hats, baggy or ripped jeans.
Sophia's Gentlemen's Club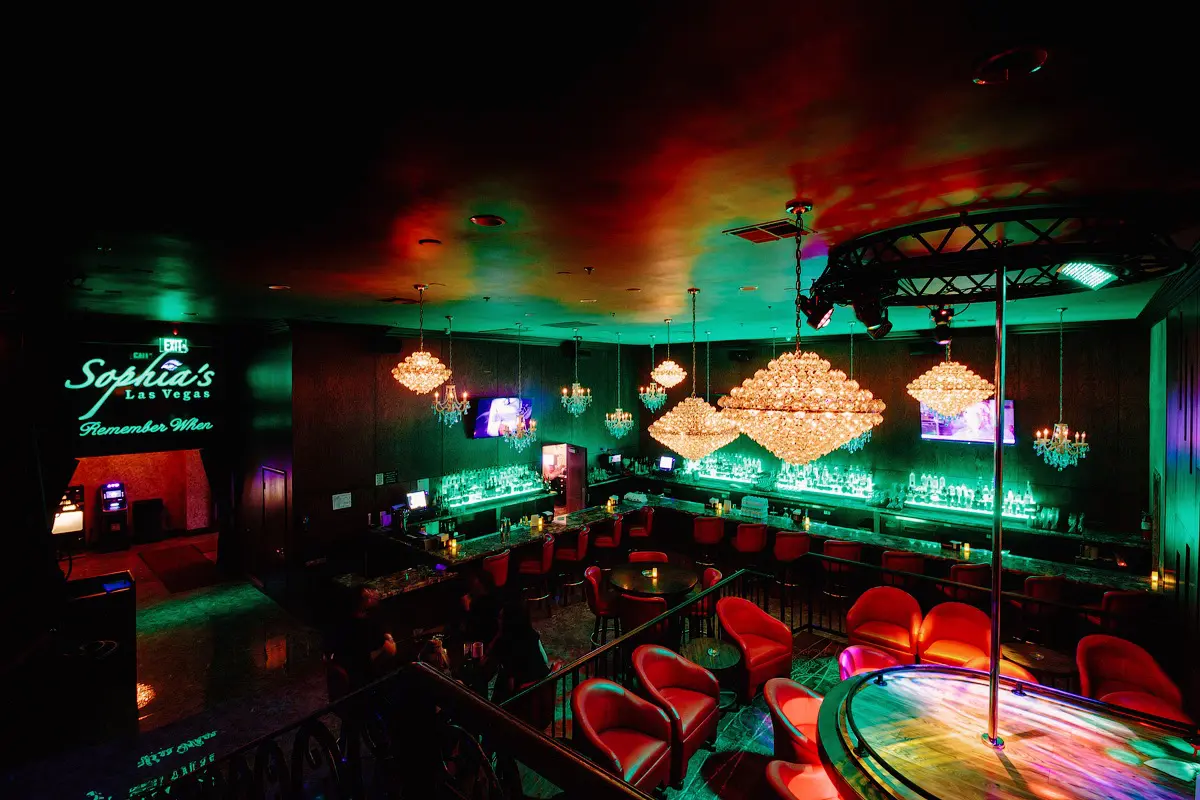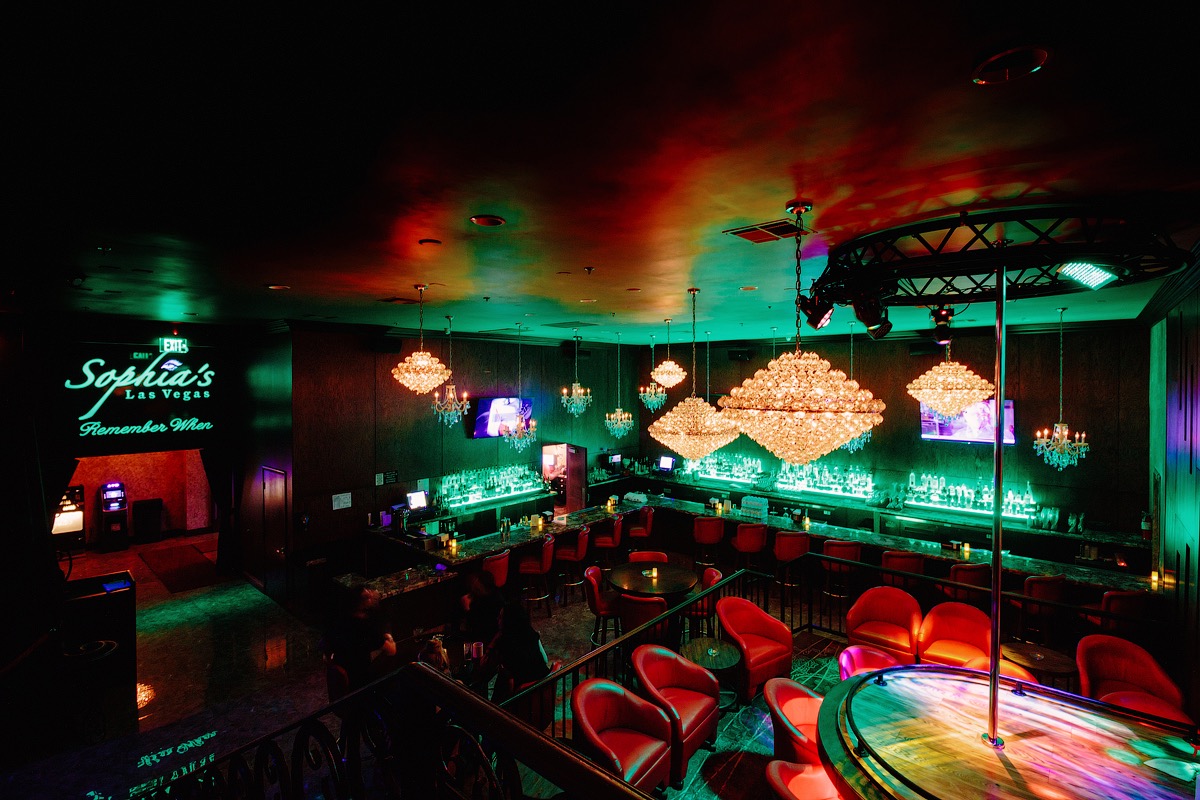 Sophia's Gentlemen's Club follows the recipe seen at our favorite club, Treasures. The building and interior exude class and luxury.
Expect a chill atmosphere and beautiful women. Sophia's doesn't have a massive lineup of hundreds of strippers, so expect 50 to 80 girls dancing each night.
There are two main bars, and two main stages and enough space to be comfortable, but still intimate. The upstairs features well-appointed VIP rooms, as well as a mezzanine that overlooks the main floor. It's the perfect spot to enjoy a bottle of your favorite champagne with your favorite dancer. They have larger VIP rooms if you're hosting a bachelor party, have a large group, or just have enough cash and want to be surrounded by multiple strippers in the privacy of your own suite.
Size –

17,000 sqft

Floors – 2
Mezzanine – Yes
Lineup – 40+ Girls nightly
Stages – 2 plus mezzanine VIP area
Music – Hip Hop, Rap, R&B, Top 40
Table Dance $20
VIP Lap Dance $40
Cocktails – $14 and up
Beer – $10 and up
Bottle Service – $469 and up
Drink Minimum – 2
Payment Methods – Cash
ATM – Yes
Reputation – Decent club with easy access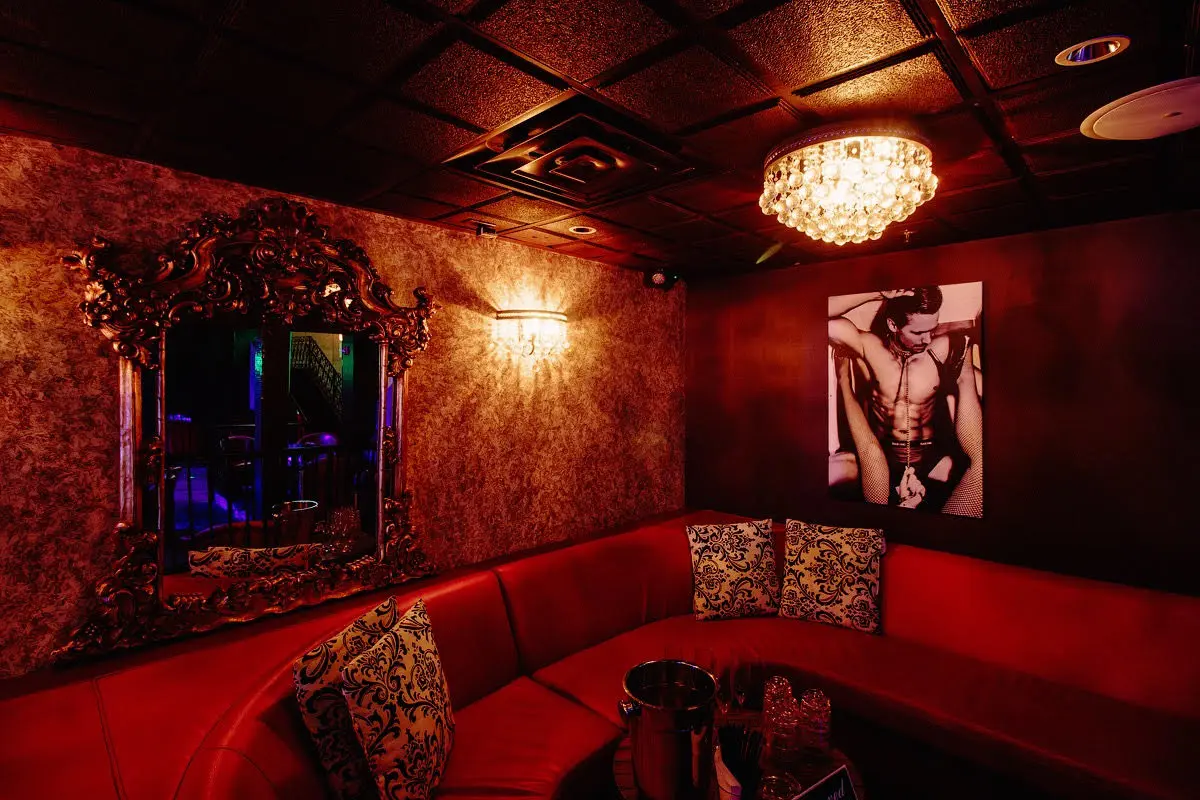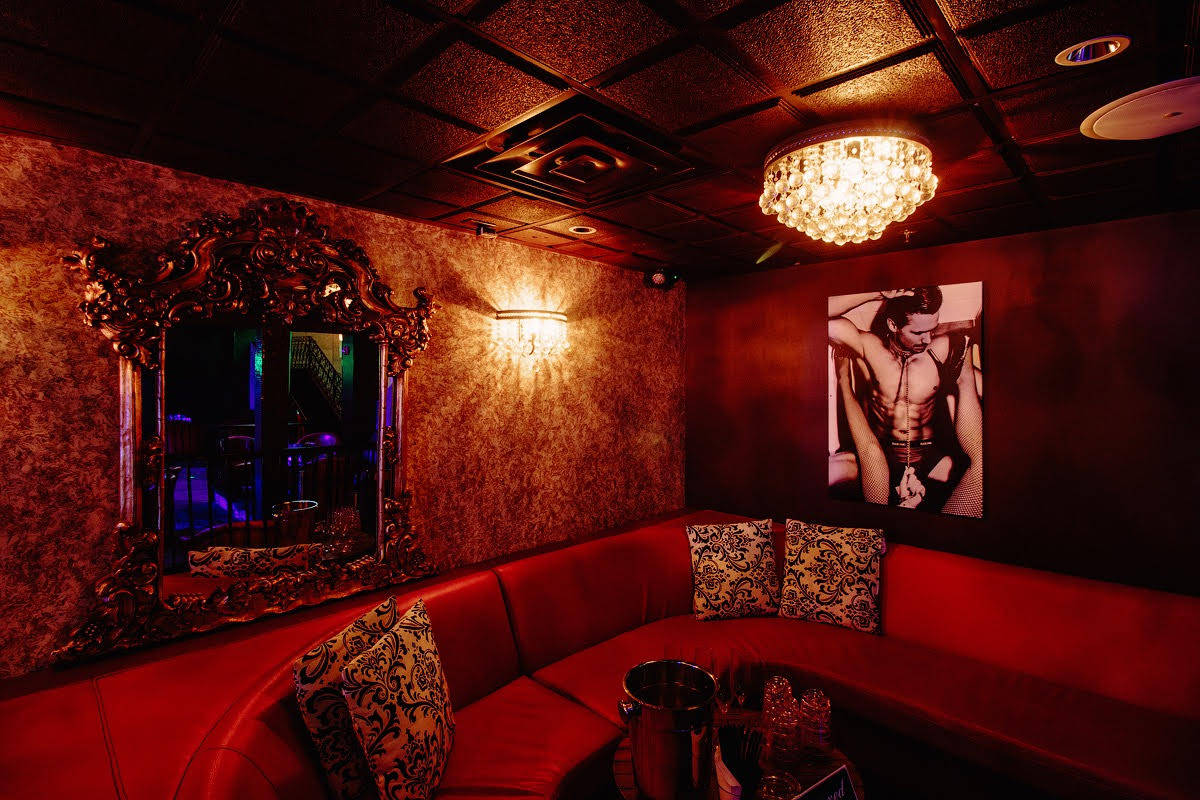 Sophia's Gentlemen's Club offers everything you'd expect in an upscale Vegas strip club, without the hassles of long lines, crowded tables, and long limo rides to and from the action.
If it's a busy event weekend or there are large conventions in town, you can avoid the crowds and still see some beautiful dancers while you enjoy a beverage.
There's no hustle here, just hot babes, good music, and cold refreshments.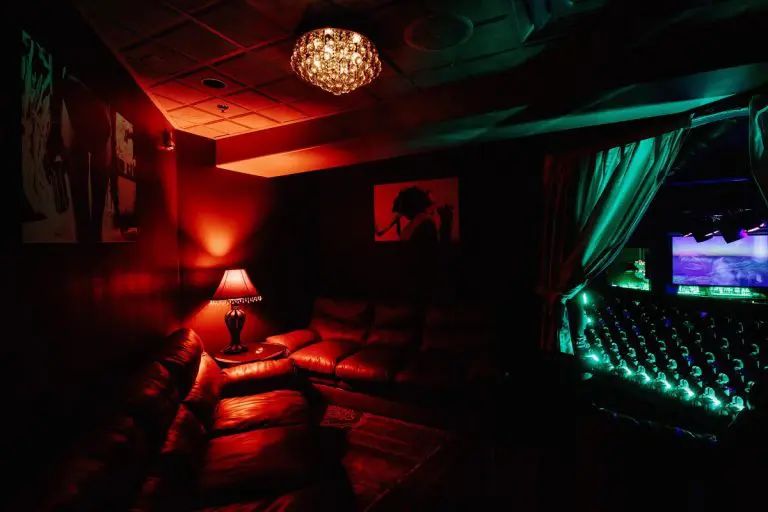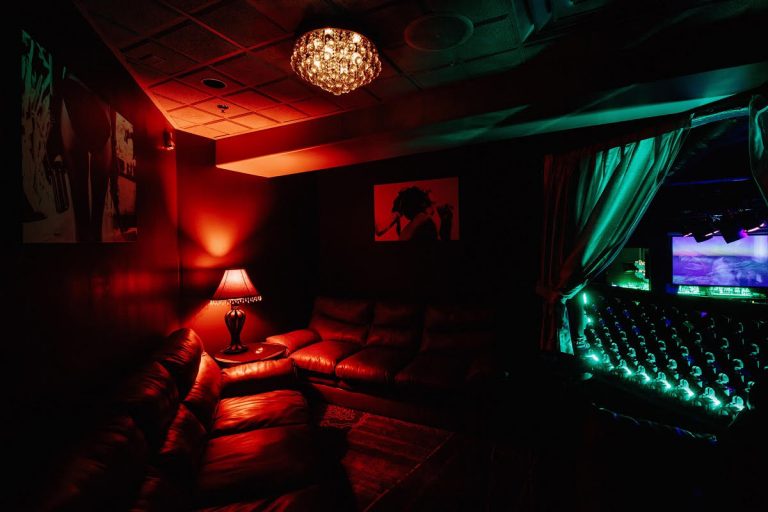 Sophia's is Best for…
Upscale venue
Intimate VIP room
Relaxed Atmosphere
Smaller uncrowded strip club
Spearmint Rhino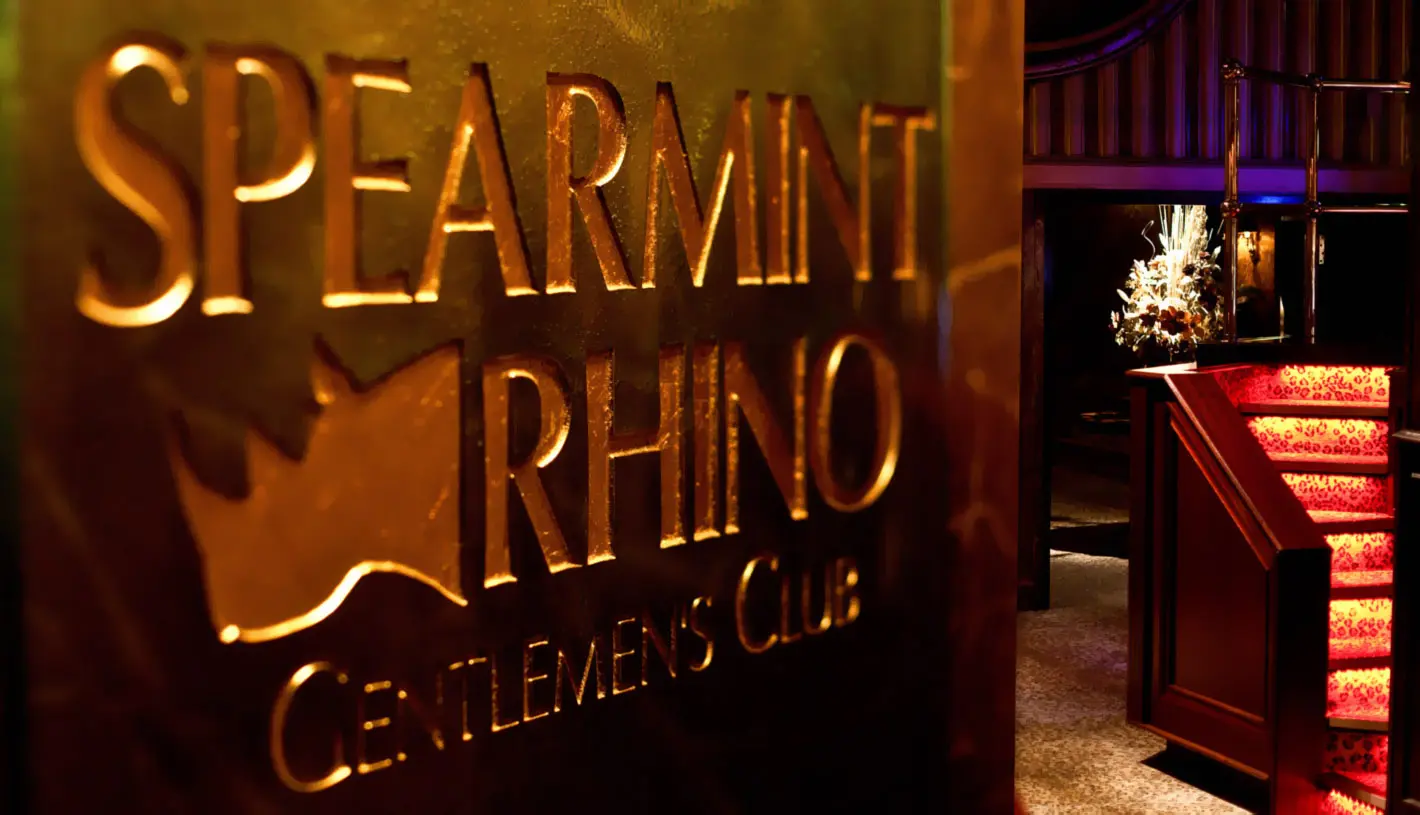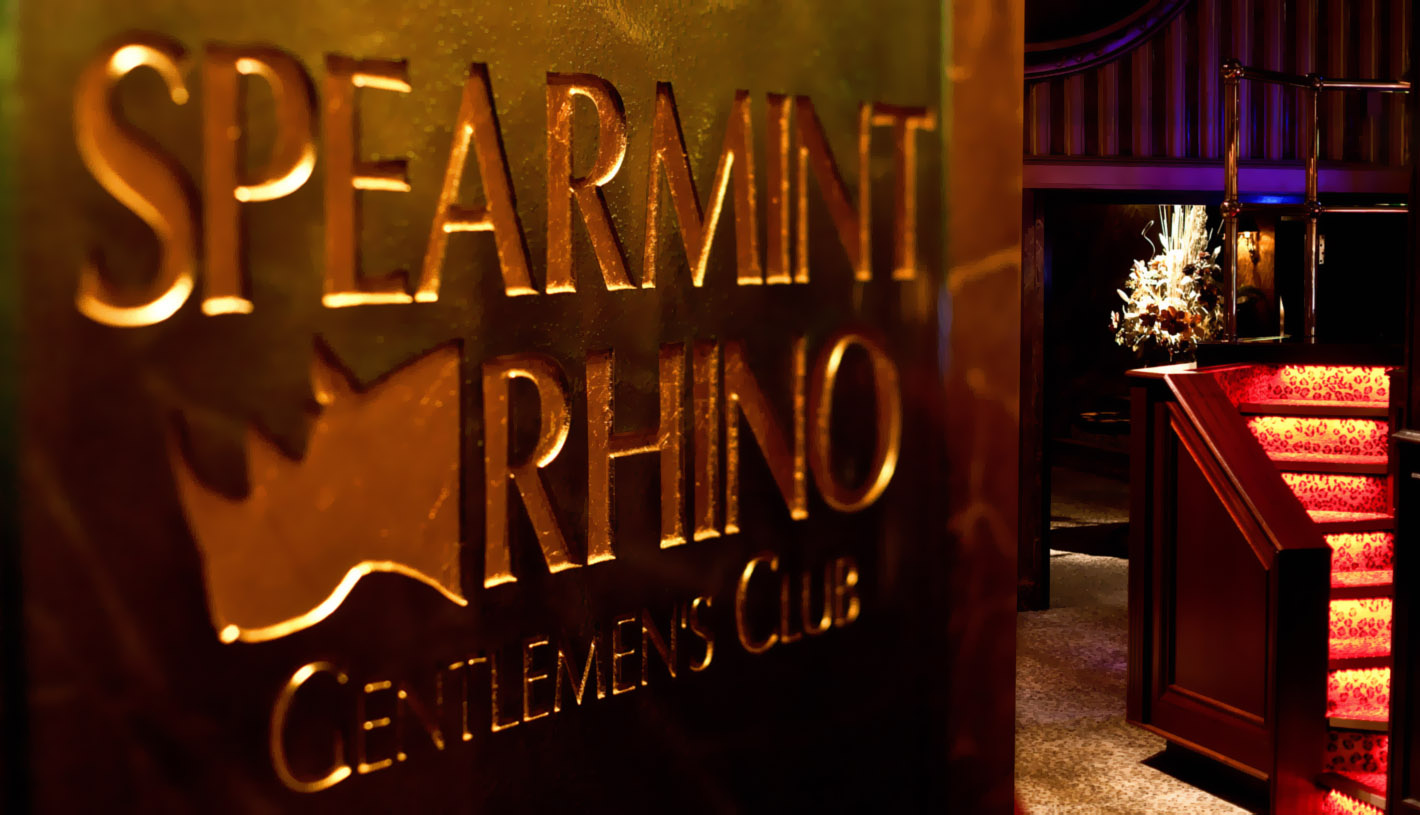 Last but not least, Spearmint Rhino. Probably the most famous strip club in Vegas, and for good reason.
Rhino built its reputation on having the hottest girls in town, and their lineup definitely tops the charts.
The club was updated in 2019, adding more space, covered parking, and a lot of interior upgrades like HD screens.
Size – 45,000 sqft

Floors – 1
Lineup – 100+ Girls nightly
Stages – 3
Music – House, Electronic, Top 40
Dances

Table Dance $20
Lap Dance $40 – On the main floor no VIP access
3 Dances – $100 – On the main floor no VIP access
VIP Half-Hour Dance – $300 plus $62.50 two-drink fee
VIP 1-Hour Dance – $600 plus $185 drink minimum

Cocktails – $18 and up
Beer – $12 and up
Bottle Service – $650 and up
Drink Minimum – 2
Payment Methods – Cash & Card
ATM – Yes
Reputation – Hottest Girls & Biggest Attitudes
Rhino has the Hottest Strippers & Attitudes to Match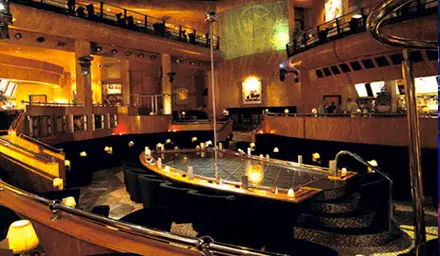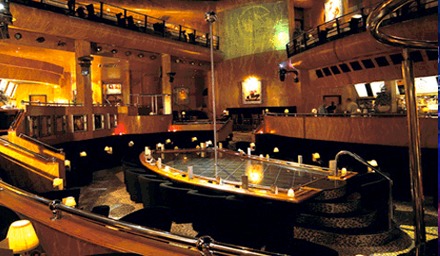 Strippers from all over the world flock to Spearmint Rhino, trying to get a spot on their lineup. It's like a badge of honor in the stripper community to say that you've performed at this illustrious club.
Yes, the girls are hot, but in our experience, the girls at Spearmint Rhino are more likely to have a bad attitude. You can find dancers that are just as hot, but a lot more fun to be around, at the other strip clubs in our round-up.
Spearmint Rhino is Best For
Hot strippers with bad attitudes
Expensive drinks
Telling everyone  you went to Spearmint Rhino
Spearmint Rhino Dress Code
No Plain white t-shirts
No tank tops
No athletic shirts
No athletic shorts
Nice shorts and flip flops are OK
Other Strip Clubs
While we gave your our Top 8 strip clubs in Las Vegas above, we quickly go over the rest to give you an idea of what they are like and why they didn't make our top of the list.
Little Darlings
Little Darlings is the top 18+ strip club in Las Vegas. The dancers are fully nude, but the drinks are nonalcoholic. You pay a similar fee to one of the marquee clubs in town, and then be required to buy two "drinks" as well. Which means soda, energy drinks, or fruit juice.
The strippers are decent, but if you're 21+ you'll have a better time elsewhere.
Hours:
Monday – Saturday – 11AM to 6AM
Sunday – 6PM to 4AM
Little Darlings Dress Code
no plain white t-shirts
no tank tops
no visible chains
no wave caps or do rags
no team jerseys
Centerfolds Cabaret
Centerfolds Cabaret tries really hard but just never seems to get it right. It's changed ownership many times over the years, each perturbation yielding the same results: low girl count, vacant tables, and low energy.
It's just O.K. not terrible, but definitely not up to Vegas standards.
Palomino
This is the only club in town that is fully nude and serves alcohol. Their liquor license was granted before the restrictions on full nudity and liquor service went into effect.
As a result, they have a monopoly on this market, which means they don't work as hard to make sure you have a good time.
The girls aren't as hot as the major clubs, but the prices are just as high. It's also the furthest strip club from the major resorts on the strip.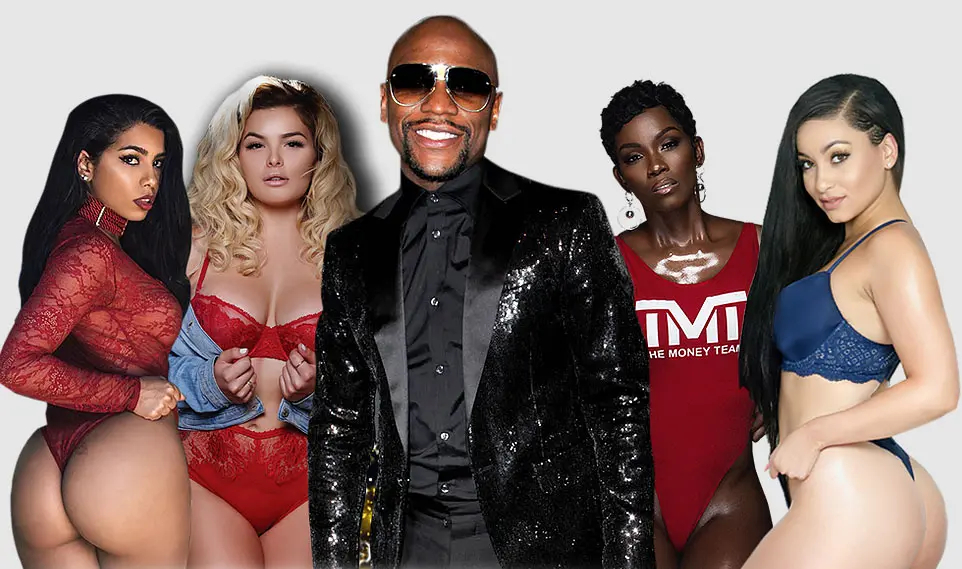 Girl Collection
Owned by the famous boxer Floyd Mayweather, this venue is his team's attempt at running a gentlemen's club in Las Vegas.
All we can say is an attempt was made. If they're actually open (they're usually not), and if they have girls on rotation (they usually don't) you may get in and have a good time.
More likely you're gonna have about as much fun as a fist to a shoulder roll.
General Strip Club Dress Code
As a general rule, as long as you look presentable you'll get in. This means being freshly showered, wearing semi-conservative clothes, and looking like you have money to spend.
Here's a few things to avoid:
Tank tops (guys) most clubs won't allow them
Sandals or flip flops
Torn or ripped jeans
Sweatpants
Athletic shorts (basketball or training)
Jerseys
Anything representing Gang or Club colors
Some clubs allow cargo shorts or golf shorts as well as flip flops and sandals. It really depends on the club. But to be safe, if you wear a pair of nice slacks, dress shoes, and a decent button down shirt you're going to be ok. It's actually a good thing to look well dressed at the club, the dancers will give you more attention with out demanding a dance before they move on. If you look like you can't afford it, they won't even acknowledge your existence or do a drive by "want a dance?"
If you know which club you want to attend (or what you want to wear) you can consult the specific club dress codes in the following article:
Not sure what to wear? Don't get shut down at the door! Quick and easy dress code guide for all major strip clubs in town!
Arrive in style and comfort with the confidence to know you've dressed appropriately.
FAQ
Frequently Asked Questions
How much does it cost to go to the gentlemen's club in Las Vegas?
Most people should expect to pay between $50-$200+ for a night at a Las Vegas strip club, depending on services requested from dancers and drinks consumed. For $500 a night you can have a really good time.
Are lap dances allowed in Vegas?
Yes lap dances are allowed, however the girl must keep her bottoms on if the club serves alcohol with the exception of Palomino. Also any club that offers full nudity, the lap dances aren't as "intimate" due to the lack of clothing.
What is the "No Touching" policy in Las Vegas strip clubs?
The "No Touching" policy in prohibits patrons from making physical contact with dancers without their express permission. But if you're paying, the girls are very open. Just do it in the VIP with their explicit permission. Best milage will be at Peppermint Hippo, Hustler, Treasures, and Rhino.
What type of strip clubs are available for female patrons?
Female patrons have the option to enjoy a night out at male revue clubs like Kings of Hustler, Men of Sapphire, Chippendales, Thunder From Down Under, and Aussie Heat. Check out this article: Girls Night Out
First time to a strip club? Have questions. No problem, enjoy our curated Strip Club Frequently Asked Questions.
Conclusion
You've got a lot of choices when it comes to Vegas strip clubs. If you're still not sure which club is perfect for you, all you have to do is call and one of our VIP hosts can answer any questions you may have. Don't be shy, we're here to help!
Want the best coed strip clubs in Las Vegas? Get hot lineups for both sexes at these venues.
Looking for the full skin factor? Check out our guide for the best fully nude strip clubs in Las Vegas!
Skip the club and bring the party to your room. Some of these girls work at the top strip clubs in Las Vegas. But they get wild when they're not supervised by a bouncer in the club!