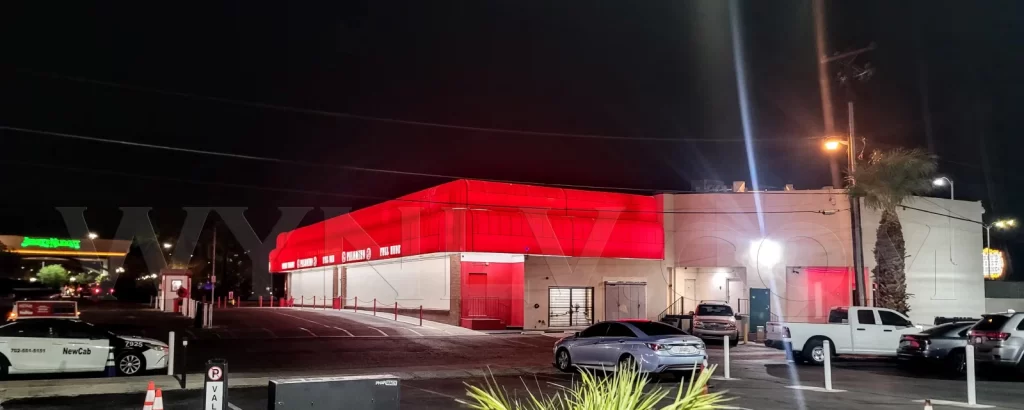 Quick Summary
Palomino is the only fully nude strip club in Las Vegas that offers alcohol. Founded in 1969, this location was allowed to keep it's liquor license even after new legislation was passed restricting alcohol to topless clubs only.
The club appears it hasn't changed much in the past few decades aside from the additions of some HD screens and an upgraded sound system.
The strippers aren't terrible, they'd be on par with what you'd see at any strip club in a mid-sized town in America. But they're a far cry from what you'll see at the major topless strip clubs like Hippo, Rhino, or Treasures. The hottest girls in town can make more money going topless at a big club than baring it all at Palomino.
The location is far away from the major strip resorts. It's technically in North Las Vegas, meaning north of downtown. So it's a long drive or ride.
We would not advise walking around in this neighborhood at night. The club has taken multiple precautions to prevent theft including a steel barred fence, security tower, and massive halogens lighting up the lot like the Sun.
Prices are on par with the major clubs in town.
Quick Facts
Size: 15,000 sqft
Floors: 2
Stripper Lineup: 12-100 strippers
Stages: 2
Music: Rap, R&B, Reggae, Top 40
Cover Charge: $40 two drinks included
Lap Dances: $40 per song 3 for $100

15 minutes: $150
30 minutes: $250
Hour: $500

Beer: $8 and up
Import Bottle Beer: $10
Cocktails: $14 and up
Red Bull: $10
Bottle Service: $500 and up
Payment Methods: Cash, Visa, Mastercard
Credit Card Statment Business Name: Hachiman, LLC
ATM: Yes
Hours: 6pm to 5am daily
We got a chance to visit Palomino to check out how the club has evolved since the pandemic, check out the girls, and see if their pricing is competitive.
Exterior & Lot
The exterior of the building looks like it hasn't changed for decades, but it's in acceptable condition. The parking lot is well lit and there's even a raised security station, kind of like a short guard tower that has cameras mounted on each side. You can see the glow of the security screens inside, but nobody manned the post during our short time in the parking lot.
There's a small booth as you enter for the valet, but you can drive straight past to the self parking in the back of the lot. If you have a low clearance vehicle, just be aware there are two large trapezoidal speed bumps as you enter the parking lot. You may scrape your air dam or rocker panels depending on your vehicle. Luckily we were in a lifted SUV with a sick custom suspension and viewed the bumps as a challenge.
We're not sure if the valet was impressed by our digressive after-market coilovers, or alarmed by the rate of speed at which we cleared the speed bumps, but he didn't say shit when we walked in, so we're going to assume he thought it was pretty cool.
Main Entry
When you enter you'll get carded immediately. There's a guardrail that guides you through a metal detector. We're not sure if it's just for show, but somehow our necklace, phone, belt, and keys didn't set it off. Maybe the metal detector is just for show or setup to detect if you're broke. Either way, we made it inside with no problem. The guy hardly even glanced at the readout as we walked through.
We paid a $40 cover and the cute hostess handed us two drink tickets. Later on, we used the ticket to buy a decent-looking young islander going by the name of Tiffany a cocktail. Might as well use the drink tickets if you're going to buy a girl a drink because no doubt she's going to order something expensive right? Save your cash for the beers.
We chatted with Tiffany while we scoped out the place. Turns out she's from San Diego and has been dancing at Palomino since she was 18. We got the full tour.
Main Floor
There's basically one main stage of action and there was a decent amount of people around the stage tipping the dancers. Our guess is that there were about 20-25 strippers on rotation. They were decent quality, not drop-dead gorgeous like you'd see at Peppermint Hippo or Spearmint Rhino, but solid 7s. Lots of girls with tats, decent bodies, and about 50/50 in the breast implants department. Most of the girls wore fishnet over panties or a simple bra and panties. Nobody was going for the full dress-up routine.
The main bar seats around 10 people and there are 5 HD screens behind the bar. On the opposite side of the room, there are two more large screens, but they mostly displayed the Palomino logo the whole time we were there.
Strippers at Palomino
We had the chance to chat and spend time with two lovely ladies during our visit. Tiffany spotted us as we walked in the door and escorted us to the bar. She was cute and friendly so we didn't shoo her away. She was a lovely brunette with a fit physique, and piercing eyes, and her C-cup implants filled out her lingerie nicely.
We used one of our drink tickets to buy her a cocktail while we chatted. She's originally from San Diego but moved to Las Vegas to start dancing. She's been dancing at Palomino since she was 18. We didn't ask her age, but guess she's in her early twenties now. Tiffany was kind enough to give us the full tour and provided most of the pricing info in this overview. We did end up getting 3 songs for $100 from her. The dances were good, but due to the club being fully nude, the mileage is less than you'll find at our favorite clubs.
We were actually on our way out when we bumped into Shinee. She's a tall busty blonde with a quirky personality. She seemed like she might be fun so we got another 3 songs from her. She had a lot of tattoos, which are not really our thing, but her body was on point and her D cups were hard to pass up. Again, good dances, but nothing crazy.
The girls are decent, and the dances are fine, but we feel you're going to have a better experience at bigger clubs.
Music & DJ
During our visit, the music rotated between Rap, Reggae, Top 40, and R&B. No House or EDM. Occasionally the DJ would play the video for the current song on a couple of the HD screens. Most of the TVs were dedicated to ongoing sports events.
It was refreshing that the DJ decided to mix it up a bit on the music front. So many clubs play songs nobody has ever heard just to be edgy. We didn't really see the DJ's presence on the floor. We believe the DJ should be part of the show and have a visible presence to work the crowd. Many clubs choose to tuck them away in a closet so as to not distract from the girls and the drinks.
But a good DJ can entice the crowd to participate, buy drinks, grab a girl, and have some fun. On this point, Palomino missed the mark.
Upstairs
As we mentioned, Tiffany took us upstairs and gave us the full tour. If you don't like walking stairs, tough shit, there's no elevator. How they get around accessibility requirements I have no idea.
Unfortunately, we weren't allowed to shoot any pics upstairs, but we took good notes to give you as much detail as possible. Just know that it is basically like any VIP area in a strip club. Except it's not quite as nice, or maybe the VIP area hasn't been updated much over the years. It's not posh, let's just say that.
At the top of the stairs, there's an area with about 15 tables and a small stage. The tables are all reserved, and the stage was unused during our visit. Our guess is that large parties can reserve the floor, or they may open it up on especially busy nights.
There's also another bar, and the bartender, Jo was really cool. She was smiling the whole time and full of energy. Most strip club bartenders could take a lesson from her.
Private Dance Area
As you enter the private dance area there's a desk manned by a bouncer or manager that makes sure the girls are safe and that the room fees are paid, and sets the clock if you're buying time.
There are 8 large high-backed circular booths with a privacy curtain at the entrance. These booths are used for lap dances and time. There's plenty of room for the stripper to work her magic, and it's private enough to ensure you have a good time.
VIP Rooms
Tiffany also gave us a tour of the VIP rooms. There are basically 8 rooms that have a similar layout. Most of the VIP rooms have a couch or two and colored lighting to set the mood.
Bedrooms
Two of the rooms are "bedrooms" meaning there's a bed in the room, and mirrors on the ceiling. In one of the bedrooms, you can even set your own music with a display on the wall.
Pole Room
The crown jewel of VIP Rooms is the Pole Room. We thought we heard her say "pool room" at the beginning of the tour, so we were confused when there was in fact no pool. There is, however, a stripper pole in the largest room. This room has seating for 7-10 guys and is designed for larger groups like bachelor parties.
In order to book this room you have to commit to two hours plus a $200 drink minimum. That gets you one girl for two hours and a $200 drink tab. Total price: $1200 plus gratuity. If you want more girls or drinks, that's extra.
VIP Dance Prices
Tiffany gave us the full run down of all the prices. A single lap dances, full contact, fully nude is $40 per song. They also offer the 3 for $100 that you'll find at most strip clubs in Las Vegas.
15 minutes – $150
30 minutes – $250
1 hr -$500
There are no drink minimums or additional house fees you must pay as long as you do your dances in the circular booths. The VIP rooms are more expensive.
VIP Room Rates
All the basic rooms have the same rate. You have to buy one hour ($500) AND a $200 bottle. It doesn't matter which room.
The pole room is the most expensive. You have to buy at least two hours AND a $200 drink minimum. So you're looking at $1200. If you have a bachelor party of say 7 guys, you need to buy 3 bottles ($600) plus whatever entertainment you want. So assume you want at least 3 girls you're looking at 3 girls x 2 hours x $500 or $3,000. Add on your bottle minimum and you're at $3,600.
The basic idea with the VIP rooms is to entice the customers into thinking that since these rooms are more private and exclusive the girls can "do more." But they can't, and they won't, and they don't want to. The girls want your money, and so does the club, and this is the illusion they create for those who are new to strip clubs.
Upstairs Mens Room
There's a men's restroom upstairs that's worth noting. First, there's no bathroom attendant offering to dry your hands and shake you down for a few bucks for a stick of gum or spritz of AXE body spray like you'll find at most gentlemen's clubs in town.
Secondly, although there is a sign warning you to "Watch Your Step!" you most likely won't because it doesn't appear to be a step down visually. As a result, you may end up on the floor of the restroom. We read the sign. Noted the warning. And still almost bit it walking in the door.
There's also nice instructional signage inside the toilet stalls worthing sharing:
If flushing some drug-infused condom-wrapped maxi-pads down the toilet were on your to-do list for the night, Palmonio is not that kind of place.
Palomino Price List
Cover Charge
– $40, 2 drinks included*
*On Palomino's website they claim
If you arrive by taxi/rideshare/private limo or etc, there is a $36 cover charge for entering the Palomino Club. There is a $30 two drink minimum at the door for everyone regardless of how you arrive in addition to any cover charge unless you buy a package/bottle service. source
-This information is either incorrect, outdated, or only applies on certain nights. We were charged $40 and received two drink tickets.
Drinks
Beers $8 domestic, $10 imports
Red Bulls – $10
Mixed drinks -$14 and up
Bottle service – $500 and up
Dances
Topless dance on main floor $30**
** We were informed the $30 topless floor dances were not available since the COVID pandemic which seemed to be bullshit. Honey, if you can put your tits in my face totally naked in the $40 nude VIP dance area, the extra $10 per song doesn't provide some magical protection against infection.
Upstairs VIP booth
$40 per song
3-song package – $100
15 minutes $150
30 minutes $250
1hr $500
Upstairs VIP Private Rooms
Rooms 1 through 8 – $500 per hour plus $200 drink minimum
Pole Room – $500 per hour, 2-hour minimum $200 drink minimum
VIP Bottle Service Packages
Palomino lists a number of VIP packages on their website, but they're actually pretty bad deals. For example their Premium bottles deal is $500 per bottle and includes:
Pros
Fully nude dancers
Full bar service
Cons
Drop in stripper quality vs topless clubs
Small dancer roster
Dated interior and exterior
High Prices of big-name clubs
Far from major resorts
Sketchy neighborhood
Conclusion
Palomino whisks you back in time when fully nude strippers went hand in hand with full bar service. You won't be blown away by amazing architecture, opulent artwork, or intricate interior design. You won't find the absolute most beautiful strippers in Las Vegas at Palomino either. The music is good, the dancers get naked and you can grab a drink. That's their selling point.
We don't believe this format supports the high-end pricing you'll find at the other big name strip clubs in town. If you want to see girls get fully naked and not drop your standards, there are better options in town.