Planning a bachelorette party in Las Vegas can be a duanting task. You're trying to juggle budget, personalities, and attendee expectations, all while ensuring the bride to be remembers the trip fondly. You're working on hotel, entertainment, transportation, and group activities. You want everyone to have a great time, but know that you want to keep the budget modest so that everyone is comfortable with the costs.
But don't worry! We're going to cover everything you need to know and provide you with the resources you need to make good decisions and get great prices.
This article is broken down into three main sections:
Best nightlife options for bachelorette parties in Las Vegas

Best day time activities for you and your groups

General Tips and Guidelines for the Maid of Honor

Budgeting your bachelorette party
You can jump to each section by clicking the appropriate button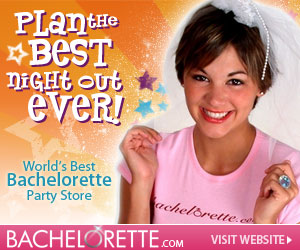 Before you dive into the details of planning events and lodging, take some time to set a theme for the party. You can get the bride a sash so everyone knows she's the bachelorette. You can find all kinds of phallic accouterments from our friends at bachelorette.com. They have everything from decorations to party games, and yes, penis straws, penis pops, penis everything.
They also give you a free gift when you spend over $250.
Knowing that your bachelorette is going to have to walk around Las Vegas with all these gag gifts in hand will give you the push you need when you're in the weeds of planning the party.
Affiliate Disclosure: We earn a small commission when you purchase from these links at no extra cost to you. In fact you can even get a free gift! This help offset the costs of maintaining our site, so thank you!
Las Vegas' nightlife options are legendary. You can see world famous artists perform in concert, catch your favorite DJ at a nightclub, take in a show, hit a strip club. The options are endless.
It really boils down to your party's budget and tastes.
NIGHTCLUBS
Las Vegas is synonymous with world famous nightclubs and rock star status DJs. The lines to the most popular clubs can be over 2 hours long if a popular DJ is hosting.
You can jump the line by opting for a VIP guestlist, which will cut the time to around 30 minutes on busy nights. If you want the cheapest and fastest way to get into a busy club, try a hosted walk-in. It will run $25-$100 depending on demand, but you get to walk right in, accompanied by your very own VIP host that will make sure everything goes smoothly.
If you have a party with deep pockets, then by all means, go for bottle service. At minimum, expect to spend $500 per bottle, which covers one bottle of Skyy Vodka or similar, and will get you a table, vip entry for up to 4 or 5 guests, and mixers/ice/juice. Red bull is extra.
For a good table on a busy night, the prices start around $1,500. Plan to add on more if you want call or premium liquor.
Table location also plays a big factor in the price. If you don't particularly care where to sit, go for terrace or outside table. These tables are cheaper but still will give you a home base for your crew.
Near the dancefloor, DJ, or owners table, the prices skyrocket 3x, 4x, and up to 10x of the cheapest tables offered.
TOP NIGHTCLUBS IN LAS VEGAS FOR BACHELORETTE
PARTIES
XS Las Vegas – the signature nightclub of WYNN resorts, XS lures the top DJs on the planet to host at this vaunted venue. Classy & upscale, you'll definitely be rubbing elbows with the elite. The shows here are over the top, and the decor defines swanky. Just as the parties at XS are legendary, the prices are notoriously high. If you're going to go the bottle service route, call our friends at Vegas Party People for a better deal and 5-star service.
XS Las Vegas
3131 S Las Vegas Blvd, Las Vegas, NV 89109
(702) 770-0097
---
Intrigue Nightclub– sister club to XS, Intrigue also books some of the top talent available, but prices are somewhat more affordable than XS. Good option if your budget is modest, but still a top tier club. Expect long lines, even if you guest list. We recommend a hosted walk-in for your best value. You get to go right in for b small fee and don't have to budget several hundred dollars per person for bottle service.
Intrigue Nightclub
3131 S Las Vegas Blvd, Las Vegas, NV 89109
(702) 770-7300
Omnia Nightclub – signature nightclub for Ceasar's Entertainment group, this venue took over the space formerly occupied by the legendary club, PURE. Top of the line lights and effects and a venerated lineup of world famous DJs make OMNIA a top contender in the Vegas nightlife scene.
Omnia Nightclub
3570 S Las Vegas Blvd, Las Vegas, NV 89109
(702) 785-6200
---
Drais – this club rose to fame as THE afterhours club in Las Vegas. When Wild Bill's casino renovated to become the Cromwell, DRAIs moved from the basement to the roof commands some of the best views of the Las Vegas strip, added an amazing pool, and the rest is history. Getting good bottle service at DRAI's can be tricky, but give us a call and we have a guy on the inside that will make sure you are well taken care of.
Drai's Beachclub & Nightclub
3595 S Las Vegas Blvd, Las Vegas, NV 89109
(702) 777-3800
---
Marquee – famous for Monday Industry night, but also a top nightclub in town, housed inside the on-trend Cosmopolatain resort. Great outdoor patio section overlooking the strip with a chill vibe. It's fallen down the list as the other clubs have vied to outdo each other, but the good news is, Marquee is still a solid club, and the pricing is more affordable than when it was top dog.
Marquee Nightclub & Dayclub
3708 S Las Vegas Blvd, Las Vegas, NV 89109
(702) 333-9000
Better Nightclub Option
If you want to hit some clubs, but aren't keen to wait 3 hours to enter, and don't want to break the budget on bottle service, we'd recommend trying out a club crawl. With a club crawl, you get to visit 3-4 iconic Vegas nightclubs in one night, all for around $100.
These party tours include transportation on a decked out party bus as well as an open bar component. You can drink on the bus and they'll have drink specials for the club crawl guests at some of the stops. Club crawls are a great way to sample multiple clubs in one night and you'll make some new friends too!
BEST STRIP CLUBS & MALE REVUES FOR BACHELORETTE PARTIES
It's time for some real talk about strip clubs. Okay, not everybody is into strip clubs. And some of your party may want to see guys, some may be into girls. Some may not be into it at all. We get it.
Which is why we recommend Hustler. Yes they have hundreds of hot female dancers everynight.
They also have the best male revue show in town, hands down, with shows Thursday through Sunday. They perform on the second floor, so you won't be surrounded by rowdy bachelor parties.
And for those who are not into strip clubs, or just need a break from the action, there is a rooftop nightclub & bistro with awesome views of the city. Music, dancing, drinks, great environment, it has it all!
Sapphire also has a decent male revue, but it's much shorter and only runs Friday & Saturday nights. Plus there's no nightclub option.
Top Bachelorette Party Strip Clubs
Hustler
Three clubs in one! Female Dancers, Male Revue, Rooftop Bistro/Nightclub. Hustler has it all… If you've never been to a Vegas strip club before, Hustler is a perfect place to start.
Sapphire
Drop in on the biggest club in Las Vegas. 400+ Dancers and world famous male strip show. See it all in one stop! Always a party, always amazing.
What about Chippendale's, Thunder Down Under, Etc?
These shows are all hosted inside casinos, and they're good shows, sure. But they are more like a concert than a strip club. The male dancers perform elaborate coreographed dance routines, but the crowd interaction pales in comparison to what you'll get at a real strip club. The casinos dictate a lot of the terms of the show, so they're definitely PG-13. The casino "male revues" are definitely "look but don't touch" and you won't get a chance to talk to the dancers, let a lone get a private dance.
If you want to get your bachelorette on stage for a raucous in your face strip tease, you'll definitely want to avoid the casino shows and hit a strip club. For around $100 you can get your bride to be up on stage with a shout out of the upcoming wedding as well as as "up close and personal" performance by her favorite stripper.
Just make sure to budget $50 to $100 per girl for one dollar bills so everyone has some ammo to stuff those G-strings and keep the boys dancing!
DAYCLUBS
Many of the most famous dayclubs can also be found in Las Vegas. Many of them are in dual venues that offer and pool party during the day and a nightclub at night. The dayclubs operate on many of the same principles as the nightclubs that inspired them:
World famous DJs hosts that provide music & atmosphere
Cabanas and Daybeds are reserved with purchase minimums just like tables in nightclubs
Expect long lines for general admission
Booking well in advance gives you the best pricing and options
Top Dayclubs for Bachelorette Parties in Las Vegas
Marquee Dayclub
Featuring over 22,000 square feet of pure dayclub bliss, this Venue is unique in that it can operate year around due to the amazing dome structure that keeps the fun rolling when the temperatures dip.
Featuring two main pools, there is plenty of space for everyone to party. But for a little more privacy and the security of having a "home-base" consider renting one of the luxurious cabanas. Each cabana enjoys a private infinity pool with dedicated food and beverage service. This allows you to invite other guests into your inner-circle for a libation instead of fighting the energetic crowds in the main area.
Marquee features some of the hottest DJs on the planet, and here the party never stops. The dayclub rolls right into the nightclub so the action never stops. Just be sure to pace yourself!
Marquee Nightclub & Dayclub
3708 S Las Vegas Blvd, Las Vegas, NV 89109
(702) 333-9000
https://www.marqueelasvegas.com/
---
Drai's Beachclub & Nightclub
Hosted in the same venue as the revered nightclub and after hours spot, Drai's beachclub launched in 2014 on Memorial Day, shortly after the completion of the Cromwell.
What sets it apart is the rooftop location with awesome views of the Las Vegas strip and surrounding desert valley. Choose from a variety of daybeds, cabanas, and bungalos to maximize your party pleasure. Drai's also features its very own cafe for those who get hungry when they party.
Just like the nightclub, the wait times can be long on the weekends. Bottle pricing isn't cheap, so if you want a cabana, give us a call and we'll make sure you get the best deal possible.
Drai's Beachclub & Nightclub
3595 S Las Vegas Blvd, Las Vegas, NV 89109
(702) 777-3800
https://draisgroup.com/las-vegas/
---
DAYLIGHT Beach Club
DAYLIGHT showcases a large stage for hosting DJs, as well as a large pool surrounded by luxurious daybeds and private Cabanas. Located on the Mandalay Bay & Delano property, DAYLIGHT is one of MGM's signature entertainment properties.
If you have the means there's also two private VIP pools, but access requires a drink minimum similar to bottle service pricing.
One of the cool events DAYLIGHT hosts is called Sundowner Thursdays, which sees the venue open from 1pm to 11pm, with music tailored perfectly for watching the sun set in Las Vegas.
Be sure to bring your own sunblock as it's a long day, the Las Vegas sunshine is strong, and if you forget to bring your own you'll need to cough up some serious cash or suffer severe sunburns!
DAYLIGHT Beach Club
3950 S Las Vegas Blvd, Las Vegas, NV 89119
(702) 632-4700
http://www.daylightvegas.com/
---
Encore Beach Club
EBC burst on to the scene as one of the top dayclubs in Las Vegas on May 28th, 2010. With the posh amenities and WYNN Nightlife association, EBC quickly became one of the most desirable destiations for pool parties. This venue is all about luxury. The daybeds and cabanas are in high demand, and the pricing trends to the top of the scale, especially when the most popular EDM DJs are hosting.
Lines for general admission grow to up to 2 hours during peak times, so try to arrive early to avoid the longest wait times. Because of the popularity of Encore Beach Club, if you like to people watch, you'll be treated with fit and toned bodies wanderiing the pool area and there will be high rollers & famous celebrities in the mix.
The cabana pricing varies greatly, but if you know the right people, you can get a killer deal. Just give us a call and we can hook it up!
Encore Beach Club
3131 S Las Vegas Blvd, Las Vegas, NV 89109
(702) 770-7300
wynnlasvegas.com
BETTER DAYCLUB OPTION
If you want to enjoy multiple beachclubs in one day without breaking the bank or spending all day in line, we'd recommend a dayclub crawl. For around $100 you can visit two world class dayclubs, enjoy super lux VIP party bus transportation between venues, and make new friends!
In 2008 the lineup included Drias, DAYLIGHT and Rehab at Hard Rock Hotel. Rehab was THE original pool party that started it all, but sadly closed it's doors in Oct 2018. But we'll have an exciting new lineup for the launch of pool season in 2019, so give us a call and get your spot reserved!
SHOP 'TIL YOU DROP




LUXURY SHOPPING TOUR




INCLUDING VIP PARTY BUS TRANSPORTATION
Las Vegas is home to several large shopping malls with hundreds of brands. With our VIP Shopping Tour, you get access to the swankiest malls as well as the local's secret, Premium Outlet Malls. This tour includes Luxury Party Bus transportation with pickup from your hotel.
First stop is the Fashion Show Mall, home to over 250 stores including Sak's on 5th Avenue, Macy's, Dillards, Louis Vitton, Guess, and many more.
With over 25 restaurants, this stop is also a great place for lunch or early dinner.
Enjoy all that the Fashion Show Mall has to offer in a 2-hour whirlwind shopping extravaganza!
PRO TIP: Fashion Show Mall is priced at full retail, extracting maximum dollar from tourists and high rollers. For your best value, try out your obsessions here, then buy during the second stop at the outlet mall. You'll save a fortune, but if you have to have it, of course buy now!
Next, it's on to the local's favorite, Premium Outlet Mall, where you'll find all your favorite brands, just at more affordable outlet prices! This outdoor mall has tons of great shops, but the food options lean more to the fast and convenient, whereas at Fashion Show there are actual sit down restaurants.
While there is ample shade and cover, be cognizant of the weather, because it will impact your experience. During summer months it get's very hot, but there are misters strategically placed to help keep you cool. But you'll definitely want to apply sunscreen, as even though there is a lot of shade, you'll still spend significant time in the sun.
The outlet malls are quite large with over 100 brands on offer. Here you'll find brands from Adidas & Ann Taylor to Volcom & White House Black Market.
Here you'll find many of the same products featured at Fashion Show Mall, the only difference is the price, usually 20-50% cheaper than the swanky mall. If you're going to splurge, the Premium Outlet Mall is the place to go wild, as you're just getting better deals.
After a long day at the pool you need some down time, and what better way to recover than at a world famous spa? All of the major strip casinos have great spas, with the resort price tag. But they'll be able to accomodate a large group and have a broad spectrum of activities and treatment. Our favorite three are:
It's not the biggest spa on the strip at 14,000 square feet, but the ambience melts away stress. The stone work and water features calm and cool, a definite respite from the desert heat out side. All the amenities can be found here including gym, steam rooms, hot and cold pools, as well as private baths for those who want solitude.
Ceasar's Palace take on a Roman bath spans over 50,000 square feet & features a wide array of treatments and amenities. Try the Nobu Nagomi Ritual and enjoy a foot soak & massage, full body massage, and facial treatment with massage, exfoliation, and mask.
BUDGET FRIENDLY SPA OPTIONS
All the spas in the major casino resorts are amazing. They are also expensive. Expect to pay several hundred dollars for a couple of hours of relaxation. There are a number of great spas just off the strip that for the price of a small Uber fare can save you 50-75% off the cost of your spa treatments.
A Touch of Las Vegas Spa
This spa is a local's favorite and for those in the know. The massage and facial facilities are phenomenal, but what sets this spa apart are the private wellness rooms. They vary in price from $60 to $100 per hour and include a combination of hot tub, steam room, and/or sauna.
Our favorite is the hot tub and infrared sauna combo which incidentally is the $60 option (pictured below). You can control the temperature of the hot tub and infared sauna. There are also controls for mood lighting in both the room and the tub, so you can finely tune your medative state.
For a large bachelorette party, you'll need to book several rooms, but at each person can have a little privacy if they prefer, as not all people are comfortable prancing around in a robe and towel. We recommend booking in advance if you want to get treatments for a medium to large party so that they can block out time for everyone.
Just know whatever worries you carry into A Touch of Las Vegas spa will stay there when you leave, primped, pampered, and at peace. Best of all, you can get 2-3 hours of treatments & relaxation for what a single service costs at the large resort spas. Let us know in the comments about your experience!
Mobile Massage
Another great option, especially if you have a large suite with enough room, is to get a spa quality massage right in your hotel room. We recommend Vegas Thai Spa. They bring professional massage tables, clean linens, and all the accouterments for a perfect span. They offer all types of massages: Swedish, Deep Tissue, and their signature Thai massage.
All of their massage therapists are Certified Massage Therapists with current valid licensing in the State of Nevada, so you know you're getting the real deal.
GUIDED BIKING or HIKING TOURS
Because the horizon from your hotel room looks like a desert wasteland, many people do not know that Las Vegas is surrounded by stunning natural areas that are a blast to explore. For example, Red Rock Canyon National Conservation Area showcases raw nature that you really need to see in person to appreciate.
McGhie's, a local outfitter, bike & ski shop, and all around awesome store for anything outdoors, offers guided tours of the natural wonders surrounding Las Vegas. For $99 per person, you can book a guided hiking tour of Red Rock, and for $135 per person, there are biking tours available, both road and off-road trips for all skill levels.
PADDLEBOARDING & WATERSPORTS RENTALS
If you're looking to get in some exercise and enjoy the Las Vegas sunshine, head over to Lake Las Vegas and spend an afternoon paddling & swimming. Or if you into kayaking, they have an awesome neon paddle at night that is a sight to behold! For the truly adventurous they also have flyboard rentals. Or you can relax on an 80ft yacht, available for charter! Tailor the experience to your tastes and make a memory.
BACHELORETTE PARTY TIPS & FAQ
Good news! Your best friend is getting married! Bad news, you're in charge of the bachelorette party. Don't worry, you're going to rock!
There are a few key points to keep in mind.
1) Don't try to plan too many activities each day. People need downtime. People need their own space. Everyone has different interests and tastes. So allow your party time to recoup and get their "me-time." Also, you don't want to be rushing from location to location trying to make your reservation.
2) More often than not, you're going to be planning a party for people from a wide spectrum of backgrounds. Some will be the bride's high school friends, others from college. Some will be relatives or even relatives of the groom. This means that you'll be dealing with people that are different in many ways including geographic region, religion, relationship status, and financial means. So as you can imagine, your idea of trolling the strip for hot guys and tearing up the strip clubs might not go over well with the devoutly religious mother of 5 who is homesick and misses her husband. We recommend a smorgasbord approach!
3) Las Vegas is as expensive as you want it to be. Allow people to RSVP for specific events and provide them with approximate costs for each activity. This gives everyone the option to tailor the experience to their tastes and budget. It's just not realistic to ask everyone to drop $5,000 on a bachelorette party and still have fun. You don't want anyone worrying about how they're going to pay their credit card next month!
4) Choose an "Honorary Maid of Honor" to be your right-hand gal who will go to every event with you and make sure everything goes smoothly. Share the load, she'll feel special and you'll both have more fun. Plus you'll have someone to commiserate with over wine ten years down the road.. "Remember that bachelorette party in Vegas in '19?"
5) Lay down some ground rules so that everyone understands that the bachelorette party is about the bride, and to not be a selfish diva or attention whore. You know who I'm talking about. Set her straight before it gets out of hand and everyone gets slap happy and you end up discussing your trip with site security or the cops.
6) Plan photo ops for opportune times, like a group-shot at the Welcome to Las Vegas sign, or in front of the Bellagio Fountains. These can be shared by all and are fun for everyone. Once you've got your shots in, then let people put their phones away. Nobody wants to feel like they are on camera the entire trip, wondering if someone streamed that snort-laugh while eating. Also, pics of Staci puking in the toilet at 5 am should not be shared, even though it may seem hilarious at the time. Staci has a family and career too, you know?
7) Plan ahead, book in bulk. Planning your trip in advance and booking as a large group will get you better pricing & availability because vendors love big-ticket sales. You'll have more negotiating power than if you show up and try to string together an itinerary or negotiate the cover charge at the door.
8) Budget for transportation. The distances in Las Vegas are deceiving as some of the property frontages can be over a mile. So while your next stop may only be two spots up the strip, you may be looking at a 30-minute walk. You can get a luxury party bus for a point to point drop on the strip for around $200. For a large group, this may only be $10-20 per person. Totally worth it to save your feet and feel like royalty!
How Much Money Should I Budget?
The key is to plan ahead, purchase from trusted sources, and get group discounts whenever possible. Simple.
But that doesn't cover everything.
No problem. A good rule of thumb is to consider how much money your circle of friends is likely going to be able to afford to spend on the trip and adjust accordingly.
Here's a breakdown of what to expect:
Lodging Costs: $100 per Person Per Night
If you double up on rooms, you should easily be able to get a room for less than $100 a night per person and still stay on the strip. If you go budget, you can halve that cost. Book as far in advance as possible and the more people you get together, the cheaper it will be. We prefer kayak.com, they usually have great rates and just sort by price with total trip cost selected and you're all set.
Maybe you don't have that kind of cash:
There's a few hostels in town that are cheap cheap. You need to be comfortable rooming with total strangers and have a great sense of adventure.
Transportation Budget: $100 per trip
Plan on another $100 for transportation, shuttle to and from strip, random taxis when you get lost late at night etc. If you're lucky you shouldn't spend more than $30, but better to be prepared. Right now, you can get a roundtrip shuttle from McCarran airport for $15.
Food Expenditures: $30 – $50 per day
Most casinos have awesome buffets that can be had for very little money. Most Station Casinos offer buffet options for under $10 at their Feast buffets.
There are also a ton of all-nighter specials at the casino cafes where you can eat for practically nothing as long as you sign up for their rewards program. Also, keep in mind there's no written rule you have to eat out every meal.
Frugal option: There are actual grocery stores in Las Vegas where you can load up on snacks and such so you don't have to drop a wad on lunch every day. Who knew!?
Entertainment Bill: $100 to $200 per Day
Even if you decide to gamble a little, say $100 a day, you'll still have enough left over to go to a strip club or show in the evening and have a good time.
Pro tip: if you're going to the strip clubs, bring a bottle in the limo for the pre-party. You can save on drink costs at the club.
Nightclubs can be very expensive. But ladies can usually get free entry and even a free drink or champagne until midnight at most clubs. Don't wing it though, you have to be on the guestlist ahead of time.
Your best bet, especially for large groups of ladies, is to buy bottle service. For around $200 per person, you can get a couple of bottles, mixers, and most importantly, a VIP table where everyone can sit.
Pool parties are the same deal, depending on who is performing. If you really need to do the pool party thing on a budget, Sapphire has an awesome day club and the price is right ($33 -$50 depending on the day).
Timing is Everything
If the plan is to hit Vegas over a weekend during peak season (spring or fall), prices for everything go up. During July and August, it's hot as hell, and a lot of people avoid Vegas to avoid the heat. December is always slow, so rates are down across the board, but squeezing a bachelorette party in during the Holidays can be a tough nut to crack with the your gal pals. January is convention season, so the rooms are at premium prices, especially at the north end of the strip by the Las Vegas Convention Center.
If you can finagle a trip on the weekdays, Monday through Thursday, the room prices are half or even one-quarter the weekend rates. We've personally stayed in very nice rooms for less than $30 a night. They even extended us additional nights at $15 per night due to the pittance we were putting in the slot machines each day ($40). Once we stopped gambling the cheap extensions magically disappeared. Vegas is a funny town.
The $64,000 Question
At the low end, $200 per day is totally doable with a little planning and making some sacrifices.
Mid-range is going to run around $400 – $500 a day and you'll have a very great time, stay in a nice room, eat where you wish, and not have to worry too much about running out of cash.
On the high end, well you can spend as much as you want in Las Vegas, there is always someone willing to take more of your money for an exclusive amenity or access. But if you budget $1,000 per day you can really live the life in Las Vegas.
But No Matter Your Budget, Don't Forget:
Tack on an additional $500 for an emergency. You never know when your bags might get lost, or your girlfriend ends up in jail, or you need to go to the emergency room to get patched up.
Whether it's a credit card or another secure account, be sure to have a few hundred dollars you can call on in a pinch. Because nobody wants to see you in a bikini on Fremont street busking for handouts to get home. It's a terrible way to end what should be a memorable trip.
STRESS FREE PARTY PLANNING
If you've read this far, you know there's a lot of information to take in and several key decisions need to be made. Your time is valuable, and every minute you spend planning and worrying over the bachelorette party, the less time you have for the things that are important to you.
But what if you could offload all that work and worry AND save money? Sounds to good to be true, but that's what we do. We help you get the best deals in Las Vegas on all sorts of services and activities, and you pay us nothing. We make small commissions from everything we book, and are still able to get you prices under retail.
For example, if you wanted to hit nightclub, you could pay up to a $75 cover and have to wait in a 2 hour line to get in. We'd be able to get you in for free, with free drinks, and even possbily a comp table with a free bottle.
Same goes for the male revues. You could pay $300 for round trip party bus transportation, a $50 cover, and still need to buy two drinks upon entry. We get you the whole deal, transportation, cover, drinks, everything for $45 per person.
We refer thousands of clients each year so we get the best deals from the most desirable venues because they want our business. We pass that savings on to you.
So go ahead give us a call, see what we can do. It costs you nothing, and may just save your sanity!
This post was last modified on August 24, 2023 9:22 am