TREASURES
Gentlemen's Club & Steakhouse
Best Upscale Strip Club in Las Vegas
Consistently the Best in Las Vegas
The service and staff at Treasures is consistently the best in Las Vegas. WYNLV.com deals with all the top strip clubs in Las Vegas and we have experienced a 97% customer satisfaction rate from our clients visiting Treasures Gentlemen's Club. This is one of the few strip clubs in Las Vegas where we can guarantee a free limo ride back to anywhere on the strip from 7pm-4am nightly. This is our highest recommended club, and if you're in Vegas, it's definitely a must see. The saying goes, if you haven't been to a strip club in Vegas, you haven't seen Vegas. We say, if you haven't been to Treasures, you haven't been to a Vegas strip club!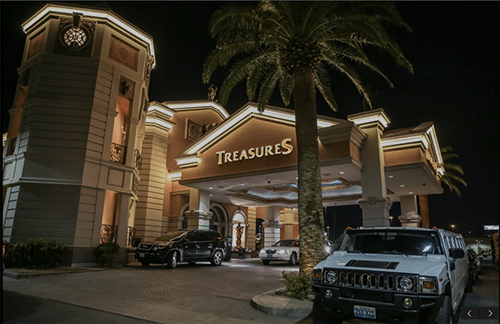 Treasures Exterior Theme
Treasures regularly ranks in our Top Strip Clubs in Las Vegas. The exterior is simply stunning; a cross between a castle and Roman monument complete with columns and statues. Treasures exudes class inside and out. Upscale is the theme at this gentlemen's club, from the covered valet area, to the leather and wood accents inside. Even the parking lot is well lit, free of trash, and expansive.
Just looking at the building, you know you're in for a great night. It's really fun to watch first-time guests exit their limo. You'll see a lot of people staring in wonder with mouths agape. The experience continues inside…
Treasures Interior Theme
Treasures maintains the Romanesque feel on the inside of the club as well. With plush leather seating, hardwood accents, erotic sculptures and paintings, spiral staircases, and immaculate chandeliers, Treasures is a treasure of a gentlemen's club in Las Vegas.
The seating is finely crafted, comfortable, and sturdy. The owners of Treasures Gentlemen's club invested heavily in every amenity and accouterment, making it plain to see that they take pride in the venue and appreciate the finer things in life. Some strip clubs throw money into their interiors, but there's no unifying theme. Every design decision exemplifies fine taste. Speaking of fine tastes…
Treasures Steakhouse
Treasures Gentlemen's Club also boasts a 5-star steakhouse inside the facility, in a separate area from the main floor. This sumptuous environment features plush leather captains chairs and booths, dark wood paneling, and a dedicated bar just for diners. Resembling a gentlemen's study, the dining area is a great place to grab a drink and a meal while discussing business, or for putting together your game plan for the night.
Treasures Main Floor
The main floor is spacious featuring a main stage on the back wall of the club, and an island centerpiece stage. There are plenty of tables available on the main floor, featuring comfortable rolling chairs, perfect for a lap dance right at your table. During peak times the main floor may become congested, but we'll let you in on a little secret: there's more seating upstairs!
Upstairs at Treasures
The second floor features additional seating overlooking the main floor below. Upstairs also boasts several separate VIP rooms available for your party or event. The biggest room seats up to 50 people and is available with a dedicated bar hostess as well.
Starting the night on the upper deck provides a birds-eye view of most of the club, so you can get a good look at more dancers and plan your next move.
Music at Treasures
Top quality DJ's call Treasures their home, and play a full spectrum of music from R&B, Hip Hop, Top 40, with a splash of House and Electronica. Behind the main stage is a large projection screen where many of the DJs play the videos to their music or have visual effects on display. The lighting system at Treasures is top notch and definitely gives the music depth and texture.
Drinks at Treasures
You receive your first two drinks free of charge when you arrive in WYNLV transportation and purchase the $40 VIP package. Treasures offers a fully stocked bar that is sure to quench your thirst and to keep the good vibes and times rolling. Any libation you can dream up, you can drink up. If you're wondering how to get a glow in the dark drink at a strip club, simply order a cocktail with tonic water as the main ingredient. Absolut and tonic or Tanqueray and tonic never disappoint and you'll get the cool effect under black lights.
Talent

Service

Atmosphere

Exterior

Interior

Fun Factor
Summary
Reviewer
Review Date
Reviewed Item
Treasures Gentlemen's Club
Author Rating