How Much Money Should I Budget?
Hopefully whoever is in charge of planning the bachelor party has read the guide "Best Man's Guide to Planning an Epic Vegas Bachelor Party." It will save everyone in the group a bunch of money. The key is to plan ahead, purchase from trusted sources, and get group discounts whenever possible. Simple.
But that doesn't cover everything. Or maybe the guy in charge has decided to wing it:
No problem. A good rule of thumb is to consider how much money your circle of friends is likely going to be able to afford for the trip and adjust accordingly. (If you're the poor guy in the group, sorry for the bad news.)
Here's a breakdown of what to expect:
Lodging Costs: $100 per Person Per Night
If you double up on rooms, you should easily be able to get a room for less than $100 a night per person and still stay on the strip. If you go budget, you can halve that cost. Book as far in advance as possible and the more people you get together, the cheaper it will be. We prefer kayak.com, they usually have great rates and just sort by price with total trip cost selected and you're all set.
Maybe you don't have that kind of cash:
There's a few weekly rental options and hostels in town that are cheap cheap. Just tell your buddies you're staying with friend and that you'll meet up with them at their hotel. You'll need more to get around town but a bus pass is only $20 for three days. But you need to buy them in advance or at a ticketing machine to get the discount. The three day pass gives you access to the Duece, a double decker bus that runs the strip, plus all residential routes. Definitely a must if you decide to get a weekly rental.
Transportation Budget: $100 per trip
Plan on another $100 for transportation, shuttle to and from strip, random taxis when you get lost late at night etc. If you're smart you shouldn't spend more than $30, but better to be prepared. Right now, you can get a roundtrip shuttle from McCarran airport for $15.
Food Expenditures: $30 – $50 per day
Most casinos have awesome buffets that can be had for very little money. Most Station Casinos offer buffet options for under $10 at their Feast buffets.
There are also a ton of all-nighter specials at the casino cafes where you can eat for practically nothing as long as you sign up for their rewards program. Also keep in mind there's no written rule you have to eat out every meal.
Frugal option: There are actual grocery stores in Las Vegas where you can load up on snacks and such so you don't have to drop a wad on lunch every day. Who knew!?
Entertainment Bill: $100 to $200 per Day
Even if you decide to gamble a little, say $100 a day, you'll still have enough left over to go to a strip club or show in the evening and have a good time.
Pro tip: if you're going to the strip clubs, bring a bottle in the limo for the pre party. You can save on drink costs at the club.
Nightclubs are very expensive. Even if you don't get bottle service, on the weekends you're looking at $50 for general admission. Even if you get on the VIP guestlist, you'll most likely end up paying some form of cover at the top clubs. Drinks are not cheap either.
You can easily rack up a $100 bar tab and not even catch a buzz. 
Your best bet, especially for large groups of men, is to buy bottle service. For around $200 per person, you can get a couple bottles, mixers, and most importantly, a VIP table where everyone can sit.
Pool parties are the same deal, depending on who is performing. If you really need to do the pool party thing on a budge, Sapphire has an awesome day club and the price is right ($33 -$50 depending on the day).
Timing is Everything
If the plan is to hit Vegas over a weekend during peak season (spring or fall), prices for everything go up. During July and August it's hot as hell, and a lot of people avoid Vegas to avoid the heat. December is always slow, so rates are down across the board, but squeezing a bachelor party in during the Holidays can be a tough nut to crack with the missus. January is convention season, so the rooms are at premium prices, especially at the north end of the strip by the Las Vegas Convention Center.
If you can finagle a trip on the weekdays, Monday through Thursday, the room prices are half or even one-quarter the weekend rates. We've personally stayed in very nice rooms for less than $30 a night. They even extended us additional nights at $15 per night due to the pittance we were putting in the slot machines each day ($40). Once we stopped gambling the cheap extensions magically disappeared. Vegas is a funny town.
The $64,000 Question
At the low end, $200 per day is totally doable with a little planning and making some sacrifices.
Mid range is going to run around $400 – $500 a day and you'll have a very great time, stay in a nice room, eat where you whish, and not have to worry too much about running out of cash.
On the high end, well you can spend as much as you want in Las Vegas, there is always someone willing to take more of your money for an exclusive amenity or access. But if you budget $1,000 per day you can really live the life in Las Vegas.
But No Matter Your Budget, Don't Forget: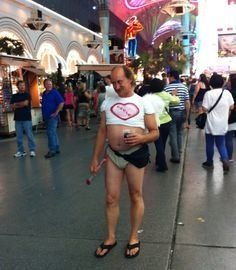 Tack on an additional $500 for an emergency. You never know when your bags might get lost, or your buddy ends up in jail, or you need to go to the emergency room to get patched up.
Whether it's a credit card, or another secure account, be sure to have a few hundred dollars you can call on in a pinch. Because nobody wants to see you in a jock strap on Fremont street busking for handouts to get home. It's a terrible way to end what should be a memorable trip.
The Greatest Cost
And one final note. No matter how much you love your partner back home.
Keep your mouth shut.
Or this trip could cost you a marriage, a house, and the trust of your closest friends. What happens in Vegas, stays in Vegas, unless it ends up on social media, in which case improbable but unverifiable alibis will be required.
Good luck!