The Ultimate Guide to Booking a Party Bus in Las Vegas
Whether you're planning a wedding, corporate event, birthday, bachelor party, or just a night on the town in Las Vegas, you want to travel in a stylish party bus. The transportation you select sets the tone for the entire night. Get it right, and you're priming your group to have an unforgettable night. Get it wrong, well, that could spell disaster.
The key question you need to answer is:
How much is it worth to my group to arrive in style, have plenty of room, and be surrounded by luxury as we travel?
Your transportation should be a pleasure, a bragging point, not something that must be endured and suffered through, right? Imagine your party pictures standing in front of one of the beautiful vehicles below. Think of the shares you'll get!
The good news is if you do a little research and planning, you can rent an amazing party bus, fully decked out, for not much more money than cramming everyone into cabs or rideshares.
Justifying the Expense
Suppose you have 25 people that you need to move around for a birthday party. Even the most expensive party bus costs $300 for a pickup at your hotel, and drop at the venue of your choice on the strip. So to move all your people, in style, both ways is $24 per person. Drinks cost more than that at most bars and clubs in Las Vegas!
Suppose you wanted to rent the party bus for 5 hours, the most expensive option is $360/hour, or $14.40 per hour per person. For the whole night, it's only $72 per person. A small price to pay to live the VIP life!
HOW MUCH DOES IT COST TO RENT A PARTY BUS?
Party Bus and Limo Transportation are priced two ways in Las Vegas. The most common quote is hourly. Meaning the bus is yours to go wherever you want for the duration of the agreement. They will wait outside if you're in a club, gambling, watching a show, or shopping.
The second and more affordable price structure is based on one-way transportation. You'll be picked up and your start location and dropped off at your destination.
This is called a Pick & Drop. After you're dropped off, the vehicle proceeds to the next booking. Meaning if you schedule two Pick & Drops, you will not be able to leave anything on the bus between your bookings. If you book hourly, the vehicle is yours exclusively and you can leave your drinks, jacket, or other belongings on the bus if you wish.
We have rates listed for many of our vehicles below. The price at the top is the hourly rate, and the Pick & Drop rate is listed below.
If you have any questions about how to structure your trip, just give us a call and we can tailor the itinerary to meet your needs and budget.
How Much Should I Tip the Driver?
Our packages all have gratuity included in the pricing. If you feel your driver exceeded expectations and would like to give them an additional tip. that's always appreciated but never required. Our team will always appreciate a little extra love!
Keep in mind our competitors don't include gratuity in their pricing and the industry standard is 20%, which will be tacked on to your bill. You're buying a service, so be very wary of low-cost operators, there's a reason why they are so cheap!
What Other Fees Should I Expect to Pay?
Our rates and packages have all the costs included in the price. Our competitors will charge you a fuel surcharge, which can vary wildly. There's also a Nevada excise tax fee. Airport pickups and drop-offs require a $30 Department of Aviation fee.
If you see any fees beyond that, you're being ripped off!
Again, our pricing includes gratuity, fuel surcharges, Nevada excise taxes, you pay nothing above the listed price, ever! (Airport Fee not included)
How Much Does it Cost to Rent a Party Bus from Los Angeles to Las Vegas?
You can easily figure out how much it costs to get a round-trip party bus to your city by looking up the travel time on Google maps and then multiply that time by 2.5. Why two and a half? We have to drive to LA to pick you up, that's one, then back to Las Vegas, that's 2 times. Then we have to do that there and back one more time for the last part of the trip.
We discount the dead rides (where nobody is on the bus) to cover our fuel costs and to keep the price reasonable.
So LA to Vegas is 4 to 4.5 hours depending on your pickup location, so we'll use 4.5 to be safe. That means you can get our top of the line party bus for only $4050 bucks. That seats 40 people so it's potentially about $100 per person!
To get a custom quote just give us a call!
BIG TIME
300 Pick & Drop (Near strip)
40 PASSENGER PARTY HQ
UNDERBODY LUGGAGE COMPARTMENTS
WHITE EXTERIOR
LOUNGE STYLE SEATING
3 HD SCREENS
TWO STRIPPER POLES
UNDERBODY LUGGAGE COMPARTMENTS
BLUETOOTH AUDIO CONNECTIVITY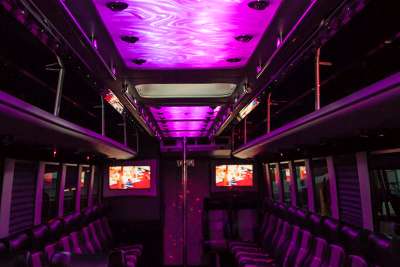 ACES
$300 Pick & Drop
40 Passengers

Luggage for 15

Black exterior

Lounge style seating interior

Illuminated rear 

Fiber optic lighting

Bluetooth Connection

HD Flat Screen

Dual Dancer Poles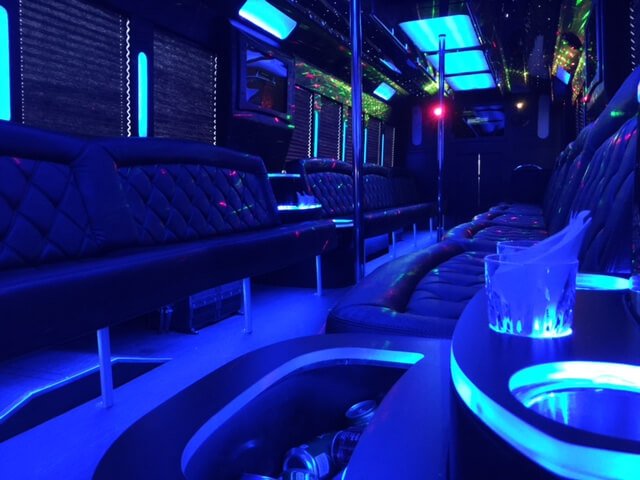 SUPER
$250 Pick & Drop
30 Passengers

Luggage for 10

Black exterior

Lounge style seating interior

Illuminated rear 

Fiber optic lighting

Bluetooth connectivity

HD flat screen TV

Dancer Pole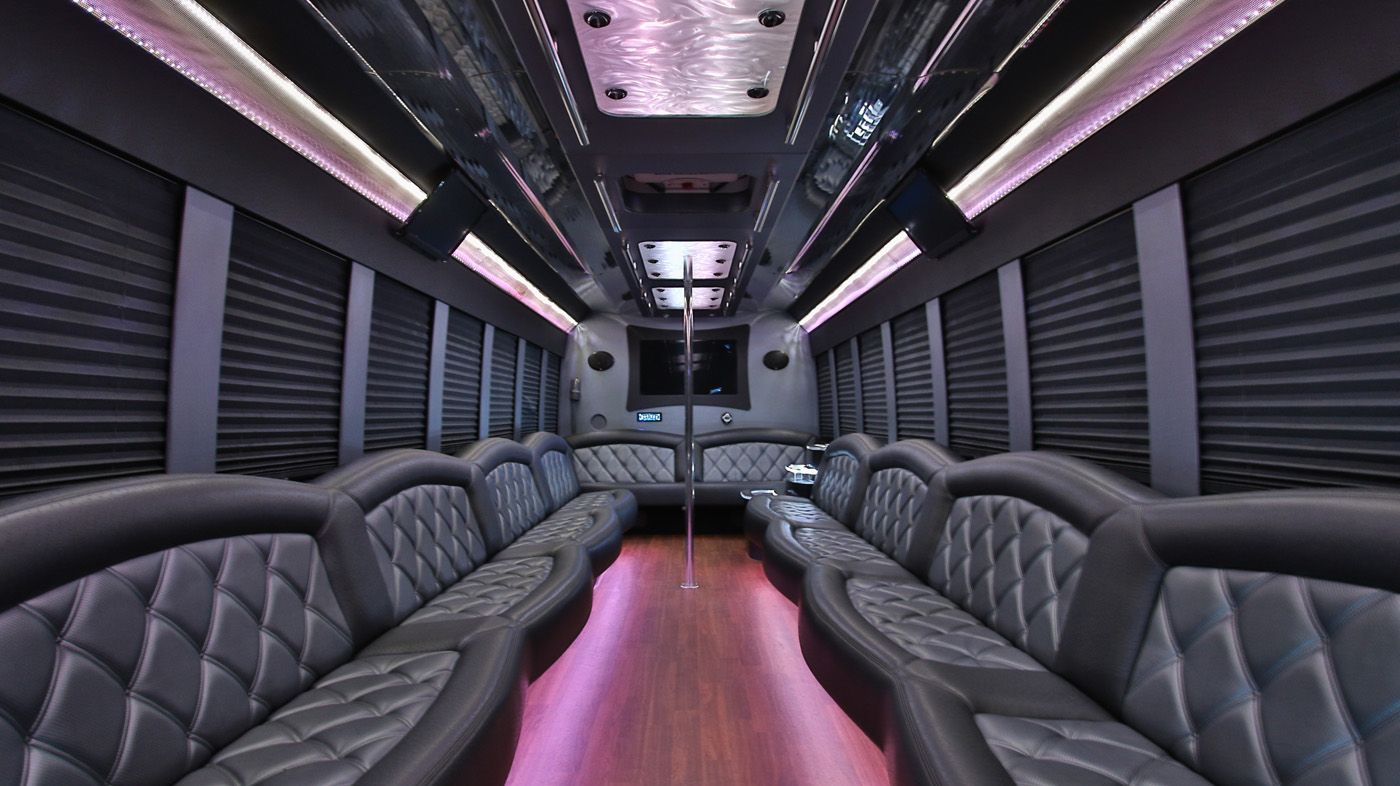 DOUBLE DOWN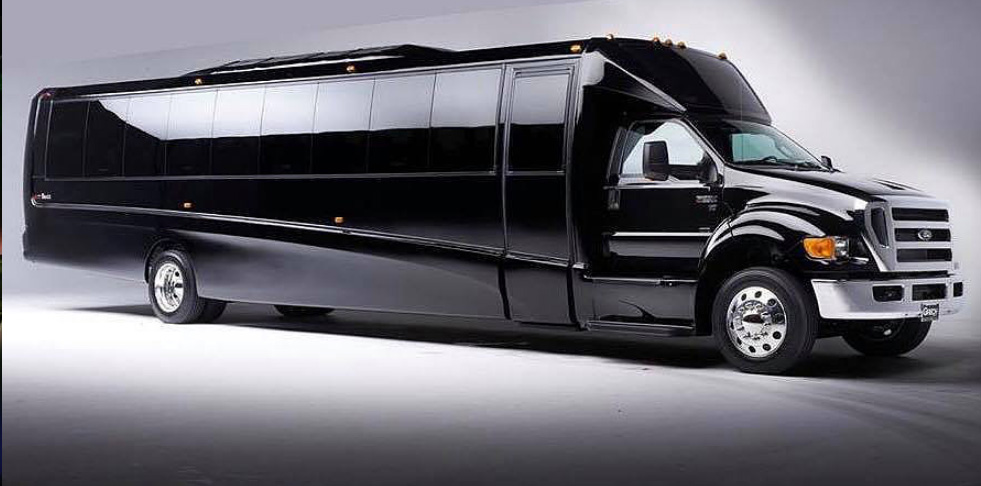 $225 Pick & Drop
36 Passengers

Luggage for 15

Black exterior

Lounge style seating interior

Illuminated rear 

Fiber optic lighting

Bluetooth Connectivity

HD Flat Screen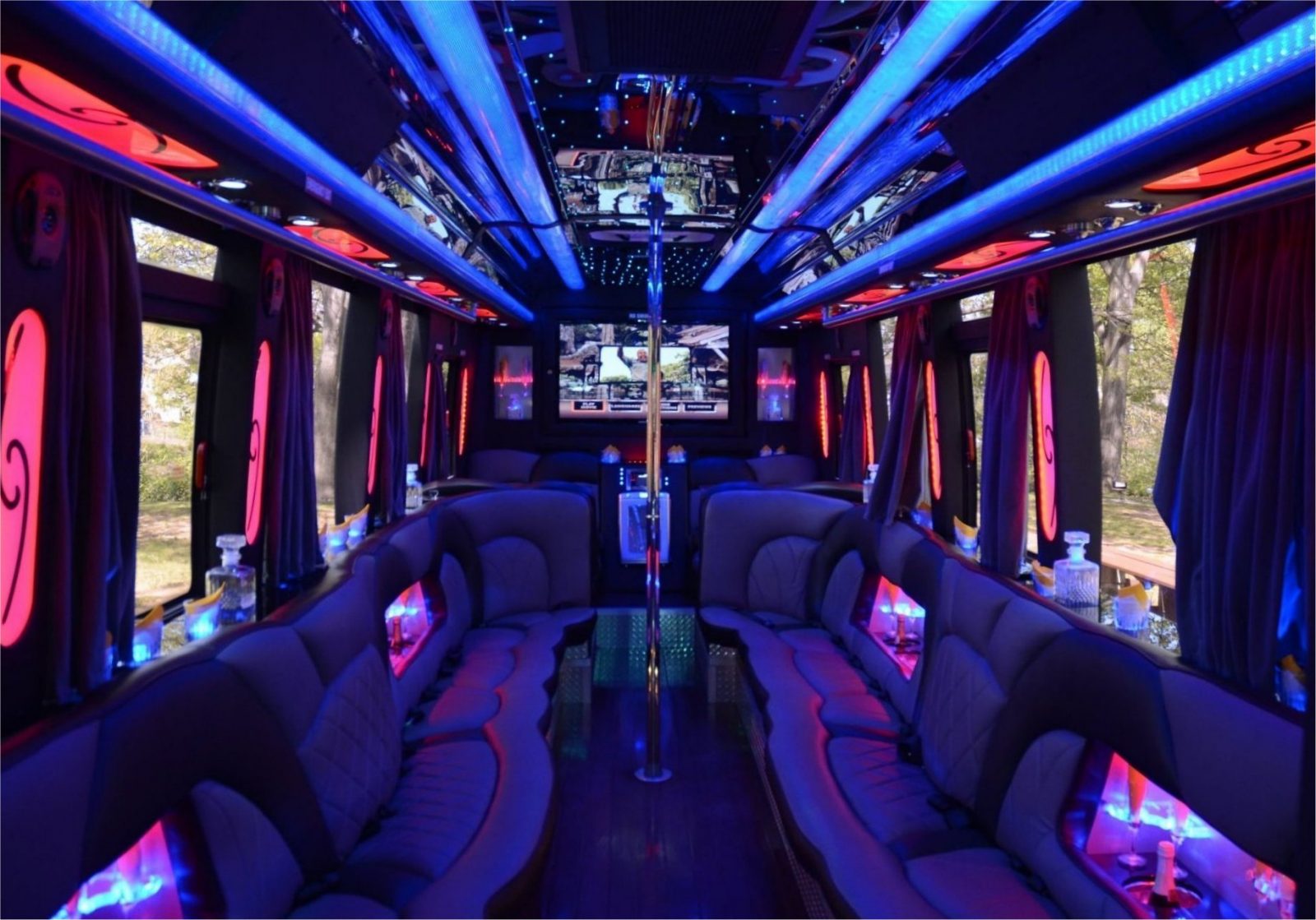 BLACKJACK

$225 Pick & Drop
30 Passengers

Luggage for 15

Black exterior

Lounge style seating interior

Illuminated rear 

Fiber optic lighting

Bluetooth Connectivity

HD Flat Screen

1 Dancer Pole
ADDITIONAL VEHICLE PACKAGES
TROUBLEMAKER
$150 Pick & Drop
16 PASSENGER
LUGGAGE CAPACITY FOR 8
DVD PLAYER WITH WIRELESS BLUETOOTH CONNECTION
LED LIGHTING
TWO 42″ FLAT HD SCREENS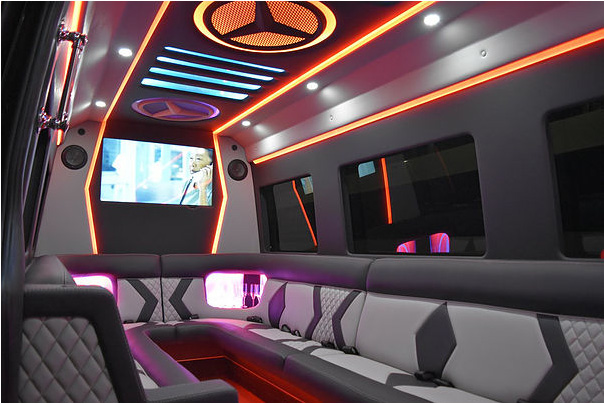 BIG RED
$250 Pick & Drop
Our Most Popular Vehicle

Travel in Style!

30 Passenger

10 Flat Screen HD Displays

On Board Bar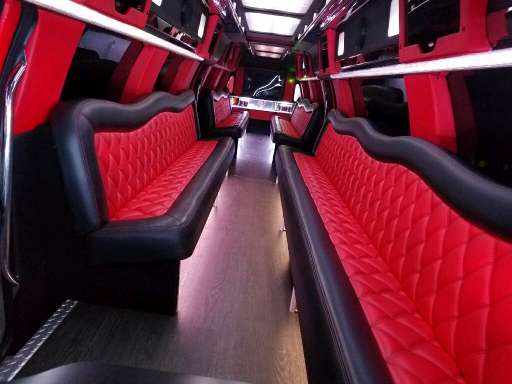 YOLO
$225 Pick & Drop
24 Person Capacity

Luggage Storage Dependent on Occupancy

Bluetooth Enabled

LED customizable lighting

HD Flat Screen

1 Dance Pole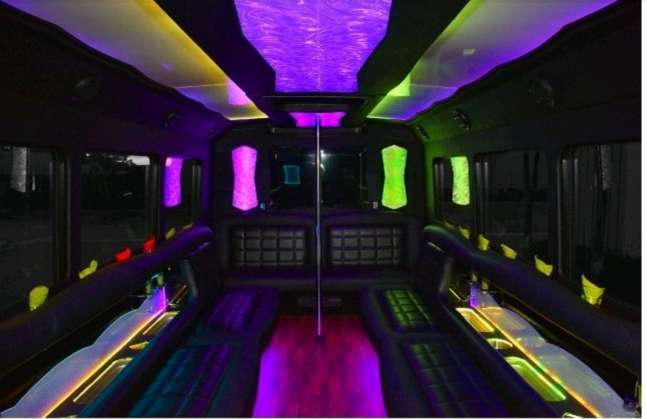 Top 10 Occasions to Rent a Las Vegas Party Bus
Weddings
Birthday Party
Bachelor Party
Bachelorette Party
Prom
Anniversary
Corporate Events
Reunions
Concerts & Music Festivals
Sporting Events
Many of these are pretty obvious. You have a large group and you need to get them someplace at the same time. Most are special occasions which require going the extra mile to make sure the event is memorable. Kicking the event off in a lavish 40 person party bus will definitely set the right tone!
Top 10 Things to do in a Las Vegas Party Bus
Tour the Las Vegas strip
Visit the Grand Canyon
Strip Club Tour
Foodie Tour
Bar Crawl
EDC
Golf Outing
NASCAR
Party all the way from LA to Las Vegas.. and back!
Picture at the Welcome to Las Vegas Sign
Whatever the occasion, we want you to enjoy the journey and arrive in style. Give us a call and we can help you select the perfect party bus or mega limo for your group.
How to Choose the Perfect Party Bus for Your Needs
If you've never rented a party bus before, there are a few considerations that will help you make the correct choice. While capacities are listed for each vehicle, it's best to have some extra room based on your needs. If you're just going from your hotel on the strip to dinner somewhere nearby, you can definitely go up to capacity as it will be a short trip.
However, if you're planning a multi-hour outing we'd recommend having one spare seat for every two people. So if you're renting a 40 passenger party bus, keep the group below 27 people. This will give everyone room to move around, relax, dance a little, and enjoy themselves!
If you're balling out and renting a party bus for a road trip from LA to Las Vegas, we'd recommend 1 spare seat for each person. So for twenty people, plan on reserving a 40 person rig.
You also need to factor in how long you plan to spend on the bus. If you're club hopping, no big deal, but if you're going to spending significant time on the bus, consider renting DUECES, which has onboard restroom facilities!
Does your party have significant luggage requirements? Pay special attention to the luggage capacity of each vehicle.
Do you plan to have a lavish rowdy party? Consider busses with 1 or even 2 dancer poles. You never know who may want to channel their inner stripper! If you have a more buttoned-up corporate event, ask to have the poles removed, or book a party bus with no poles included.
Still not sure which party bus is right for you? Give us a call, and our experts will help you select the perfect vehicle for your needs and budget.
How Far in Advance Should I Book?
What Happens if I Puke in the Limo or Something Gets Broken?
Can We Leave Our Stuff on the Bus?
When does the Time Start for Hourly Bookings
What Happens if I Need to Cancel My Reservation?
Can We Smoke or Vape on the Bus?
Can We Just Drive Around and See the Sights?
ADDITIONAL QUESTIONS? LET US KNOW!