Sassee Cassee Midget Stripper
Midget Stripper Sassee Cassee at Hustler Club Las Vegas Nov 14th – 16th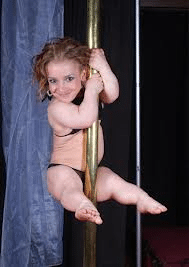 That's right gang, world famous Sassee Cassee will be working the pole at Hustler Club Las Vegas Thurs through Sat November 14th – 16th.  Book early as these shows sell out.  If you've never had a chance to watch Sassee Cassee strut her stuff on stage you gotta check this out.  This lil' cutie travels the world showing off her unique style of pole dancing.  Bring your friends, you'll definitely have something to talk about at dinner with the in-laws over the holidays!
Two shows nightly, call for free limo: 702-905-1054
Updated on: Monday, May 22, 2023
Categories
Professional Service
We are fully licensed with the state of Nevada, so you can be sure you will get the service you deserve. All employees must pass Nevada Sheriff's Dept background check and have fingerprints on file. We hire only the best service professionals for all our positions.
Nevada Business Identification: #NV20121762074
If you have any questions or concerns feel free to call us anytime +1702-905-1054