We recommend the following clubs:
Our New Favorite Vegas Strip Club – The Horse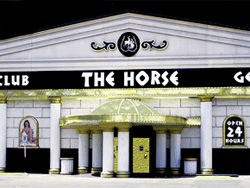 Whenever a new venue opens up, we have a motto here at WYNLV.com "Don't trust. Just verify."  We try to get a firsthand experience at the club to get a feel for the vibe, layout, and service.  We also ask our long time customers who are willing to try out something new to take a look.  We ask for their honest opinions and take them into consideration when evaluating new properties.  If all goes well, we will add a club to our list of preferred destinations. We proudly present The Horse Gentlemen's Club, a top Las Vegas Strip Club for 2014.
The Horse Gentlemen's Club, a modern renovation of the old Crazy Horse Too location, opened for business at the end of May in 2013.  The theme here is Grecian, complete with columns, statues and Greek themed VIP packages.
The Horse isn't the biggest gentlemen's club in Las Vegas.  It isn't the most famous.  It isn't the cheapest, or the most luxurious.  But it very well may be the best.  The Horse employs a roster of talent that can go toe to toe with any we've seen in Las Vegas.  Yes, the girls here are smoking.  But more importantly, they are focused on your pleasure.  That is the theme at The Horse, "Make sure the customer has a good experience."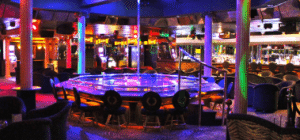 The focus on service is evident even before you step foot in the club.  The guys working the door are more likely to bust a joke than bust your balls.  You get the feeling these guys have your safety foremost in their minds, and if you don't have a good time, they aren't happy.
The interior projects the vibe evident at The Horse: fun.  With all the features you'd expect to find in a top Vegas strip club, you'll be immersed in luxury.  A top sound system fills the space with energizing music, and the light show definitely adds to the experience without being distracting.  Everything just seems to be in balance.  The VIP areas here are legendary, so if you have the means, we highly suggest checking them out.
The Horse is a great example where the total is greater than the sum of the parts.  It's like they took a little piece of the best of all the strip clubs in Las Vegas, tweaked them a bit, and made it their own.  You get the classic feel of the old school clubs, yet just enough luxury so that the experience is special, and enough fun in one night to create a lasting memory.
Limo service starts at 8PM and continues until 4AM.  Pay the two drink minimum at the door ($35 per person plus NV sales tax) and your two way limo, and cover, are all complimentary.  Book now to reserve your spot and extra perks.