What is the Classiest Gentlemen's Club in Las Vegas?
We often get asked that very question. As the home of several world class strip clubs, the answer really depends on what you are looking for. Sapphire is billed as the "world's largest strip club," and is certainly home to some very high dollar talent. Their VIP skyboxes are legendary, as well.  As home to several major events each year, Sapphire definitely is in the discussion.
Spearmint Rhino is another legendary club, and most people know it by name. The Rhino makes appearances in pop culture, and if you only know one club in Vegas, this is probably it.  Rhino is home to one of the best lineups in all of Vegas, with 9s and 10s everywhere you look.  The building is a little dated, but don't be fooled, the booty is on the inside!
Larry Flynt's Hustler Club impresses before you even hit the parking lot.  The building is large, luxurious, and a sight to behold. The Hustler Honeys never fail to impress, and this club has it all.  The male revue attracts scores of out of town college girls for bachelor parties and birthdays.  With a rooftop nightclub, this is a great way to meet some members of the opposite sex looking to party.  Especially effective if you have large groups.  The VIP experience here is second to none, definitely worth the visit.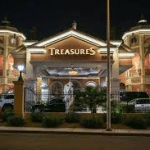 Treasures Gentlemen's Club definitely tops the list.  The building looks like something Hugh Heffner would live in, part mansion, part castle, all party. From the moment you step out of your limo, you'll see their service in action. It's hard to not feel like royalty here.  The girls are some of the most upscale babes in Sin City, and with two floors of erotic activities, you really can't go wrong.  Treasures bills itself as "The Posh Palace" and the interior definitely sets the tone.
Leather and wood accents give the space a rich ambiance, with the sky-dome ceiling giving the entire club a unique open feel. Treasure's is home to a 5-star steakhouse which features a sumptuous decor. Their phenomenal steaks and superb wine list is a recipe for the perfect upscale experience.  Best of all the prices are right. Drinks run from $12-$13 for a cocktail.  Steaks start at $38 for a petit filet mignon or New York, and if you book through WYNLV you can get buy one get one entree 50% off.
Wherever your evening takes you, let us get you the VIP service you deserve.
Have a club you think is classier?  Tell us why in the comments!
Updated on: Monday, October 24, 2016
Categories
Professional Service
We are fully licensed with the state of Nevada, so you can be sure you will get the service you deserve. All employees must pass Nevada Sheriff's Dept background check and have fingerprints on file. We hire only the best service professionals for all our positions.
Nevada Business Identification: #NV20121762074
If you have any questions or concerns feel free to call us anytime +1702-905-1054