Spring Break in Las Vegas Part 2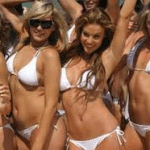 As we covered in our first installment, Spring Break in Las Vegas Part 1, you don't have to spend a fortune to have a great time in Las Vegas.  A little bit of planning can save you a fortune.
Plan Ahead = Dollars Ahead
Sure we'd all love to have thousands of dollars to blow on gambling, bottle service, limos, and shows.  The Las Vegas economy depends on visitors that do just that.  But the majority of people that come to Las Vegas don't have that kind of budget, yet still make up the majority of the dollars flowing into Las Vegas every year.  I think sometimes people forget an important facet about Las Vegas; all the world class shows, restaurants, hotels, and casinos are competing with 10-plus establishments of equal caliber in a very small radius.  All the 5-star resorts, world renowned chefs, and phenomenal productions are all after YOUR dollars.  They make the most money when you just show up at their door and pay the retail price.  But they offer a multitude of discounts, coupons, special deals and more to make sure their place of business is filled to capacity as often as possible.
Large In Charge
Now you know that you are the only thing keeping the lights on in Vegas, refuse to pay full price.  Look for discounts at every turn.  You don't have to spend too much time on it either.  Just give us a call, if we can't find you a discount on a specific venue or event, we know someone that can.
4 Low Cost Options in Las Vegas
Here's a quick list of 4 things to do that won't cost you a fortune.
Welcome to Fabulous Las Vegas Sign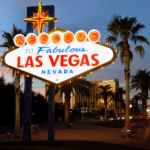 Take a photo of your adventure to Sin City at the iconic "Welcome to Fabulous Las Vegas" sign at the southern end of the strip. (click the image for a link to a Google map).  It's located just south of Russel Road, nearby landmarks being Mandalay Bay Hotel and Casino, and the Little Church of the West.  The sign is in the median of Las Vegas Boulevard, and there is dedicated free parking for visitors pursuing this world-famous photo op.
Pro Tip: Go at dusk, the lighting will make you visible, and the sign and backdrop will have more pop.
Mirage Volcano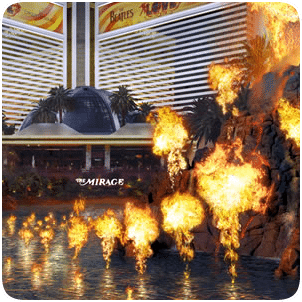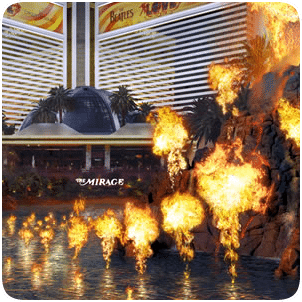 The Mirage Volcano is a great free entertainment experience not to be missed.  Much like its counterpart, the Bellagio Fountains, the Mirage Volcano is a great spot to people watch and potentially meet new people.  The show features heart-pounding tribal music, massive fireballs, and of course, exploding lava.  Definitely, a sight to behold.  Shows start at 7 pm and run hourly until 11 pm.
Pro tip: Shows may be canceled due to high
Cheap Eats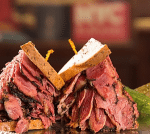 As long as you're at the Mirage waiting for the next Volcano show, grab a bite to eat just inside at the Carnegie Deli.  The pastrami and corned beef here are amazing, and they won't break the bank.  You can get a massive sandwich for less than $10, easily split it and still fill up on calories for all the walking!
Based on the world-famous Carnegie Deli in Midtown, New York, the Vegas incarnation has the same awesome food and old school vibe. Just keep in mind, their signature sandwiches come with over a pound of meat.  It's very easy to get eyes that are bigger than your stomach here, so when you're halfway through your sandwich wondering where you going to put the rest, well, we told you so!
Free Million Dollars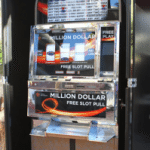 There are a number of casinos that have a free slot machine that you can pull once a day, provided you sign up for their players club.  The best ones have a top prize of $1 million but offer other prizes like free show tickets, free meals, keychains, and other small prizes.  Harrahs, Tropicana, Ballys, and Luxor offer a variation on this theme.  All you have to do is keep your eyes open.  The machines are prominently featured and are usually the size of a Volkswagen.
Pro Tip: If you hit the million-dollar jackpot, spread a little love around *cough*
Updated on: Thursday, August 3, 2023
Categories
Professional Service
We are fully licensed with the state of Nevada, so you can be sure you will get the service you deserve. All employees must pass Nevada Sheriff's Dept background check and have fingerprints on file. We hire only the best service professionals for all our positions.
Nevada Business Identification: #NV20121762074
If you have any questions or concerns feel free to call us anytime +1702-905-1054