Las Vegas Spring Break on a Budget Part 1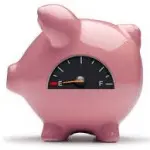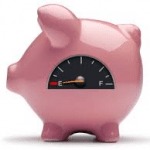 Las Vegas enjoys a reputation for glitz and glamour, especially in movies, televsion, and books.  The natural conclusion that it's too expensive for a Spring Break destination couldn't be further from the truth.  The airfare to Las Vegas is ridiculously cheap compared to popular destinations in Mexico and abroad. If you plan ahead, the lodging is cheap as well.  Popular travel sites like booking.com have packages to fit any budget.
Never Pay Retail
Las Vegas has two prices, the local price, and the "tourist" price. If you have a trusted partner, you'll never pay retail.  A good example: nightclub bottle service.  If you have a large party and just show up at a top nightclub in Vegas, expect to pay a $30 to $50 cover charge, and $20 a drink.  So suppose you have 6 guys, they all buy two drinks for themselves, one for a lady, and pay the cover charge.  That's $600 not including gratuity for a pretty tame night.  Also, you will get to wait in line for 1-2 hours depending on the venue.  You have a couple of options here. You can get VIP guestlisted and walk right in for $20, if you know the right people.  Or let's say you really want to get bottle service, have a VIP table, a place to invite girls to drink with you, and plenty of booze and mixers for the night.  For around $900 you could get two bottles of a top shelf liquor, like Grey Goose, all the mixers, an awesome table, and VIP service.  That's 40 drinks worth of liquor for $133  per guy, with all the amenities vs. paying retail and getting 2 drinks and waiting in line.
Same deal goes for strip clubs.  You show up in a cab, or drive there, expect to pay a $30 cover.  Drinks will be $10-15, and you'll be lucky to get a seat.  Or you could book through a VIP hosting company and for the same $40 get free roundtrip limo service, free cover, two drinks of your choice and a VIP table.  The VIP hosting companies know who has what deals, like two for one steak dinners, buy one get one bottle service, special events, and more.
Super Frugal Options
Suppose you are really trying to do this on a budget.  You can get weekly rentals, just off the strip, for $190 a week (single occupancy).  Your friend(s) just have to sneak in when nobody is looking to avoid the extra fees.  They have full kitchens, refrigerators, and stoves, so you can save a lot of money cooking your own meals.  There a local's secret, just off the strip between the Flamingo and Ballys, called the Stage Door Casino.  They have dollar beers, dollar shots 24/7 with an attached liquor store.  If you plan to walk the strip, dip into the Stage Door for your preparty and grab a few for the hike from the liquor store.
There are tons of free and low cost things to do on the strip.  The Bellagio Fountains is a definitely worth the stop.  It's also a great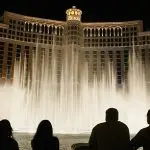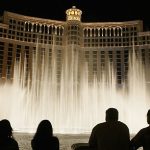 place to meet members of the opposite sex, especially in large groups. The show goes off every 15 minutes from 7pm til midnight every day of the week. On weekdays, they fire off every 30 minutes during the day from 3pm until 7. On the weekends, the shows start at noon and run until 7pm every half hour as well.  There are plenty of curbside attractions, such as street artists, to keep you busy while you wait for the show.  They rotate through several songs, each having a unique choreography for the fountain, so it's a great place to hang out, meet people, and get a free show 4 times an hour.
Inside the Bellagio are treasures for the senses as well.  Starting with the Fiori Di Como, the massive glass sculpture by Dale Chihuly that hangs from the ceiling, the Bellagio exudes opulence.  Just a few steps further in you'll find the Conservatory, decked out in a seasonal theme.  During the holidays this is a must see, but even off-season they have a themed display that will stimulate your eyes and sense of smell with thousands of fresh flowers and plants.
That's just one hotel.  We'll cover other great ways to experience Las Vegas on a budget in the next installment in this series.  If you can't wait, call us, and we'll help you plan the perfect spring break, that won't bust your wallet.
Updated on: Friday, June 18, 2021
Categories
Professional Service
We are fully licensed with the state of Nevada, so you can be sure you will get the service you deserve. All employees must pass Nevada Sheriff's Dept background check and have fingerprints on file. We hire only the best service professionals for all our positions.
Nevada Business Identification: #NV20121762074
If you have any questions or concerns feel free to call us anytime +1702-905-1054