Spearmint Rhino VIP Limo Service
Back By Popular Demand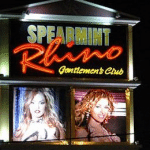 Visit the world famous Spearmint Rhino of Las Vegas with WYNLV.com VIP limo service.  This is one of the most famous clubs in Las Vegas, and the line up here never disappoints.  After a brief hiatus, Spearmint Rhino is back in the mix.
---
Review Excerpt
Spearmint Rhino Las Vegas
The club that set the standard.  We are now proud to offer VIP limo service to the legendary Spearmint Rhino of Las Vegas. When you ask most people to name a strip club in Las Vegas, this is the most popular answer by far. There's a reason for the reputation.
Check out the full review of Spearmint Rhino–>>
Book Your Limo
As the most famous club in Las Vegas, you'll definitely want a reservation, and for best seating plan to arrive before 11PM.  Of course, we always have same night availability, but it fills up fast. Call us direct to book your free VIP limo, we'll be happy to help make your night one to remember.
Updated on: Saturday, May 30, 2015
Categories
Professional Service
We are fully licensed with the state of Nevada, so you can be sure you will get the service you deserve. All employees must pass Nevada Sheriff's Dept background check and have fingerprints on file. We hire only the best service professionals for all our positions.
Nevada Business Identification: #NV20121762074
If you have any questions or concerns feel free to call us anytime +1702-905-1054