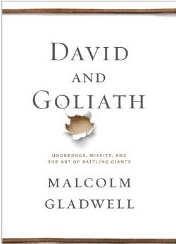 When we're not busy hooking people up with the best strip club deals in Las Vegas, some of us around the office like to read from time to time.  A couple of us were discussing the new book, David and Goliath: Underdogs, Misfits, and the Art of Battling Giants
 by Malcolm Gladwell, and how it applies to the adult entertainment scene we know and love.
The basic premise of the book is that Giants aren't always at the advantage commonly assumed. The first scenario Gladwell presents is optimal classroom size. The curve of performance is an inverted U. At the very low end, children don't learn as much as there aren't enough viewpoints in the class for healthy discussion.  At the other extreme, too many children in a class room, the teacher cannot give each child the individual attention they may need.  In the middle it's best for everyone: student, teachers, and parents.
He applies the same analysis to wealth, ultra selective colleges and much more.
We've seen the same phenomenon playing out here in the Vegas strip club industry.  Sure Las Vegas has the largest strip club in the world.  Is it the best strip club in Vegas? We argue no.  Would you go to a Walmart Supercenter if the prices were significantly higher? Of course not. Unfortunately, that's the situation here in Las Vegas. The biggest and most famous clubs are more expensive, and they pass the savings on to you!  Not only do they charge more, their service usually sucks.  They know they can coast along on reputation alone.  These clubs often have limo wait times of over an hour, and SURPRISE!, it's only a one-way limo. (Don't ever get suckered again, call us, we can help.)
The other problem the "biggest" and "most famous" gentlemen's clubs encounter… poor talent.  Sure they have 400 girls on the roster. And yes, many of them are smoking hot. But pay close attention, especially when you're sober at the beginning of the night.  Over half the lineup is sub par (read unattractive) especially compared to the rest of the strippers in Las Vegas.  They advertise 400 dancers on rotation, and dammit, their owners are going to pressure the managers to make that happen every night. So that girl that was totally rude to a customer last night is back on the schedule, along with her three ugly friends who need jobs.  Trust us, a club with 125-200 girls working has plenty of variety and action to keep you busy all night long!
There is a happy middle ground.  We only recommend clubs with top shelf talent, world class service (return limo always guaranteed), and an honest interest in making sure their customers have a good time.  Best of all, it costs less, you get drinks included for the same price, and more often than not a free VIP table that costs several hundred dollars at the mega-clubs.
What's ironic is that we've watched these "underdog" clubs grow in popularity and reputation as they deliver on the promise of a perfect night at a world class strip club.  We only hope that when they become the "best" or the "biggest" or the "most famous" they remember what got them there… You. The people who come to Las Vegas for vacation or business and plunk down your hard earned money for quality adult entertainment.
When you're ready to rock and roll, call us and we'll show you how to find that happy spot here in Las Vegas for much less that the "big box" stores.
Updated on: Saturday, May 30, 2015
Categories
Professional Service
We are fully licensed with the state of Nevada, so you can be sure you will get the service you deserve. All employees must pass Nevada Sheriff's Dept background check and have fingerprints on file. We hire only the best service professionals for all our positions.
Nevada Business Identification: #NV20121762074
If you have any questions or concerns feel free to call us anytime +1702-905-1054