Treasure's Gentlemen's Club Two for One Steak Dinners
UPDATE
We recently changed the 2 for 1 steak dinner promotion to a  "buy one entree get one 50% off". While the buy one get one steak dinner was an awesome deal, this allows our clients more flexibility and accommodates more dietary choices.
Original Article Below
==============================
If you've never had a chance to dine in Treasure's 4 star steak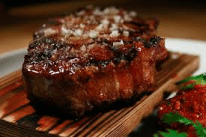 house, put it on your list of things to do while in Las Vegas.  The dining area is elegant and warm and the phenomenal steak dinners provide the fuel you'll need for a lively night in Las Vegas.  Right now, WYNLV.com, in partnership with Treasure's Gentlemen's Club, is offering 2 for 1 steak dinners.  This is perfect for couple's date night at a posh Vegas strip club.
Once you've booked your limo and dinner special by calling (702) 905-1054, we will dispatch a limo to your location and reserve your dinner reservation. We only have a limited number we can give out each night, so please book early.  You'll pay the $40 fee at the door which includes: roundtrip limo, cover, two drinks, and table.  You can then select from the following steaks at regular price and the second steak of equal or lesser value is free.  To receive the 2 for 1 steak dinner deal, you must mention at the time of booking.
Treasure's Steak Entrees
Porterhouse
Our signature 28oz steak saves you from making the difficult choice between sirloin or filet.  Both come in the aged, hand sculpted, steak-lover's dream.
$48
Bone-in Ribeye
The Treasure's Prime Delmonico
A hearty, juicy, prime cut bone-in ribeye with flavor as big as its 24oz size.
$46
New York
Our prime New York strip is aged and hand cut in-house.  We then grill it to your specifications for a wonderfully robust steak.
$38
Filet Mignon
USDA prime tenderloin, cut generously, broiled expertly to a melt-in-your-mouth tenderness
$47
Petite Filet
A smaller, but equally tender filet
$38
Couple your meal with a bottle from Treasure's excellent wine selection to complete the perfect meal.  Call now to reserve your seat (702) 905-1054.
Updated on: Sunday, November 13, 2016
Categories
Professional Service
We are fully licensed with the state of Nevada, so you can be sure you will get the service you deserve. All employees must pass Nevada Sheriff's Dept background check and have fingerprints on file. We hire only the best service professionals for all our positions.
Nevada Business Identification: #NV20121762074
If you have any questions or concerns feel free to call us anytime +1702-905-1054